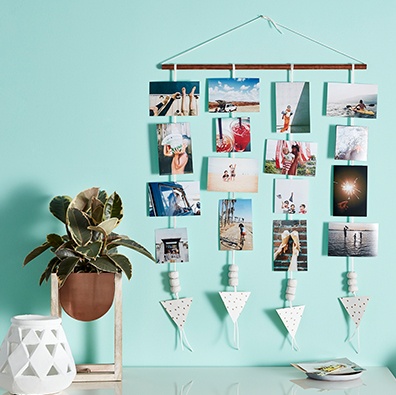 Everything good ends, like summer, vacations and all that entails (joy, party, baths, fun, friends, rest, tranquility …). Everyone enjoys their vacation as they can or as they please, however, I am sure that there is a common element in your vacation: photography. More or less elaborate, whether or not you have put into practice our tips for photographing the summer or not, but surely you treasure a lot of photos of these idyllic days. Well, I suggest you do something with those photos so that your photographic summer has a "happy ending" or looked at … a continuation. In today's post I will not tell you what types of photos you can take, or how to take them, or what you need to shoot. Today I am going to tell you what you can do with these images so that they do not remain in a corner of your hard disk, without you or anyone else can enjoy them. Those memories well deserve better than being a handful of pixels piled up in a folder on your computer. I'm going to give you some ideas to see the light and make your day when the hard winter comes.
Note for those in the other hemisphere: this post can be useful for other photos that you think deserve special treatment, if it does not work now, read it and keep it with love for a few months, you will appreciate it .
1. MAKE A COLLAGE
Collect the photos that you like, the most beautiful, fun or summer and make a collage with them. Then you can print it and paste it in your fridge or on your notepad or put it directly as a desktop wallpaper of your PC or laptop, it sure will start a smile every time you turn it on. There are several applications that allow collage, give a review of this post where I talk about up to twenty free applications and to work online, many of them have that option.
2. EDIT THEM
And speaking of editing programs. These same programs offer you infinite possibilities for your photographs, add effects, make up, "disguise yourself" with a lot of accessories, set them frame, turn them into an endearing "polaroid" and a thousand other things. If you have not yet launched the edition, these programs are very easy to use and can be very fun. And if your thing is to lie on the couch to control your photos from the iPad, do not worry, here are ten other Apps for iPad.
3. ORDER A PUZZLE
Winter evenings can be very long and if you like to spend them with your family, choose the funniest picture of the whole summer and order a puzzle to do with all the family members. While you hang out you will remember the wonderful vacation you had and the cold afternoons will be much warmer.
Mifotopuzle:  you can ask for a puzzle of 100 pieces or up to 2,000, that will depend on whether there are small children or your ability and patience. And for the most romantic you can request it even with a heart shape
Getsingular: panoramic, heart, rectangular, children's …
Give a puzzle: they offer you the possibility of puzzles for children from a few months to very skilled adults (3,000 pieces). They have standard, economical and even framed puzzles.
Custom puzzles: cardboard, wood or magnetic… you choose!
Here you have four options, but there are many more. Take a look through the network and choose the one that interests you most.
4. DECORATE YOUR HOUSE
Some people decorate their house with a Dalí, a Renoir or a Picasso, others with replicas of these and the less fortunate we settle for the sheet of these artists. You may not have a Picasso and have a wonderful painting by a family member or friend (lucky), but there are other possibilities. You can hang on your walls a work of yours without knowing how to take a brush. There are many possibilities in this regard: photographic posters, photos on canvas with different types of frame, vinyl, custom slate frames with your favorite image, PVC box, methacrylate, table or forex … As you see the options are really numerous, I leave you Some web links that make this type of decorative elements.
Hofmann : methacrylate, PVC, forez, canvases, posters …
Gesingular : photo poster, canvases and slate frames.
Fotoikatz : with ideas and options even to decorate furniture!
Decoraphotos: you can even order a photo mural
The same, there are many more, these are just a few examples.
5. CUSTOMIZE A CUP (OR SEVERAL)
Yes, I know that this is not very original, but do not tell me that morning coffee before going to work would not have another flavor with a fun summer photo … Or you can even use it as a pen and every time you don't like something of the job you look at it and inevitably you smile!
Custom cups: here you can even order a jug of cerverza or a magic cup (the photo appears when pouring the hot liquid).
Cups with photo: also canteens and glasses.
Personal gifts: many more alternatives to the classic cup. Flasks, thermos, shot glasses, cups "half", cup for infusions, cup for hot chocolate, coffee sets …
6. GIVE A STORY
There are dozens of options to give a personalized story. And not only children like stories, there are also adults who will be very excited.
Personal gifts: stories for Christmas, for the best grandfather, other relatives, for when you turn X, fantasy, "I want to be older …" and many more.
Hofmann: fantastic, classic and to learn.
Custom stories: printed and digital
7. SEND A «CHRISTMAS» POSTCARD
Can you imagine the face that can be left to the recipient to find a Christmas card with a picture of the summer? It must be really fun. Those in the southern hemisphere may be accustomed to this picture, but I can assure you that at least here in Spain is not very common. I am seriously considering it for this year, surely after the maelstrom of the holidays they still remember the "Christmas" postcard .
And now out of "crazy ideas," a postcard doesn't have to be just Christmas or travel. Leave aside the already obsolete "emilio", the sms or the wasap and greet your loved ones that you have far away with a beautiful postcard personalized with a photo of the summer. You will tear a sure smile (and the mailman too ).
Photobox
Pixum
Pixartprinting
8. ORDER YOUR SNOWBALL
Surely, as a child you have caught a snowball (not ice, but crystal), you have shaken it and you have stayed in Babia watching the flakes fall. These balls have their magic point and although, from the snow, they remind us of the cold, it can be another good option for your summer photos. There are even magnetic to stick in the fridge.
9. CUSTOMIZE YOUR CALENDAR
When the holidays are over, many begin the countdown to the next summer period. If you are from this group, maybe you will like to print a calendar with photos of this summer to warm up engines;).
Vistaprint: wall, table, magnetized, pocket or poster.
All calendar : as the name implies, all kinds of calendars (circular, wall, box-shaped …)
10. PRINT YOUR PHOTOS ON PAPER
This may seem uncreative, but there are ways to print your photos on paper that are creative. If you are someone who hangs your photos on instagram, check out this website . They offer you very cool gift boxes, this is an example, but there is more!
11. PUT A CASE ON YOUR MOBILE OR IPAD
If you can no longer with the buhítos, the smooth covers or other reasons that damage the eye, choose a beautiful image made by you for your mobile or your iPad. You can do it for example with Casetify or Photobox .
12. PREPARE FOR NEXT SUMMER
Can you imagine some flip flops with your photo? Well, it is already possible, some flip flops, the beach bag, the towel … there are a lot of textile and summer products that you can customize with your favorite images.
13. BE THE COOLEST IN YOUR OFFICE
Did you know that you could also customize your computer mouse? You can order it here .
14. PRINT YOUR OWN BOOK
We all know the albums, but did you know that you can print a book with your photographs? If in addition to immortalizing the splashing in the water and the long naps on the lawn you have dedicated yourself to artistic photography, perhaps this is your option. You have some options like blurb or Lulu .
Here is an example .
15. TURN THEM INTO STICKERS
Have you ever imagined your photos on stickers to paste wherever you want? You can do it for example with Moo . Round, rectangular or even sticker books. Paint well, right?
16. MAKE YOUR OWN SCRAPBOOK
A scrapbook is a personalized album made from clippings, photographs and other collages. It is fun to do and very very personal, you can do it for yourself or for a very special gift.
Here is a tutorial, it's for Mother's Day, but you can do it with the summer theme or the one you want.
And another example:
17. CUSTOMIZE YOUR NOTEBOOK
If you are studying, you like to write or you are one of those who take many notes of your photographic excursions, you will like this option. In personalizatucuaderno.com you can create a notebook with your own image.
18. MAKE YOUR OWN PHOTO FRAME
If you like crafts you can make a photo frame (or several) to frame the snapshots. Here are seven easy and beautiful ideas.
19. PRINT THEM AND MAKE ENVELOPES
What a surprise it must be to open an envelope and find that the interior is a beautiful photo. Here you can see how it is done.
20. DECORATE YOUR COASTERS
Tired or tired of seeing the glass of the glass on your table? An easy and fun solution: coasters.
21. RECYCLE
If you have an old window in the loft, expand your favorite image until you adopt it to the window and leave it as a frame. Here are  some examples.
And if they seem few, I give you three extra ideas
Decorate glass jars
Make photo holders with stones
Create a photo cube
You have more than twenty excuses to take your photos to shine and not be forgotten on a memory card or on your computer's hard drive. Because that's what the photos are for, to show them, right? Show off your best summer moments with any of these options, or with any new ones you can think of. And if you have other ideas, I invite you to share them with us leaving your comment.
Surely you know someone who this post may interest you, if you share it we will both thank you . Until next time!