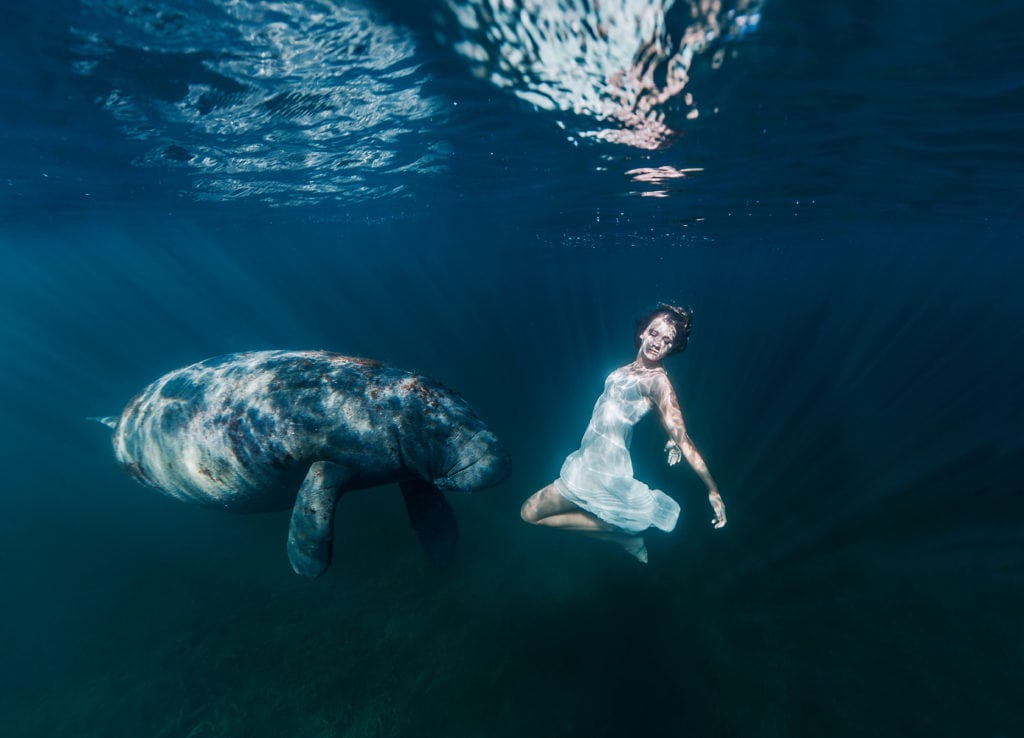 The search for inspiration is something that any artist has to deal with, so it is so necessary to soak up the work of others. Today I bring you a list of 100 photographers, yes, women photographers. We have in the blog another list of 100 photographers (men and women), but the female presence on this list was not too abundant, neither in this one nor in any of the ones you find on the net.
And I firmly believe (I'm sorry, my most feminist part has come out ) that there are many photographers in the world who deserve to be known and recognized. Many are missing, of course, and some are not exactly current, which does not mean that they have not earned a place on this list. Are they the best? Not necessarily, there will be better ones (I invite you to expand the list in the comments), but those that are deserved their little hole and further expand the article seemed excessive;). What is clear is that these people who love photography have much to contribute, whether you are male or female. Are you going to miss it?
Cristina García Rodero. Our best known photographer internationally, with an excellent track record behind her and a unique look. The only Spanish who has entered the Magnum agency.
Amy Carroll You will fall in love immediately with your animal photos.
Jaime Beechum Travel photographer who captures images wrapped in a very soft light but full of strength and life.
Elena Shumilova Specialized in photography of children and family. What he does with the light is impressive.Elena Shumilova
Maggie Steber He has collaborated with the most prestigious magazines and treasured great prizes. He has worked in more than 64 countries photographing from a social, cultural and humanitarian point of view.
Anna Jones Aesthetics and light Weddings and much more.
Aurora Lettuce Spanish wedding photographer whose work is full of magic and spontaneity.
Annie Leibovitz Although he is known for portraying celebrities, his work is admirable.
Sally Man. An uncensored photographer. Very interesting intimate work and with a great message where he photographs his life and his family.
Masumi Hayashi Do not miss his work of panoramic collages that are an invitation to question the reality and society in which we live.
Anne Geddes You like his style more or less, you have to recognize that his work has been very inspiring for many photographers and it is worthwhile to have sold almost twenty million copies of his books worldwide.
Gerda Tardo. It is behind the signature of Robert Capa next to what was his partner Endre Ernö Friedmann. He is credited with many of her photographs. It was the first photographer who was on the front line of fire in a war. I had to share this story
Marie Hennechart Travel photographer.
Lynsey Addario. Photojournalist in armed conflicts and winner of a Pulitzer.
Ellen Von Unwerth. Specialized in female eroticism.
Elena Kalis Wonderful and unmissable underwater photographs.
Kitra Kahana Documentary photographer who joined a community of young nomads for months and created the Nomadic project.
Jodi Cobb Driven by its curious and adventurous nature, it has specialized in important topics of world interest, such as the exclavitude of the s. XXI. One of the very few women who have been part of the National Geographic staff. It shows a very intimate way of photographing.
Yulia Taits Super inspiring his project on albino people «Porcelain beauty».
Ruth Bernhard. He began photographing naked women in 1934. His work is intimate and delicate.
Valie Export Pioneer artist in analyzing gender policies. In his work, topics such as identity, sex and body are discussed as a way of expression and language.
Shirin Neshat One of the most representative artists of Iranian art. His work is characterized by the treatment of the status of women, mainly in contemporary Islamic societies.
Summer Murdock You will fall in love with his work in black and white as much as in color.
Juana Biarnés. First Spanish photoreporter who fled the sensationalism of pink photojournalism. A photographer always upstream.
Cristina de Middel. With a very own vision of photography, his series Los fronautas , which criticizes the stigmatization of Africa by the media, placed it on the frontline of international photography.
Marina Gondra Beautiful surrealist work of this Spanish photographer who invites you to dream.
Ouka Leele Well-known photographer from the Madrid Movida , they highlight, among others, their characteristic black and white photographs hand painted with watercolor.
Ernestine Ruben Do not miss your work on nudes.
Niki Boon Although she is considered an amateur photographer, her work is not wasted. He is giving his children a life away from technology in a rural area of New Zealand and at the same time, a wonderful series of photographs that you will also enjoy.
Elizabeth Messina Weddings and Boudoir with supreme elegance.
Imogen Cunningham. Impossible to define it so briefly. He is one of the most influential people in the history of photography.
Marta Everest.  His portraits have enormous strength and he has a series of photographs that simulate oils.
Stephanie Sinclair. Photojournalist who, through his work, intends to denounce human rights violations in the world, especially women.
Amy Toensing National Geographic photographerwho tells stories in each of her images.
Ariana Lindquist Travel photographer, winner of the World Press Photo.
Charo Ten. Another amateur mom who has a lot to teach us. With an unmistakable style, its black and white is impressive but when it decides on the color it also catches. He has a very funny series of backgrounds with his children ( #wallpaper_serie ) that surely inspires you.
Penny of the Saints. Travel photographer and culinary culture.
Anna Aden Swedish photographer whose images, both indoors and outdoors, evoke dreams and magic.
Elena Anosova  He has won the second prize of the World Press this year in the "Daily Life" category, do not miss his series of portraits because it is very powerful and manages to connect in a very intense and dramatic way.
Lynn Johnson Photojournalist who, despite his work in large magazines and with important celebrities, is inclined to the emotional stories of ordinary people. Color is the same as black and white.
Inge Morath. In the words of Arthur Miller: "His photographs are the product of his subjective celebration of life in any of its possible permutations." Do not miss your job.
Tina Wright Recognized as one of the best wedding photographers for the emotion she captures.
Nan Goldin As criticized as praised, she is a hyperrealist photographer. Pioneer and creator of the documentary genre "antiglamour".
Cindy Sherman They highlight theirnarrative self-performancesthat constitute a cultural critique. Will not leave you indifferent.
Beverly Joubert African wildlife specialist.

Angelica Glass Wedding photographer looking for spontaneity and unusual compositions.
Bieke Depoorter. Belgian photographer who tries to reflect the intimate moments of the lives of normal people in their own homes and achieves it with unusual beauty.
Carolyn Drake He has documented for years the cultures of Central Asia and life in the Xinjiang region, west of China.
Patrizia Savarese. One of the best rock photographers of the 80s.
 Sharon Johnstone Nature macro photography.
Greta Buysse. Specialist in the combination of female nudes with architectural elements.
Mariela Apollonio. Spanish photographer of architecture.
Venetia Dearden. Travel photographer.
Mabel Jover Nature and travel photographer.
Rebeca Saray. Spanish fashion photographer and digital retouching. Idealistic and dreamy, something that clearly conveys in his images.
Valery Melnikov. Winning photojournalist of this year's World Press Photo.
Alecsandra Raluca Dragoi. A very young photographer who will give much to talk about.
Amber Bracken Another winner of this year's World Press.
Lara Jade An international of fashion.
Kathryn Krueger If you are looking for inspiration for wedding photographs, do not miss their job.
Ana Retamero . Photographer and biologist who photographs in detail unique moments of nature.
Sarah Cheng-De Winne. Represents identities through photography.
Sue Ford His work mixes photography with plastic arts.
Rosana Pita Specialized in nature photography.
Hélène Binet. Based in London, it is among the best current architectural photographers.
Gina Soden If you are interested in architecture or abandoned locations, do not miss your job.
Isabel Muñoz Spanish National Photography Prize in 2016, portrays the body with spectacular mastery. It combines social commitment with the search for beauty.
Olivia Arthur Englishwoman whose documentary work stands out for her commitment to the situation of women, mainly her situation in border societies between East and West. It aims to show a vision of the character of its people beyond the fact of their forced clothing.
Martine Frank The photographer who knew how to select the images she wanted to do, a member of the Magnum for many years and founder of the Parisian Henri Cartier-Bresson Foundation.
Susan Meiselas. His documentary work is inspiring, but listening to it in person made me love photography more.
Lucie Debelkova Travel and landscape photographs.
Diana Marlosian Documentary photographer, writer and filmmaker of Russian origin.
Alessandra Sanguinetti. Member of the Magnum, his best known work is " The Adventures of Guille and Belinda."
Newsha Tavakolian. Iranian photographer who performs documentary works mainly focused on issues about women.
Marta Schmidt Spanish photographer of newborns, children and family. A reference in our country. Pure tenderness with a simple and clean style. Personally, what catches me the most is the photos she takes of her daughter in her daily life.
Jo Metson Scott. British with an elegant and subtle look.
Fay GodwinIn addition to an excellent series of portraits, he has a wonderful work of abstract landscape.
Diana Arbus Born in 1923, his work is able to remove you inside.
Melanie Einzig Street photographer who knows how to identify the key dramatic moments of any type of event.
Claire Carter Landscape photographer.
Elaine Constantine Film director and one of the best fashion photographers who turned the way of seeing youth in England, betting on colors, freshness and fun. A very interesting job that has been claimed by the most important firms.
Holly Andres. Performs a deep work on the complexities of childhood, the transience of memory, and female introspection. Really inspiring.
Sea Road Spanish landscape photographer.
Muzi Quawson  English photographer who films and photographs exploring the social structures of American culture with color photographs that look like frames taken from a movie.
Jessica Sample Travel photography, freshness and color.
Marie Takahashi Based in Tokyo, it specializes in gastronomy, travel and architecture. His images are full of light.
Mona Kuhn Nude photographer.
Misha Gravenor. Travel photography
Rosa Isabel Vázquez. Spanish nature photographer.
Elinor Carucci . Do not miss his Closer series, pure naturalness and spontaneity that do not leave you indifferent.
Sylvie Blum Her erotic photographs have a brutal force and with her work she has dedicated herself to empowering the female sex through her nudes.
Erica Simone In his work NEW YORK, portraits of a naked citizen , he questions the importance of fashion in modern society by self- portraying naked in everyday activities of New York life.
Cornelia Adams. Advertising veteran and director of a photographers agency.

Natasha Gudermane. A very personal and disturbing look.
Paula Boto. Spanish wedding photographer with a very original look.
Jennifer Hayes Biologist photojournalist specialized in the aquatic environment.
Erika Larsen National Geographic collaborator, very interesting, among others, her work as a result of living three years with a Sami people in the Arctic Circle.
Isabel Diez. Nature and landscape photographer. It will hypnotize you.
Emily Mott Travel photographer, interiors and children.
Vivian Maier One of my favorites, was an American nanny who photographed by pure instinct and left one of the most impressive photographic archives in history, a file that was discovered by chance because it revealed almost no reel. He knew how to photograph the beauty of everyday life like nobody else.
Did you like it? Did you find it inspiring? If so, I invite you to share it (and expand the list). Thank you and see you soon.