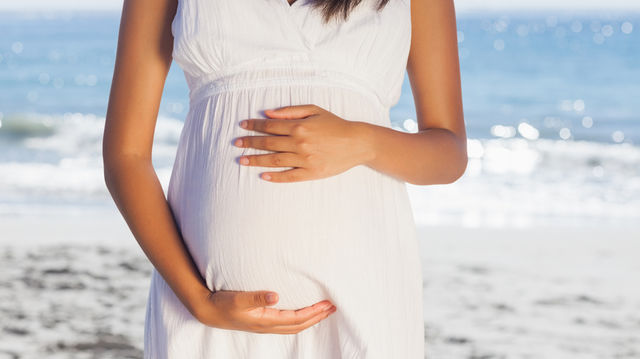 Mario's Note:  Is the portrait of a pregnant woman a double portrait? Jokes aside, Vicente today brings us a list of practical tips for pregnancy photographs. 
The photograph during pregnancy is one of the most beautiful experiences for an expectant mom. If you are waiting for a baby or you are thinking about having it, these ideas will help you to better plan your memory, think that it is something that will happen to you a few times in your life, maybe even only one, and therefore you have to Take advantage of the occasion.
TIPS FOR GETTING BETTER PREGNANCY PICTURES
I bring you a list of easy tips to portray your pregnancy.
1. LIST
Speaking of listings … make a list of the type of photos you would like to have and in each of the points add the necessary conditions, attrezzo, or what you need to be able to achieve those photos.
2. INSPIRATION
Find inspiration on websites until you complete your list. Instagram, Flickr or any other photography platform can give you very good photographic ideas.
3. FOLLOW UP
If you want to take a pregnancy follow-up photo month by month or week by week you can do it, in at least two ways:
Each month a different photo, in a bikini or nude, as beautiful as some others.

Or every month exactly the same pose. In this case it is preferable to be half-profile or fully facing with the hands below the belly. In the tenth photo you put the baby in the place he occupied in the belly held by the mother's hands.
If you hire a photographer, ask him to show you his previous works so you can rest assured that he will treat the photos with the delicacy that the subject requires.
Instructions to make a pregnancy follow-up photo at home :
Make sure you have good lighting and ample and beautiful space to take pictures.
Put masking tape on the floor to place the feet, in front and behind each one.
Also put tape to mark the tripod placement. Mark the height at which you place it.
Point the focal length at which you take the first photo.
If you use natural lighting make sure it enters at the same height and direction. If it is the artificial light of the room you do not need to do anything … unless you buy new lamps
Do not use under any direct flash concept , in any case it is bounced and always with the same intensity and direction.
Take 4 or 5 shots at a time, you never know, but my experience tells me that there is always a different one in something, better or worse, but different.
4. DETAILS
The pregnancy is destined to the birth of a baby so that during this gestation period it is very interesting that you can take pictures of yourself buying their things and with them. Motherhood provides a special glow in the woman's eyes when she relates to her future baby and what her toys will be and clothes, take advantage of it!
5. TALK TO THE BABY
Talk to your child , leave messages for the future, write his name or draw a picture.
6. THE FAMILY
Get your family to participate . The father is a fundamental part of the conception but if you have other children it is a good time for them to feel important with the arrival of the new brother.
7. CREATIVITY
Combine tender and emotional photos with crazy and daring photos. Squeeze your imagination!
8. THE BEST MOMENT
Consider the evolution of your state to anticipate your endurance and mobility. Normally the photos of pregnancy of the last month are made in the absence of 2 to 4 weeks for delivery. It is possible that by the seventh month you may feel heavy and less agile. In that case you should not delay the photo session.
9. RETOUCHING
To improve is not to lie. Normally pregnancy photos are retouched. There may be stretch marks, hair, spots on the skin, varicose veins, swollen ankles, etc. Even the roundness of the gut is not perfect. Have no problem retouching everything you need to beautify these photos more. I do
10. THE CLOTHES
Choose well the clothes that you want to wear for this last month of pregnancy session, you can even buy something for the occasion, especially if you take some photos in underwear.
11. THE MAKEUP
Do not put on excess makeup or adopt an excessively sophisticated pose, the more natural the better. The natural beauty of pregnancy is enough to make wonderful photos.