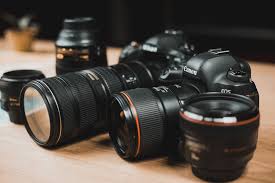 As I advance in the title, the communion season is dangerously approaching. And with it the warming of the gifts. Because, let's face it, giving a child of this age is not as easy as it seems. Before it was, we had three toys, but now they have everything! And since this is a photography blog and we love that there are always new initiates, I have thought to give you a gift idea: a camera. Because, he has more or less hobby, it is something he sure likes and attracts him.
Cameras there are many types and prices. Just as there is no perfect camera for adults, it also does not exist for children. There is the ideal camera for everyone. Today I bring you 5 models to choose from, of different prices and benefits. Although before I tell you where to look when choosing a model for this audience, in case none of these convinces you.
HOW SHOULD A CAMERA FOR CHILDREN BE?
Although each child is a world, there are certain characteristics that it is advisable to have a camera with the children as a recipient.
Resistant to falls. One of the first features that you have to look at is that it is resistant to shocks and falls.
Submersible If there is something I see that attracts kids, it is taking pictures underwater. That they can immerse them is more than an extra, it is almost a necessity. Also if we look at it from the point of view of security, they are not as careful as an adult can be. And if it is not submersible, it will run a serious risk every time they approach a liquid medium, which are many ).
Picture quality. Ok, it's a boy, which doesn't mean you can fool him with a camera that looks like a toy. We are in the era of communication and children have now seen more images in a year than you in all your childhood. They know how to recognize a quality image of one that is not, if you do not want to take a click, try to make the camera take better photos than your mobile (which surely if you do not have it, will fall as a gift ).
Small and light Small camera for small person. Do not charge him with a gunman because he will leave her cornered in his room, if it is hard for us to sometimes pull our equipment, what will a child do with a camera that hinders him more than he has fun?
Photo and video. Ideally, take both photos and video, because they love the action. You will find it very rare if you do not have this option. In addition, having it will help stimulate your creativity.
Ergonomic Or what is the same (that the word is a bit ugly), that is easily manageable by their little hands. Children of the same age can have very different hand sizes, make sure that the camera you choose is suitable for their hands, can hold it well and easily reach the buttons.
That said, I present some models that may interest you:
1. EASYPIX W1024
This camera is for the tightest pockets and the most "junk" kids you think will not last long. It is the most economical but also the lowest quality. It can also be a good idea as a second camera if you already have one but are not friends with water .
characteristics
Sensor: 10 MP
Water resistant up to 3 meters
Zoom digital 4x
With self-timer
VGA video : 640 x 480px, 30fps
10 second timer
Dimensions: 90.3 x 63 x 25.3 mm
Weight: 98 grams (without batteries)
Price: € 59.63
Drawbacks
The screen does not have much resolution and, having no viewfinder, when it is very sunny or underwater, there is no choice but to shoot by eye and consume a lot of battery, so it is recommended to use rechargeable batteries.
The best
The price and its design easy to use and handle.
Easypix Aquapix W1024 – Digital Compact Camera (10 MP, 2.4 ", 4X Digital Zoom, VGA), Yellow Color 
*
 – Camera
Price: € 59.63

(As of: 2020/01/12 6:54 pm – Details
)
7 new from 

€ 43.53
 0 2nd hand
2. NIKON COOLPIX S33
This camera is one of the most economical that I will present to you and is perfect for children who like snow, water or sand.
characteristics
LCD screen. 6.7 cm (2.7 inches)
Adult menu and children's menu. The full menu can be seen as a simple and intuitive menu for children or easily changed to an adult menu
Resistant. It is resistant to water, cold, dust and shock, in short, childproof
Objective wide – angle optical 3x zoom
Videos. Record videos with maximum definition (Full HD, 1080 / 30p)
Underwater frames. You do not need to dive to frame, as it has a system that automatically shoots by face detection
Motion blur reduction function. For sharper photos even with movement
Ergonomic design. With curves designed to fit the hands of any age
Deletion Lock So that photos are not deleted by accident
Scene Modes 16 different scene modes to adapt to any situation
Price: (price not available at this time)
Nikon Coolpix S33 – 13.2 MP Compact Camera (2.7 "Screen, 3X Optical Zoom, Water Resistant, CMOS), Yellow * – Camera
Price: (price not available at this time)
(As of: 2020/01/12 6:55 pm – Details
)
0 new 0 2nd hand
(* = Affiliate Link / Image Source: Amazon Affiliate Program)
3. FUJIFILM FINEPIX XP90
We are improving in quality and performance. This camera offers new functions with respect to the previous ones, something that shows in the price without being scandalous .
characteristics
Waterproof up to 15 m, shockproof up to 1.75 m, freeze resistant to -10 ° C and dust resistant
5x optical zoom with 28mm wide angle adjustment
Video: Full HD 1,920 x 1,080 pixels at 60p in MOV / H. 264
ISO: up to 6400 (although for small sizes, for large sizes it is better not to go up to 1200)
Continuous shooting mode: Burst up to 10 fps

Dimensions: 2.7 x 10.9 x 7.1 cm
Weight: 186g approximately without memory card or battery
Shooting mode with interval timer: to perform Timelapse
The screen has an anti-glare coating and automatic brightness adjustment for use in bright environments.
Drawbacks
Probably because of the sealing issue, the shooting mode buttons are somewhat hard when pressed.
Fujifilm FinePix XP90 – 16MP compact digital camera (BSI-CMOS sensor, 5x optical zoom, 28mm wide angle, 3 "LCD screen, image stabilizer, ISO 6400, Full HD, WiFi), blue * – Camera
Price: € 199.00

(As of: 2020/01/12 6:55 pm – Details
)
1 new from € 199.00 0 Second hand
(* = Affiliate Link / Image Source: Amazon Affiliate Program)
4. CANON POWERSHOT D30
We pass to another type of cameras. These are more suitable for those who have already had other cameras and want to take another step and for those who have a special predilection for photography, as it offers the possibility of manually controlling certain parameters.
Sensor: 12.1 MP (although its sensor offers the same megapixels, it offers better quality than previous cameras, even in low light conditions)
Dimensions: 10.9 x 6.8 x 2.7 cm
Resistant: under water up to 25 m deep, blows from falls of up to 2 m, cold resistant to -10 ° C and totally dust resistant.
Maximum aperture: f / 3.9 – f / 4.8
Focus: AF modes (Simple, continuous (only available in automatic mode), Servo AF / AE¹, Tracking AF, Underwater Macro, Fast)
Macro: minimum focus distance 1 cm (angular) from the front of the lens in Macro mode
Measuring modes: Evaluative (linked to the Face Detection AF frame), averaged with central preponderance, Punctual (central)
Exposure compensation: +/- 2 EV in 1/3 point increments
Excellent aquatic images thanks to Underwater mode
ISO: AUTO, 100, 200, 400, 800, 1,600, 3,200
7.5 cm (3.0 ″) PureColor II LCD display: simple display with bright light thanks to the large screen with Solar Light LCD mode
Full HD videos (1.080p) with optical zoom and HDMI
Super slow motion video and different video recording modes
Price:  (price not available at this time)
Drawbacks
It does not have Wi-Fi connectivity, although I do not think it is very necessary for a child. It fogs in places with high humidity.
Canon PowerShot D30 – 12.1 MP Aquatic Digital Camera (Submersible up to 25 m, 2.7 "Screen, 5X Optical Zoom, Digital Stabilizer, Full HD Video, GPS), Blue * – Camera
Price: (price not available at this time)
(As of: 2020/01/12 6:55 pm – Details
)
0 new 0 2nd hand
(* = Affiliate Link / Image Source: Amazon Affiliate Program)
5. OLYMPUS TOUGH TG-870
For children and adventurers, a compact off-road camera that also allows certain manual controls.
characteristics
Resolution: 16 Mp (although the type of sensor it carries makes the image quality much better than with the previous ones)
Wide angle lens : 21mm (21-105mm)
Dimensions: 112.9 x 64.1 x 27.6 mm
Weight: 224 g (battery and memory card included)
Resistant: to dust, drops from 2.1 m, compression up to 100 kg, freezing to -10 ° C and is submersible up to 15 m
Maximum opening: 3.5 – 5.7
LCD screen: 3.0 ″ 180º folding
Focus system: TTL iESP autofocus with contrast detection
Video: 1080p 60fps and with artistic filters
Wi-Fi connection and geolocation
Macro: minimum focus distance of 1 cm
Burst shooting and interval shooting
Image editing function: Redimension / Trimming / Saturation correction / Red-eye reduction / Shadow adjustment
Video editing function
Timer
Price: € 299.00
The best thing about this camera is that it allows, like the previous one, to manually control some parameters, which is a step for these little ones to become great photographers.
Olympus TG-870 Tough – Compact 16 MP aquatic camera (3 "screen, 5X optical zoom, 5-axis mechanical stabilizer, Full HD video at 60fps, WiFi), White * – Camera
Price: € 299.00

(As of: 2020/01/12 6:55 pm – Details
)
1 new from € 299.00 0 Second hand
(* = Affiliate Link / Image Source: Amazon Affiliate Program)
I hope this article has been useful and clarified some ideas. Before saying goodbye, I leave you with two articles that may interest you:
The 10 Best Compact Cameras (For All Pockets)
A different gift? The Fujifilm Instax Wide 300 Instant Camera
Thank you and see you soon!