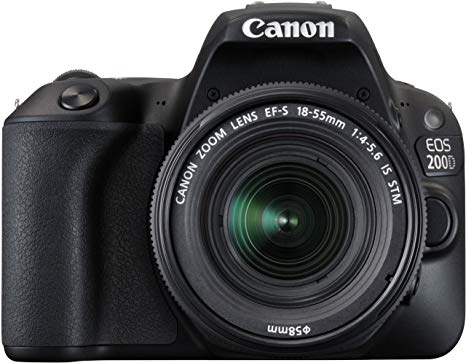 As we know how difficult it is to find a suitable camera, the one that best suits you , the one that accompanies you on your adventures and is your best friend when immortalizing your memories and taking out the artist you have inside; From the blog we try to simplify your work. Today we bring you the Canon 200D, also known in other latitudes as Rebel SL2. It is one of the lightest and most compact SLR in the market, but without sacrificing  image quality. It is very ergonomic and is available in three different colors, black, white and silver. If this is already convincing you, keep reading that I present it to you thoroughly.
DIRECTED TO…
The Canon 200D is designed for those who are starting or want to take a leap from their smartphone or compact to an SLR camera to gain in functions and sensor size.
Why is it ideal for an initiation level? Mainly because of its  intuitive menu and the help guide that it includes, which are small tutorials that guide you when it comes to photographing and explaining the effects that the adjustments you make will have on photography.
To contextualize it, it could be said that there are three steps between the initiation or low range cameras, this would be in a second step. She is the younger sister of the 800D , with whom she shares several features (such as the processor and the Dual Pixel focus system), something that gives her many points.
FEATURES OF THE CANON 200D
24.2 MP
Penta mirror viewer (Approx. 95%)
DIGIC 7 processor: high definition images
5 fps (3fps in RAW)
Dimensions:  122.4 x 92.6 x 69.8 mm (W x H x D)
Weight (battery and card included):

Black: approx. 453 g
Silver: approx. 454 g
White: approx. 456 g
ISO Auto (100 – 25 600), 100 – 25 600 (in increments of 1 step).  Expandable to ISO 51200. More or less acceptable noise up to ISO 6400.
Shutter speed:  30-1 / 4,000 s (in 1/2 or 1/3 dot increments), Bulb mode
Display: 7.7 cm (3.0 ″) touch with 3: 2 format and folding angle. Coverage approx. 100%
Dual Pixel Focus CMOS AF (faster focus)
Focus points: 9 (central cross)
Measuring modes:

Via optical viewfinder: Dual-layer measurement sensor with 63 zones (evaluation average, partial, by points [only central] and weighted to the center)
Through live view of the LCD screen: Evaluative measurement, Partial measurement, Spot measurement, Average measurement with central preponderance

Exposure compensation: +/- 5 EV in increments of 1/3 or 1/2 step
Low pass filter
Sensor cleaning
Shooting modes:  Automatic intelligent scene (photo and video), without flash, Creative Auto, SCN (portrait, landscape, close-ups, sport, group photo, night portrait, night scene without tripod, HDR backlight control, food, children, light candles), creative filters, programmed AE, shutter priority AE, aperture priority AE, manual (photo and video), self portrait
Image styles:  Auto, standard, portrait, landscape, fine detail, neutral, faithful, monochrome, user-defined (x3)
Creative filters:  (B / W with grain, soft focus, fisheye effect, watercolor effect, toy camera effect, miniature effect, HDR standard art, HDR live art, HDR art oil, HDR art relief)
Others:  Multiple exposure, Resize, crop (JPEG only), Highlight tonal priority, Noise reduction
Live View Mode "Live View":  29.97 fps, Manual focus (magnify the image 5x or 10x anywhere on the screen). Auto focus: Dual Pixel CMOS AF (Face Detection and AF Tracking, Multiple FlexiZone, Simple FlexiZone), Photo to Photo AF and Servo AF selectable for photos and videos. Real-time evaluation measurement with image sensor. Evaluative measurement, partial measurement, punctual measurement, averaged measurement weighted at the center.
Connectivity: Wi-Fi, Bluetooth, NFC
Materials: 

Chassis: Aluminum alloy and polycarbonate resin with fiberglass
Exterior: Polycarbonate resin with fiberglass and special conductive fiber
THE BEST
The screen is completely foldable, to shoot from any angle without having to do contortionism and has several direct access buttons. Includes micro connection ideal for videos.
The selfie  mode  retouches and softens the image. It has a direct button to connectivity and is easy to use (if your thing is to make self-portraits and upload them immediately to social networks this camera is ideal for you;)).
The highlight is the good image quality it offers.
DRAWBACKS
The Canon 200D does not record 4k video, it is kept in a decent Full HD, although in question video has in its favor that it has micro input, as I just told you.
Another drawback is that it has no configurable buttons, which is not one of the best in terms of dynamic range  and its focus system only includes 9 points, yes, with very fast processing;).
But perhaps, the biggest drawback is the price, which does not quite convince the audience it is aimed at. Although something has already dropped, there is still a reflex SLR at a better price. If your budget does not reach the Canon 200D, check out the Canon 1300D  (see review  or video review ) or the Nikon D3400 (reviewed here ).
PRICE
The body costs  (price not available at this time) , although if you are interested in the objective of the kit you have it for:  (price not available at this time)
We usually recommend that you buy the camera separately because you can choose the lens according to your needs. The one that comes in the kit, the downside is that it is not very bright, although on the other hand it is versatile and to start it is fine, here is how to make the most of it.
The other option is to buy it without an objective and catch a 50mm, like the king or the prince, if you don't get the budget. It is a personal matter;).
COLORS OF THE CANON 200D
If aesthetics is important to you, you're in luck, you have different colors. In classic black and silver. Of course, when you put a normal target in black, the aesthetic theme will dazzle. But if you do not mind or the idea is to stay with the objective of the kit, the truth is that they are very colorful models:
Canon EOS 200D – 24.2 MP DSLR camera (3.0 " touch screen, Wifi, Bluetooth, Dual Pixel CMOS AF, Full HD) – EF-S 18-55 IS STM 
*
 body kit with lens – Electronics
Price: (price not available at this time)
(As of: 2020/01/19 7:37 pm – Details)
Canon EOS 200D – 24.2 MP DSLR camera (3.0 " touch screen, Wifi, Bluetooth, Dual Pixel CMOS AF, Full HD) – EF-S 18-55 IS STM * body kit with lens – Camera
Price: (price not available at this time)
(As of: 2020/01/19 12:01 pm – Details)
0 new 2 2nd hand from € 540.94
(* = Affiliate Link / Image Source: Amazon Affiliate Program)
GALLERY
Here are some images shown by the brand made by a Canon 200D:
And here you can see more pictures taken with this camera.
CONCLUSIONS
A camera "starts" to start because it offers very good quality despite its size and weight is more like a compact. With many possibilities to learn and give it lasting use over time. Yes we do not recommend it too much if you are very big hands or looking for a robust camera. But believe me, if it is not something that is already usual for you, it may be that a large size or a lot of weight could lead to an inevitable laziness when taking it with you.
If you have many doubts at the time of purchase, surely one of these items helps you clarify your ideas:
Supercomplete Guide to Buy Your First SLR Camera
If You Are One Of These People, SLR Cameras Are Not For You
Typical Errors When Buying a SLR Camera
5 Key Points to Consider when Buying a Camera
Now, if you found the article useful, I am going to ask you the favor to share it in your networks or with who you think may interest you. Thanks for getting here. Until next time!
Canon EOS 200D – 24.2 MP DSLR Camera (3.0 " Touchscreen, WiFi, Bluetooth, Dual Pixel CMOS AF, Full HD) – Body * – Camera
Price: (price not available at this time)
(As of: 2020/01/19 11:19 pm – Details)
0 new 0 2nd hand
(* = Affiliate Link / Image Source: Amazon Affiliate Program)