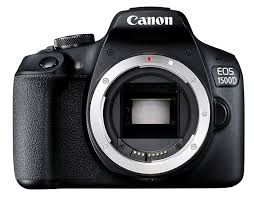 How many times have you wanted to have an SLR camera but you didn't save enough money? This is much more common than you can imagine. Luckily, today there are much cheaper SLR cameras than a mid-range phone. To show you, today I present the Canon 4000D.
TO WHOM?
Its price, ease of use, features, advice guide or its automatic intelligent scene mode make this Canon 4000D a camera to start in photography.
If you are wishing to immerse yourself in the reflex world, you have discarded the compact and the EVIL, but your budget is tight, you no longer have to give up your dream. For only € 299.00   you can get a SLR and start enjoying.
It is also designed for those who lose their mobile phone and look for something else without getting too complicated. If your idea is to have a SLR and use it automatically, this is your best option .
CHARACTERISTICS
Let's see what features this Canon 4000D offers, which basically replaces the Canon 1300D :
Sensor: 18MP APS-C
Optical viewfinder
Live View mode: you can see on the screen how the photo will look while changing the settings
Shutter speed: 30-1 / 4000 s. Bulb mode
Burst Mode: Max. Approx. 3 fps in JPEG format
Focus points: 9
ISO: 100-6400
Exposure compensation: +/- 5 EV in increments of 1/3 or 1/2 step
Function guide : guide with tips
Wi-Fi wireless connection
Shooting modes: Auto Intelligent Scene, Creative Auto, Portrait, Landscape, Close-ups, Sports, Food, Night Portrait, Program AE, Shutter Priority AE, Aperture Priority AE, Manual, Video Mode
Image styles: Auto, standard, portrait, landscape, neutral, faithful, monochrome, user defined (x3)
Creative filters
Built-in low pass filter (which aims to reduce the Muaré effect and false color ( more info here )
LCD screen: 2.7 ″. It is a non-touch or flip screen
Full HD videos
Compatible with EF / EF-S Mount lenses (which means you have a wide range to choose from)
Battery life: Approx. 500 shots
Dimensions: 129.0 x 101.6 x 77.1 mm
Weight: Approx. 436 g (battery and memory card included)
Price: € 299.00
ADVANTAGE
Its biggest advantage is the price. With what they cost other reflex SLR you can buy the Canon 4000D and the prince of the lenses and achieve images that will surprise you even.
Another advantage is the Automatic Intelligent Scene Mode. With it you just have to frame and shoot. To start it is fantastic. Like the Canon Photo Guide (download available for iOS and Android) that offers simple photography instructions.
It is also a great advantage for many to share photos directly on social networks or upload them to the cloud.
DRAWBACKS
For many, a screen that is not tactile or foldable can be a problem, although the main real drawback of the screen is its size, which is somewhat small.
It has Wi-Fi connection, but not with Bluetooth or NFC system.
PHOTO GALLERY
In the end, what interests you most is knowing what kind of photos you can achieve with this camera. Here is a small sample. You will be surprised :
More photos taken by Canon 4000D users here .
To finish and, above all, dedicated to those who think that a better camera will make you a better photographer, in the following video VioletaPhoto compares you portraits made with a beginner camera and another full frame (€ 400 vs. € 1500):
So far, today's article, if it has been useful, do not forget to share it on your favorite social network. If any of your contacts are looking for a camera, they will thank you . And I also.
Thank you and see you soon.
Canon EOS 4000D Camera With Lens EF-S 18-55mm III, 18 MP, Black 
*
 – Electronics
Price: € 299.00

(As of: 2020/01/14 12:28 am – Details)
You save: € 70.99 (19%) (19%)
2 new from 

€
 289.00 
3 Second hand
 from
 € 278.00