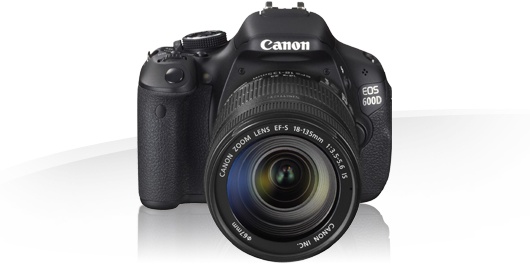 Introduction
Since Canon introduced in August 2003 the entry-level reflex camera EOS 300D (Digital Rebel), it has not ceased to develop and improve this segment. From camera to camera, various functions are added, the resolution of the matrix is ​​increased, technical innovations and achievements are introduced. First Live View mode, then video shooting … But, it seems, today it's already impossible to add something fundamentally new to an amateur DSLR. So let's try to figure out how technically this camera is more interesting than the previous model – the Canon EOS 550D .
For testing, the camera got with the updated Canon EF-S 18-55mm F3.5-5.6 IS II whale lens.
Get price Canon EOS 600D
The main features of the camera:
18-megapixel APS-C CMOS sensor with a maximum frame resolution of 5184×3456;
photosensitivity ISO 100-6400 in increments of 1/3 or 1 EV, expandable to ISO 12800;
burst shooting 3.7 frames / s;
3-inch rotary display with a resolution of 1,040,000 dots;
video shooting at 60 frames / s at a resolution of 1280×720, 30 frames / s at a resolution of 1920×1080;
remote flash function.