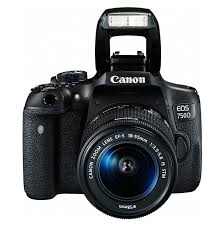 Key Features
The line of amateur Canon DSLRs can really be called legendary. Back in 2003, the first digital SLR camera cheaper than $ 1000 appeared – the Canon EOS 300D. Millions of photographers began their career with cameras of this particular series, and now many of them with nostalgia recall their first EOS 450D or one of its brothers.
Canon EOS 750D and Canon EOS 760D
Get price Canon EOS 750D / Canon EOS 760D
In 2015, the well-proven camera series was replenished with two models at once: Canon EOS 750D and Canon EOS 760D. Despite belonging to the amateur class, the novelties of this season borrowed a number of characteristics and functions that were previously found only in semi-professional models: a powerful DIGIC 6 processor, 19-point finely tuned autofocus, and the Canon EOS 760D completely acquired a second control disk and an upper monochrome display.
Both of these cameras will become the heroes of our test under the heading "Week with an Expert". Every day for a week we will test the cameras in real shooting conditions, publishing a new part of a large review.
What's new?
Our attentive readers must have noticed the following trend: in recent years, the pace of development of SLR cameras has slowed somewhat. Often, the new model differs little from the old one, has similar characteristics and provides similar image quality. In the "Buyer's Guide" section , we sometimes recommend that you refuse to buy the newest camera in favor of the previous model, which has noticeably become cheaper, but almost not losing in technical terms. So, all of the above in no way applies to the Canon EOS 750D and Canon EOS 760D! Almost all the filling of these cameras is new.
New 24-megapixel image sensor for ultimate detail
Canon EOS 750D / Canon EF-S 18-135mm f / 3.5-5.6 IS STM Settings: ISO 100, F10, 1/200 s
Let's start with the image sensor. It uses the new 24.2-megapixel sensor format APS-C. We saw the exact same sensor only in the Canon EOS M3 we tested earlier . He appeared for the first time in mirrors and put an end to the whole era of 18-megapixel cameras: Canon EOS 550D, EOS 600D, EOS 650D, EOS 700D, EOS M, EOS 60D, EOS 7D, EOS 1200D, EOS 100D – isn't it, solid list? It is possible that the new 24-megapixel sensor will become the basis for creating an equally large family of cameras.
Together with the new sensor, the DIGIC 6 processor, well known to us by professional models, but first installed in an amateur DSLR, works.
The use of a more powerful processor affects not only image quality. It is the processor that makes it possible to "give" the camera new functions and characteristics. For example, thanks to him, the autofocus system was seriously improved. When sighting on the screen (this is especially important for amateur photographers) and when shooting video, focusing is carried out according to a hybrid principle. For focusing, phase sensors are used, located directly on the camera's matrix, and fine-tuning is already carried out according to the contrast principle. The technology used here is called Hybrid CMOS AF III. Autofocus speed in the end turned out to be higher than in previous models of cameras. You can also use continuous autofocus during movie shooting.
Convenient autofocus in Live View mode allows you to use the display for sighting in almost any situation, significantly expanding the choice of shooting points
Canon EOS 750D / Canon EF 50mm f / 1.8 STM Settings: ISO 100, F8, 1/320 s Download RAW
But even greater improvements were made to the phase autofocus used when shooting through the viewfinder. Instead of 9 autofocus points that have become familiar to the amateur camera series, here we see 19. All points are of the cross type. They cover a large area of ​​the frame, and when shooting, you can manually select not only individual points, but also entire groups. Previously, only Canon EOS 70D level cameras could boast of such autofocus .
Excellent autofocus allows you to use amateur models Canon EOS 750D and Canon EOS 760D for quite serious reporting shoots
Canon EOS 760D / Canon EF-S 55-250mm f / 4-5.6 IS Settings: ISO 200, F7.1, 1/1250 s
Of the important innovations, the wireless capabilities of the Canon EOS 750D and EOS 760D should also be noted. Both cameras are equipped with a Wi-Fi wireless module that allows you to share pictures and videos with other devices, print wirelessly on compatible printers, remotely control the camera from mobile devices, and upload pictures directly from the camera to cloud storage and even social networks. For ease of communication with modern gadgets, a dynamic NFC tag is used here, which allows you to transfer pictures to compatible smartphones and tablets with one touch.
What is the difference between Canon EOS 750D and Canon EOS 760D?
Most likely, you already guessed that the filling of both cameras is almost identical. What is the difference between these cameras? There are two key differences – they relate to appearance and control.
If the Canon EOS 750D is designed in the best tradition of amateur DSLRs, the Canon EOS 760D borrowed something from professional models. In fact, he is the boundary model between the amateur and semi-pro class. This is a great modern alternative to the Canon EOS 70D . Canon EOS 760D has got a small monochrome display on the top panel. Such a display allows you to constantly monitor the main shooting parameters, as well as quickly change some settings by turning off the main, more energy-intensive display.
Canon EOS 760D got a top monochrome display
The Naviped on the back of the Canon EOS 760D is surrounded by a control ring that allows you to quickly enter exposure compensation when shooting in semi-automatic modes or control the iris in manual mode. How convenient it is to put into practice and in what genres of shooting such an interface will give an advantage, we will tell in our big test. Stay tuned!
Navipad on the back of the Canon EOS 760D is surrounded by a control ring