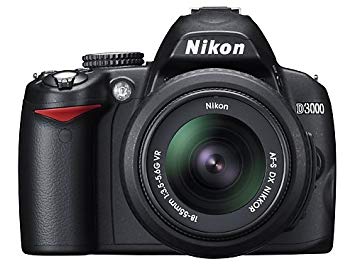 [alert type = white] It is already very difficult to find a D3000 for sale. It has evolved into a much more powerful camera called Nikon D3200 . Check it out  here . [/ Alert]
Well, since I spoke last time about the Nikon D60 and its advantages and features, I will talk about its immediate replacement: the  Nikon D3000 and its characteristics.
We are presented with a camera that is the date I write this the best selling SLR camera on Amazon USA.
ADVANTAGES OF THE NIKON D3000
Among its advantageous features are:
Automatic sensor cleaning.
11 focus points.
3 photos per second.
3 inch LDC screen.
Otherwise, the camera has the same characteristics as its sister Nikon D60 .
DISADVANTAGES OF THE NIKON D3000
For the pleasure of some users, the Nikon D3000 takes points away from the lack of:
Live View: while taking the picture you cannot see it through the LCD screen. You can only see it once taken.
Relatively slow firing burst, compared to that of more advanced cameras.
Lack of video mode (although professional photographers generally don't miss it, what really worries them is to get a good picture and not record videos).
In the following link you have examples of photographs taken with a Nikon D3000 so that you can get an idea.
It's hard to get a new D3000 in stores. If you are looking for something of the style, look at its successor, the  Nikon D3200 .