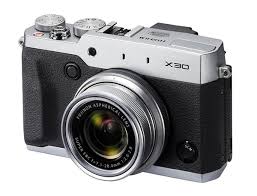 Camera description
Three years ago, with the launch of the X10, Fujifilm set the bar for the compact class. After a couple of years, with the release of the Fujifilm X20 model, Japanese engineers managed to surpass their success by improving the display and speed of work, which won the respect of even the most notorious skeptics. But progress does not stand still, and we are facing the third generation of the X-series cameras – the Fujifilm X30 model, which managed to incorporate all the best from its predecessors and is ready to demonstrate new technical solutions that we have not seen before.
Learn the price of Fujifilm X30
If we draw an analogy between the camera and a person, then the Fujifilm X30 brain is played by the EXR II image processor, and the eyes are played by the 2/3-inch X-Trans CMOS II matrix, which lacks an optical low-pass filter, which should have a beneficial effect on sharpness of the output image. The array of pixels differs from the traditional Bayer one, which allows you not to be afraid of the appearance of moire. The maximum output resolution of the image is 4000×3000 pixels with an aspect ratio of 4: 3. Among the available frame formats are 3: 2, 16: 9 and 1: 1. Shooting can be done in RAW and JPEG.
Of course, the main muscle of the camera, laying on the blades of competitors in the class, is a luxurious lens. The range of focal lengths of 28-112 mm (in 35 mm equivalent) gives a feeling of the broadest freedom of creativity and allows you to easily solve most of the tasks that an enthusiastic amateur photographer poses with technology. The maximum aperture values ​​f2.0-2.8 allow shooting even in low light conditions, without resorting to an increase in ISO, and, as a result, with less noise in the final image.
A distinctive feature of the new product is an excellent digital viewfinder with a resolution of 2.36 million pixels, which without exaggeration can be called the best among compact cameras, because according to the manufacturer, the image delay in it is only 0.005 s.
For more convenient shooting, the camera is equipped with a rotary 3-inch LCD screen, which will surely appeal to all those who are not indifferent to macro photography or who often take it outstretched by lifting the camera above their heads.
The camera uses many technologies to increase energy efficiency, but despite this, the developers also did not forget about the battery and increased its capacity by 1.8 times compared to previous Fujifilm cameras, which allowed taking up to 470 photos from a single charge (when measured by technology CIPA).
Fans of travel will certainly appreciate the possibility of recharging the battery directly in the camera via a USB cable. Now you can save precious space in your luggage, just take a microUSB cable and a power source, which, for example, can be a laptop