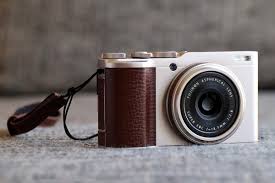 Getting to know the camera
The FUJIFILM XF10 is a new product in 2018, which belongs to the compact category with a large sensor. The main advantage of such cameras is the combination of a truly pocket size, high quality pictures and the functionality of advanced mirrorless cameras. Like them, the XF10 has an attractive retro design and offers a full range of manual settings.
Get price FUJIFILM XF10
FUJIFILM XF10 is equipped with an APS-C format matrix with a resolution of 24.2 megapixels and a 3-inch built-in touch screen. The capabilities of a non-replaceable wide-angle lens with a f / 2.8 aperture and a focal length of 28 mm are expanded by the digital tele-converter function. The digital image stabilizer is designed to receive an ungreased picture when shooting video. Claimed 4K video.
XF10 
Settings:
 ISO 200, F4, 1/140 s, 18.5 mm equiv.
Well, according to the stated characteristics, the camera looks interesting. Let's get to know her better and check the listed opportunities in business.
Design and ergonomics
The camera is made in a metal case in two colors: completely black and golden (Champagne Gold) with a brown leather finish. The first option will appeal to those who prefer not to attract attention when shooting. The second, on the contrary, will allow you to emphasize your own refined taste and creative nature.
To protect the lens, there is a cap in the kit, and a wrist strap for convenient and safe carrying on your hand. However, you can securely hold the camera in your hand even without a strap, thanks to a small handle with a non-slip coating on the front and a ledge on the back.
The dimensions of the camera are 112.5 x 64.4 x 41 mm, and the weight is only 280 grams. So this baby will fit even in the breast pocket of a denim shirt, man purse or ladies clutch, and even in a jacket or bag she always has a place.
The built-in lens in the idle position protrudes from the housing by only 10 mm, and in the working case it extends slightly, not more than 5 mm.
Below, like most compact cameras, there is a combined compartment for the battery and memory card.
On the right side of the case there is a compartment with interfaces: a 3.5 mm jack for connecting a microphone or a wired remote control, a micro-HDMI output connector and a micro-USB connector, which can be used to recharge the camera.