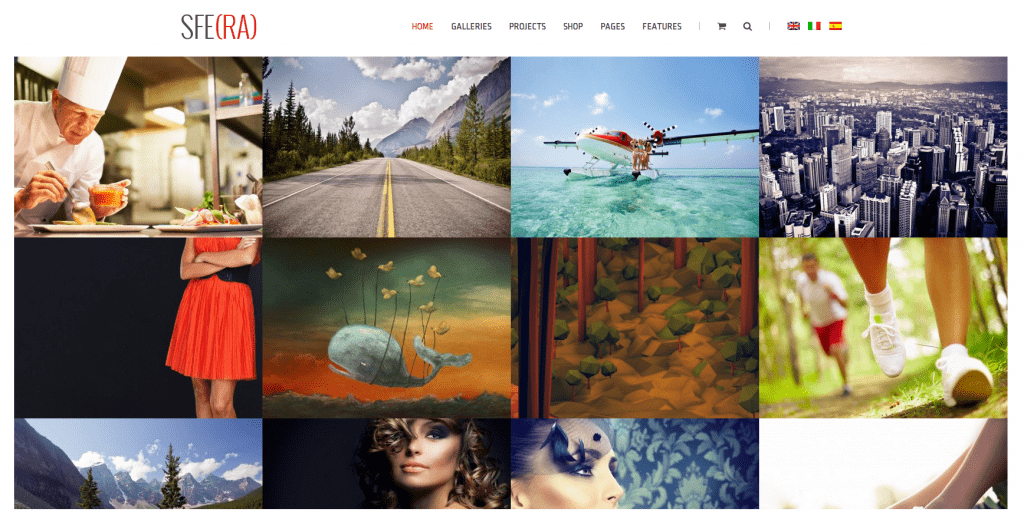 Following a popular request, very recurring (and very, very heavy) I proceed to make this detailed tutorial public in which I explain in a very detailed way, step by step, how to create your own online photo gallery as a photographer. As usual, I will try to raise the issue in a simple and understandable way since, in most cases, most of you stop taking this step because of the apparent complexity of setting up your own page with a photo gallery. It is nothing complex, what happens is that it is usually explained fatal. Let's see how I get
WHY AN ONLINE PHOTO GALLERY?
Photography, by nature, is made to be shared, displayed and displayed. Except for very personal or private photographs, treasuring photos on a memory card or hard drive and not sharing them with the world around us is absurd. Your satisfaction as a serious amateur photographer (later we will talk about the professional) is culminated only when your small works are seen and admired by tens, hundreds or thousands of photographers and spectators. I think the exhibition of the photographs is part of the photographic hobby itself. Finding the opposite is rare, it's like being an actor and not wanting to have an audience.
If you are a professional photographer, in addition to enjoying exhibiting your work to the whole world you have the need to reach more clients, you need to attract new clients if you want to continue enjoying this profession. Your future clients cannot guess the quality of your work, they need to see them. An online photo gallery is your best resource to reach more customers.
As a photographer, your online gallery is your business card, it is the first thing that your potential clients will know and see from you.
Do you want to have your own online photo gallery? Let's see what options there are.
TYPES OF ONLINE PHOTO GALLERIES
You already know that you need to expose your photos on the Internet, either to share them, or to consolidate yourself as a professional photographer and get jobs and clients. Now you are asked the question, what options do I have? There are 2 types of online galleries that you can build:
Social networks
Affordable option, free, and available to everyone.
Ideal for sharing photos with friends and family.
Some of these social networks are made with the rights to publish your work by default, which can be a small disadvantage.
The small drawback they have is that, with your photo gallery on one of these social networks, you are another photographer. Most people expose their photos on social networks. It is a very "democratized" medium, which will make it harder for your work to stand out. Unless you have thousands of followers.
Examples: Facebook, Flickr, Pinterest, 500px, etc.
Own photo gallery
Recommended for enthusiastic and professional amateur photographer.
It allows you to keep 100% your rights as a photo author.
It requires a small investment of effort at the beginning (which I will explain step by step in this tutorial).
It allows you to create and nurture your own personal brand as a photographer.
Absolute freedom to choose designs, formats and templates.
WHICH OPTION IS MORE RECOMMENDED?
If you publish photos occasionally , you take photos from time to time type on holidays or parties, and you have the need to share them with your circle of friends forever, you do not worry in the least give up the rights of your photos, and photography is possibly a passing moment in your life, do not waste your time assembling your own photo gallery. Believe me, it will be like buying an SLR camera and using it in automatic mode. In a couple of months you will get tired.
If you are a professional photographer or your goal is to make your hobby profitable by covering events, reports and charging for taking photos , you will undoubtedly need to set up a gallery of your own and independent. Yes, you can (and should) have a presence in social networks like Flickr and others, but it is something complementary.
Your publishing platform, your business card, your operations center and your showcase of samples and capture of new photographic works will be your own online gallery.
If you choose the option of having your own gallery, read on because in the next lines I will show you step by step how to set up your first photo gallery on the Internet. At the end of this tutorial you will be able to create your photo gallery and start promoting it among your contacts.
HOW TO SET UP YOUR FIRST ONLINE PHOTO GALLERY?
For this there are many solutions on the market, some very expensive (excessively, to my liking), others very cheap and very limited in functions, others too complex for which it seems you need to get a Master in design, programming and administration of servers.
My recommendation is that you are looking for a middle ground first.Escape from overly expensive options as they go beyond what you need, avoid options that are too cheap or even free because you will end up with a bungling and mediocre job that will affect the quality of your gallery and therefore will have a very negative impact on your image as a photographer Setting up your photo gallery in Blogspot for example (known blogging service) may be a good idea if you are looking to experiment and mess around, but I personally do not recommend it if your goal is to have your own website where you can expose your photographs in a professional manner.
It also values ​​the complexity or simplicity of the solution. The one I recommend in this article (below) is in my view the simplest and most integrated solution in the market. To set up an online gallery you usually need to buy a domain on the one hand, a hosting server on the other hand, install a content management system, etc. If you have the blessed Master that I was referring to a moment ago, you may manage, otherwise you can go crazy. My recommendation is that you set up your gallery in an integrated system that offers everything in one, so you just have to activate your account and that's it.
I have been and I am a user of Bluehost , an excellent platform that offers you everything you need to set up your own online gallery, web or blog. I think they offer a good balance between seriousness, reliability, ease of use, and reasonable price (for less than 100 euros a year you have a robust and professional-looking website, worthy of exposing your gallery as a professional photographer).
In today's tutorial I show you step by step how to create and activate your gallery with Bluehost and have it active and working in minutes, literally.
We start from the next page  (affiliate), where you are presented with 3 different price plans. For a first online photo gallery, of a professional type, I recommend that you opt for the "starter" option on the left, it is the most economical (I think it comes out for less than 80 euros) and at the same time, it covers all the needs that you will have to expose your photographs. The following options, if you look, they charge you 2 and up to 4 times more, and they really don't give you any value you need. With the "starter" package you have plenty.
Once the "starter" package is selected, it is a matter of choosing our domain name. Unlike other sites, the moment you activate the service with Bluehost you get the domain name for free.
For the domain name you can choose your name and surname, your nickname or pseudonym, or it can be a phrase or set of words if your goal is to be known for it. Here are some fictional examples to inspire you:
miguelgutierrez.com
fotografodebarrio.com
miguelgutierrezfotografia.com
fotografobarcelona.com
fotografa-de-bebes.com
estudio-cordoba.com
From this point I leave you with the video tutorial that I have recorded to show you each of the steps that will allow you to have your photo gallery, starting with the domain name and continuing with the rest of the steps. Obviously I recommend seeing it in full screen and in HD quality:
The links I mention in the video:
First Step:  Creating the account with Bluehost
Second Step: to choose a template or design
Some templates that I liked and that you can use:
Flexit
Camera 7
DeRailed
Border
Madison
Photoform
eclipse
fashion
Having a state-of-the-art SLR camera, an exquisite range of lenses and all the accessories you want falls short without an online medium where you can expose your creations. You can be the best writer and write the next great book that will revolutionize the world. It doesn't matter, if you don't publish it, your book doesn't exist. If you don't publish your picture, it doesn't exist.
Thank you for reading me. I hope I have approached the concept of creating a photo gallery and that you are encouraged to create your own. If I can be of more help I am available in the comments section. As always, if you find this article useful, I would greatly appreciate a vote / recommendation down here on Facebook, Twitter or Google+. Thanks in advance