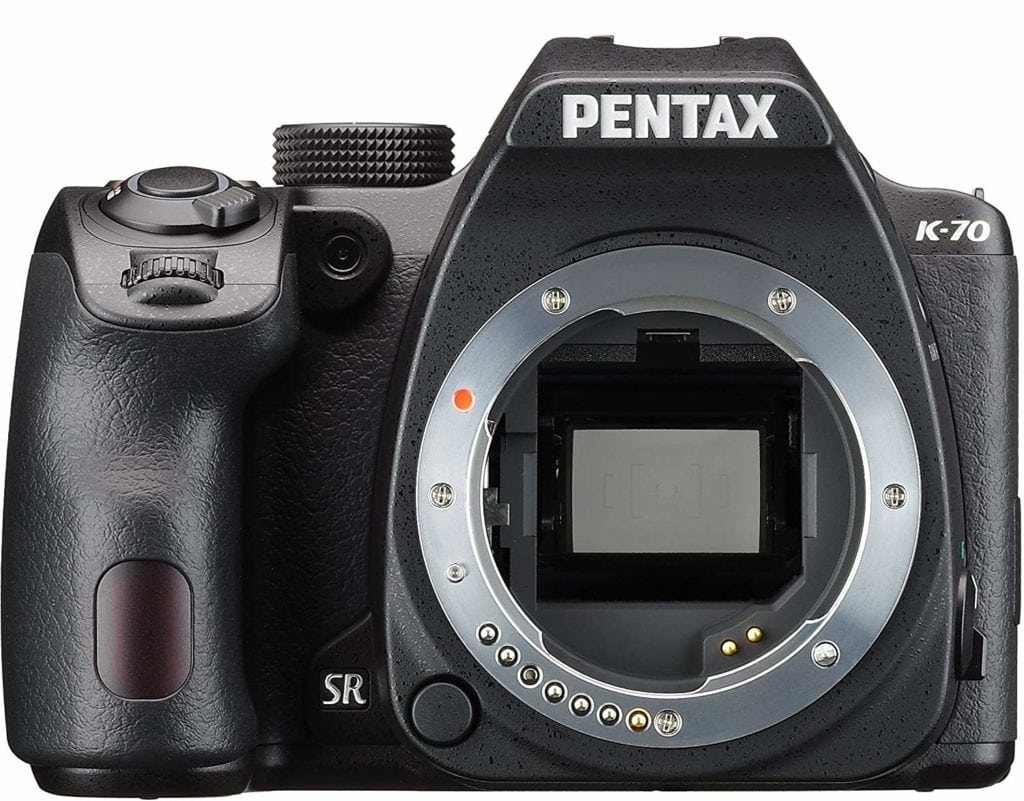 Buying a camera is a task that sometimes we complicate ourselves more. It is true that it is not easy. It will be your partner for a long time, your creative tool, the extension of your photographic eye, etc. It's normal that you don't want to be wrong.
In our desire to make things easier, photographically speaking, I present the Pentax K-70 SLR with simple language and summarizing its main features. If it's your camera you'll know right away;).
TO WHOM?
It is a camera aimed at a medium-level user, although some of its features suggest a somewhat higher range ( some, don't get excited ).
It is designed for those people who like to photograph in adverse weather conditions, you know what we repeat so much of "In bad weather … good photos". Its resistance to water, dust and low temperatures makes it ideal for adventurers and risky athletes.
If you are looking for image quality in a sturdy body, this is your camera.
MAIN FEATURES
AOS-C size 24 MP CMOS sensor . I translate: the 24 megapixels allow you to make extensions up to 50.9 x 34 cm without problems.
Shutter speed: 30s to 1/6000, you can take from long exposures to high-speed photographs.
3 ″ non-touch LCD screen with variable angle, which makes it possible to take photos of impossible angles and even selfies.
Continuous shooting: 6 fps.
No low pass filter, which means you can get more sharpness.
Hybrid focus system, change according to viewfinder or Live View screen . It offers a quick approach.
11 focus points (9 of them cross type).
Pentax Hybrid AF System : combines the advantages of the phase detection AF system and those of the contrast detection AF system, this is to ensure the speed and accuracy of autofocus during live view or direct vision shooting .
Sensor-shift Shake Reduction. Ahem…. I better tell you: stabilization function, which allows you to correct up to 4.5 shutter steps to achieve images without shaking.
Pixel Shift Resolution System : motion correction function, capture four photographs of the same shot by moving in each of them the sensor one pixel in order to achieve a better color range, more detail and less noise.
Optical viewfinder 100% coverage. 0.95X magnification.
HDR mode, to achieve well-exposed images in all areas when there is high contrast of lights.
Interval shooting.
Multiple exposures
Bulb mode
Numerous filters and customizable image modes.
Astro Racer function . If your thing is to photograph celestial bodies, by acquiring a separate GPS module, you can capture them without trails. This function moves the sensor according to the terrestrial movement.
Wi-Fi connectivity You can use a tablet or smartphone with an application to shoot remotely or view and transfer images.
Water and dust resistant , as I have introduced before. Also in the cold, up to -10º. You can not worry about protecting it from the inclement weather. Eye, this does not mean that it is aquatic but that it is protected before splashing, for example. It is best to see the manufacturer's specifications.
Weight: 628g (body only); 688g (with battery and cards).
Dimensions: 12.55 x 7.4 x 9.3 cm.
Price: € 549.78
THE BEST
Good response to high ISO values. Between 1600-3200 it is quite acceptable, even somewhat higher, the noise is more noticeable but according to your level of requirement it can be passable. Although it claims to reach an ISO of 102400, those values ​​do not even consider them.
The added features, the ability to customize buttons, the sealed body, the stabilization system or the integrated focus motor, are some of its sweet tooth characteristics.
WORST
It does not record in 4k. If you are thinking of making video with the highest quality, we recommend other options. Although if it is to use it from time to time, you should know that it offers stable recordings and good continuous focus with Live View.
It only has 11 focus points, and I say only because it is not bad but for an average user it may fall short.
It is not a light camera, but rather heavy.
Forget a quick gust when shooting RAW. With JPG without problems, it complies as it says.
The screen is not touch, for many it is not a problem, but it is something that is almost presupposed.
GALLERY
I leave you with some sample images offered by the brand itself.
But if you want to see more images taken by users of this model, you can see them in this Flickr group.
If yours are the video reviews, we leave you with this presentation:
CONCLUSIONS
It is a camera for users who have been immersed in photography for a while and, preferably, who are already familiar with Pentax or who do not mind adapting to their buttons.
The image quality is up to expectations in a camera of this type and the best thing is that it is sealed, something that does not usually have those of its range. This and the added features are your best points against your weight or lack of touch screen or 4k video.
I hope this article has been useful, if so, please do not forget to share it on your favorite social network. This way we will know if the contents we create are to your liking.
Thanks and see you soon!