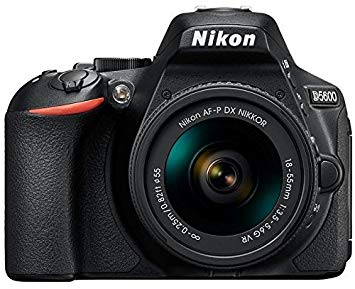 If you look at our article on the best cameras for amateurs , you will find that one of those cameras that we suggest is the Nikon D5600 . You want to know why? We will analyze it in depth, to see if it convinces you or is your ideal camera
TO WHOM?
Although we present it as a camera for beginners, this does not imply that its benefits are limited, on the contrary. It is a camera that, although it is simple to use , compact and small , has enough features to last a very good season without you considering or miss buying a new one.
Its high image quality, its 39 focus points, its low weight, its compact design, its ISO sensitivity range (and its good noise control), as well as its touch screen or WIFI connectivity, place it between the cameras that They are a long term bet.
GENERAL CHARACTERISTICS
Image sensor : DX , CMOS , 23.5 mm x 15.6 mm with 24.2 MP effective, which translates into a very good image quality, which highlights its behavior at high ISO, and its good range dynamic.
Viewfinder : with approximate coverage of 95% horizontal and 95% vertical
Shutter speed : 1/4000 s to 30 s, in steps of 1/3 or 1/2 EV; Bulb and Time options
Frame rate : Up to 5fps
ISO sensitivity : 100 to 25,600
Focus points : 39, 9 of them cross.
Video : 1920 x 1080: 60p
Monitor : 3.2-inch flip touch screen and 170º viewing angle
Dimensions (W x H x D): 124 x 97 x 70 mm
Weight : 415g only the body (it is very light )
WIFI connectivity : Through Snapbridge you can constantly and automatically synchronize the camera with the Smartphone.
Operating environment (temperature) from 0º to 40º
Operating environment (humidity) 85%
Built-in flash : Guide number 12
ADVANTAGE
It is a light but well-built camera , with a handle that provides you with a very good grip, comfortable , with articulated touch screen , great image quality thanks to its 24.2MP CMOS sensor and WIFI connectivity, easily controllable from the Smartphone through of the SnapBridge application.
It also has the not insignificant 39 focus points (9 of them in cross) which makes it a camera more than capable in every way, even working in low light.
DRAWBACKS
The viewfinder does not cover 100% of the scene, only 95%, which can be annoying.
If you are going to use the camera primarily as a camcorder, keep in mind that it does not record 4K.
PRICE
Nikon D5600 – 24.2 MP SLR camera kit with AF-P DX 18 – 55 mm VR lens, 3 "touch screen, Full HD, black color – European Version 
*
 – Electronics
Price: € 535.84

(As of: 2020/01/19 6:35 pm – Details)
You save: € 13.16 (2%) (2%)
3 new from 

€ 535.84
 1 Second hand
 from
 € 498.33
GALLERY
The best thing is that you can check for yourself what kind of images you can capture with this camera:
CONCLUSIONS
For all those who anticipate that this photography is not going to be left in a simple whim, for anyone who has really been trapped by this magical world, this is a great camera for which you can bet without fear of being wrong during A good season.
Not only does it have great image quality and a multitude of advanced options , but it is also compact and lightweight , which makes it ideal to always carry with you. Also, if in the future you bet on a good goal (for example, this one or, failing this one ), the possibilities become almost endless.
What do you think? Is this the camera of your dreams? Do you think it could be that of someone you know? Then do not hesitate to share the article so that it can reach you :-). Thank you and see you next time.