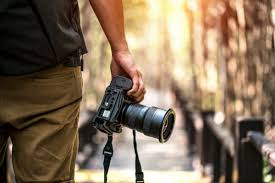 After a few weeks of "presale", something that I like to do exclusively with my VIP Readers, for a few hours it has been available to the general public « Mastering the SLR Photography «, the first Online Photography Course of the Photographer's Blog, a course to which I dedicated myself in these last months in body and soul in order to put into your hands an educational proposal capable of dispelling the fear that you may have in your camera. To create this course and make it reach as many students as possible we have founded Escuela del Fotógrafo , the online photography school of the Photographer's Blog.
ONLINE PHOTOGRAPHY COURSE: VIDEO PRESENTATION
WHO IS THE COURSE FOR?
The course is designed for amateur photographers of "initiation" level. If you are passionate about photography but your SLR camera imposes too much respect on you, if you find it difficult to take a decent photograph in manual mode, if it is difficult for you to capture a correct photo under low light conditions, this is your course .
WHAT CONTENT DOES THE COURSE OFFER
The basics go first
Unit 1
Introduction
Unit 2
How to choose your key ally, your SLR camera
Unit 3
The center of all photography, the light
Introduction to the «reflex» world
Unit 4
Opening. Speed. ISO
Unit 5
How to use manual mode on Canon and Nikon SLR cameras
Unit 6
From this unit, say goodbye to automatic mode
How to produce pictures that take your breath away
Unit 7
Rules and tricks to master the composition
Unit 8
The history. The message. The emotion.
Unit 9
Tricks for portrait photography
Unit 10
Tricks for landscape photography
Unit 11
How to do magic with light
How to take your picture to the next level
Unit 12
Easy solutions to frequent photographic problems
Unit 13
All about SLR camera lenses
COURSE FORMAT AND METHODOLOGY
In each unit the main material of the lesson comes in video format. Along with each lesson you will find a PDF with the summaries and key points of the lesson in question, a self-assessment test so you can validate what you have learned, and one or several practical exercises so you can live the theory yourself from behind the viewfinder.
In case it was not enough and you still have doubts about some concept, next to each lesson you will find a section dedicated to doubts and questions. You ask and our team will be happy to lend you a hand to clarify any concept
Like everything we do from BdF, this time we have opted for the "online" model in which you decide the pace at which you want to study. From the moment you acquire your access to the course you can access the platform from any computer, iPad, tablet or device equipped with a current browser and an Internet connection. You can organize according to your own availability and thus advance the lessons as you have free time.
WHERE TO SIGN UP
If you are interested in signing up for the course, you can access our online School right now and get your access from here . You can start practicing photography in minutes.
The JavaScript code minimizer helps you optimize your scripts to enhance page loading speed.