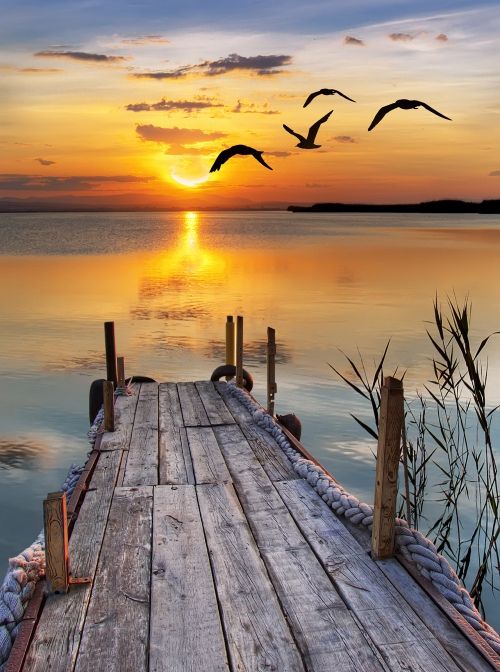 After the article How to Photograph Spectacular Sunrises and Sunsets , today's article is a complementary article that answers a question posed by many readers: "What settings should I use to photograph sunrises and sunsets?"
RECOMMENDED SETTINGS FOR PROPER PHOTOGRAPHY OF SUNRISES AND SUNSETS
First of all, please do not be intimidated by the "apparent" complexity of this photographic subject. As I said in the previous article, photographing direct sunlight may seem complicated, but it is not so much. If you control the manual mode minimally and spend a little time to fiddle and experiment with the settings, you will find the "point" yourself. Now, if you had never tried to photograph a sunrise or sunset before, then I propose some manual adjustments that you can use as a first approach to this type of photography.
Let's go there:
Mode: Manual
Opening: Relatively small (f / high value). Being a landscape we are interested in leaving all the frame well focused. This is achieved by closing the diaphragm through a f / plus value. I would start with f / 16.
Be careful, a small opening like f / 16 has a small drawback: it does not allow much light to enter. If you leave it like this you will get a dark photo, but nothing happens, we leave it like this, on f / 16, and we will solve it in the next step.
Shutter Speed: To solve the previous point we are here almost forced to select a shutter speed as slow as possible. A slow shutter speed will allow a sufficient amount of light to enter, and compensate for the narrowness of the aperture. A shutter speed of 1/10 can be a good starting point. It is slow enough to give the camera time to capture the amount of light needed.
But again a small inconvenience arises: shooting at such slow shutter speeds will cause our hand to move during the shot, resulting in a moving photo. How do we solve it? Surely you can imagine
Tripod: The use of the tripod in sunrises and sunsets photography is essential. Well, it is what I said in the previous point, when using a slow shooting speed, we end up moving our hand (no matter if you hold your breath, you move) which has an impact on a moved photo. To avoid it, nothing better than a good tripod that will provide us with all the necessary stability.
Image Stabilizer: Some cameras / lenses are equipped with a special image stabilizer function. If you use a tripod, turn it off. If for any reason you cannot use a tripod, activate the image stabilizer. (More on image stabilizers here ).
Flash: Off It is useless.
Focus: Automatic In the absence of a dynamic scene or too many moving objects, in principle the autofocus of your camera should be able to focus the landscape in its entirety.
White Balance: Use the "Cloudy" or "Shadow" white balance, they are the ones that will give you the best results. More on White Balance here .
Although these settings will be valid for most of the times when you are going to photograph sunrises or sunsets, do not follow them closely together please. Remember that they are a small support for you to launch yourself to discover this type of photography, but from there you will explore and experiment with the possibilities that your camera and the landscape offer you.
Did you like this article? If so, please do not forget to give him a recommendation / vote on Facebook, Twitter or Google+. I will be very grateful.
Use the free JavaScript composer, browser programs to format your client-side scripts to optimize your code!