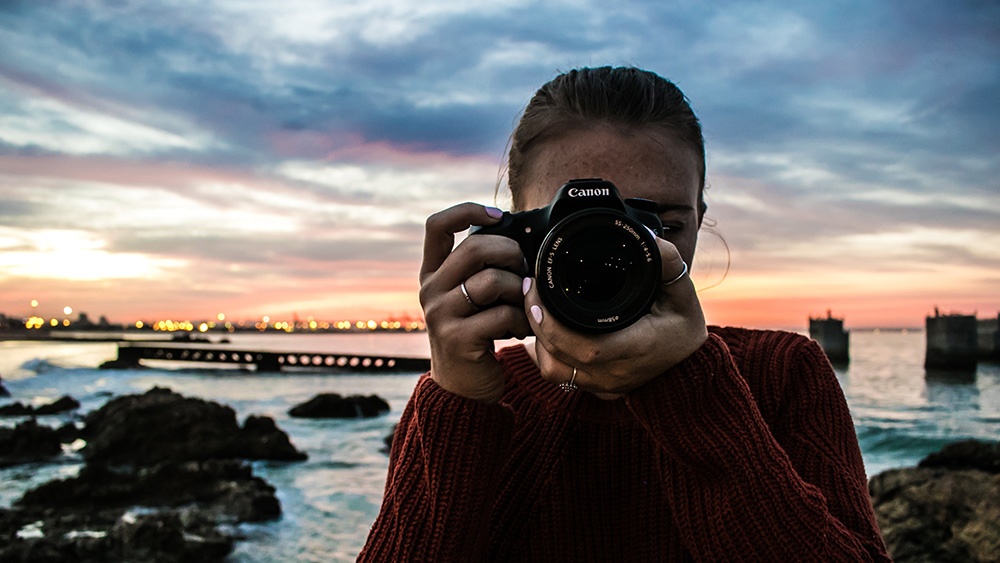 Have you decided to take a photo and choose a camera? You do not have enough smartphone camera capabilities and want to get better quality pictures? Then this article will be useful to you.
Professional cameras for a beginner may be too expensive and difficult to master, and the simplest models will not allow you to seriously improve your photography skills. Here are a few criteria that a camera should meet for a novice photographer:
Presence of manual settings . At the same time, it is important that all shooting parameters can be adjusted promptly. All modern SLR cameras and mirrorless mirrors of the middle and high price range provide this opportunity.
Big matrix . It allows you to get sharper, more detailed photos, works better in low light and gives less digital noise. It is desirable that the matrix conform to the APS-C standard in size or be full-frame (film frame size: 24 × 36 mm). All modern SLR cameras and most mirrorless cameras are equipped with just such matrices.
The ability to use interchangeable lenses, additional accessories (system cameras) . This allows you to take pictures in any conditions. For example, for shooting portraits with a blurry background or working in low light, the photographer will be able to choose fast aperture optics, and for shooting far-off objects, a telephoto lens. System cameras include SLR and mirrorless cameras.
In this article, we will talk about three camera models that are suitable for beginners.
NIKON D3400 KIT 18-55 VR AF-P
Buy Nikon D3400.
The Nikon D3400 , complete with an AF-P DX Nikkor 18–55mm 3.5-5.6G VR lens, is one of the most affordable DSLRs on the market. The camera has a simplified, but very convenient control. The Nikon D3400 has not only auto mode, but also the Guide training mode, which will help you master the basic shooting techniques.
Like Nikon professional cameras, the D3400 has an AUTO ISO function with the option to set the maximum shutter speed. She will insure against "shake". There are many other pleasant things in the cell that will be useful to a beginner in the future.
AOS-C standard CMOS-matrix with a resolution of 24.2 megapixels is responsible for high-quality image. There is no low-pass filter, so you can get sharper images, and sharpness is never superfluous. Matrices with similar characteristics are used in much more expensive Nikon DSLRs, so if you have some shooting skills, even with this simple camera you can get professional-level images.
NIKON D3400 / Nikon AF-P DX 18-55mm f / 3.5-5.6G VR NIKKOR 

Settings:

 ISO 100, F14, 6 s, 51.0 mm equiv.
The regular AF-P DX Nikkor 18-55mm f / 3.5-5.6G VR lens is suitable for most tasks that a novice photographer may encounter. A useful bonus will be the built-in optical stabilization (VR – Vibration Reduction), which will protect against blurry images due to camera shake in the hands. The new AF-P focus motor will provide fast and silent autofocus during movie recording. As mastery develops, the photographer will be able to expand his capabilities with additional lenses.
NIKON D3400 / Nikon AF Nikkor 85mm f / 1.4D IF 

Settings:

 ISO 200, F0, 1/320 s, 127.0 mm equiv.
The auto focus module has 11 points. This is enough for productive work. In Live View mode (when viewing on the screen, and not through the viewfinder), the face detection function is available.
Nikon D3400 is one of the most compact DSLRs on the market. Its dimensions are 124 × 98 × 75.5 mm and weighs 445 grams (with battery and memory card). One battery charge is enough to make about 740 frames.
The Nikon D3400 records Full HD movies at up to 60 frames per second.
From its predecessor, Nikon D3300, the new model has rich wireless capabilities implemented on SnapBridge technology. Thanks to the energy-saving Bluetooth connection, pictures can be automatically transferred to a smartphone or tablet. This makes working with the Nikon D3400 even more convenient: access to a computer is no longer required to view and edit photos. Great option for travelers!
NIKON D3400 / Nikon AF-P DX 18-55mm f / 3.5-5.6G VR NIKKOR 

Settings:

 ISO 100, F3.5, 1/100 s, 27.0 mm equiv.
CANON EOS 750D KIT 18-135 IS STM
The main feature of the Canon EOS 750D is a touch-screen rotary display.
Buy Canon EOS 750D.
With it, it's much easier to take pictures from unusual angles, holding the device near the ground or above your head.
Canon EOS 750D / Canon EF-S 18-135mm f / 3.5-5.6 IS STM 

Settings:

 ISO 100, F9, 1/200 s
Inside the camera there are continuous innovations, including the new 24-megapixel CMOS sensor with a low-pass filter. It distinguishes the EOS 750D from the budget EOS 1300D, which still uses the 18-megapixel APS-C matrix of the previous generation.
The new sensor in the EOS 750D is paired with a state-of-the-art DIGIC 6 processor, which delivers lower digital noise at high ISO.
Canon EOS 750D / Canon EF-S 17-55mm f / 2.8 IS USM 

Settings:

 ISO 100, F16, 4 s
The camera boasts a 19-point AF sensor (versus the 9-point EOS 700D). The more AF points, the more confident and accurate the focus will be, especially in automatic and tracking modes. However, to select a focus point or change it, you have to press a separate button, which will somewhat slow down the shooting process.
Canon EOS 750D / Canon EF 85mm f / 1.8 USM 

Settings:

 ISO 100, F1.8, 1/640 s
When shooting in Live View, focusing is fast and accurate thanks to support for third-generation Hybrid CMOS AF technology. Video recording is performed with a maximum resolution of Full HD at a frequency of up to 30 frames per second. During video recording, manual control of settings is possible.
The Canon EOS 750D weighs 555 grams, and the battery lasts about 440 frames.
Thanks to the Wi-Fi and NFC modules, it is possible to connect the camera with mobile devices to view the captured frames and remotely control the shooting.
Canon EOS 750D can be bought in the body version (without a lens) or in a kit with different optics. The most successful choice, in our opinion, is the Canon EF-S 18-135mm f / 3.5-5.6 IS STM lens. It has a much greater zoom ratio than the simpler "whale" Canon EF-S 18-55mm f / 3.5-5.6 IS STM. With it, you can shoot general plans, and bring closer small details, distant objects, and make high-quality portraits. The lens is equipped with an image stabilizer, which insures against the appearance of greases when the device trembles in the hands. And the state-of-the-art STM focusing drive provides fast and accurate focusing. With such optics, it is possible to postpone the purchase of specialized lenses for a rather long period of time.
SONY ALPHA ILCE-6000 KIT
This is the smallest, but perhaps the most advanced camera on our list. Despite the fact that the camera appeared back in 2014, today it has not lost its relevance. Unlike the newer and too advanced models for the beginner ILCE-6300 and ILCE-6500, the ILCE-6000 camera is now in a relatively budget price range.
Buy SONY Alpha ILCE-6000.
Like the previous heroes of our review, the Sony Alpha ILCE-6000 is equipped with an APS-C form factor CMOS matrix with a resolution of 24 megapixels. However, it has a more compact body, in which Sony engineers fit many advanced functions. Among them is the most powerful hybrid focusing system with 179 phase sensors. The proprietary 4D Focus technology provides not only precise focusing, but also predicts the direction of movement of the object, which allows you to always keep it in focus.
Management is convenient and intuitive. There are both automatic and manual modes. The device is equipped with several programmable buttons to which the user can assign any function, as well as a customizable menu.
Sony Alpha ILCE-6000 has a small but convenient built-in flash with a rotating head, so that in your work you can use the "flash to ceiling" technique. It is enough to point her finger upwards, and the photo will have soft and even illumination without the harsh shadows and highlights that result from the front light of the flash.
The Sony Alpha ILCE-6000 comes with a lightweight and very compact universal lens E PZ 16-50mm F3.5-5.6 OSS.
You can compose a future frame using a high-quality electronic viewfinder or a 3-inch display. The latter has a swivel design.
The presence of a multi-interface connector allows you to install a powerful external flash, microphone and other accessories on the camera .
ILCE-6000 / E PZ 16-50mm F3.5-5.6 OSS 

Installations:

 ISO 100, F9, 4 s, 27.0 mm equiv.
Available video in Full HD resolution at up to 60 frames per second. This is quite enough for amateur tasks. But if you want to record professional-quality video in 4K resolution, then you should take a closer look at the Sony ILCE-A6300 .
The weak point of any mirrorless camera (including Sony Alpha ILCE-6000 including) is its shorter battery life compared to SLR cameras. On one battery charge, this device takes about 360 shots. But there is an important advantage: Sony Alpha ILCE-6000 is able to charge via USB-connector, like a smartphone. To recharge, the battery can not be removed from the camera, plus it is not necessary to carry a separate charger with you on trips. And an external battery (power bank) will allow you to recharge right on the go.
The Sony ILCE-A6000 offers rich wireless capabilities. By connecting this camera to a smartphone, you can transfer photos to it and control shooting from a distance.
Camera functions are expanded with additional applications. They are available on the official website www.playmemoriescameraapps.com .
Another advantage of the Sony Alpha ILCE-6000 is its rate of fire: the device allows you to take pictures at a speed of 11 frames per second. Not every DSLR boasts such fast burst shooting!