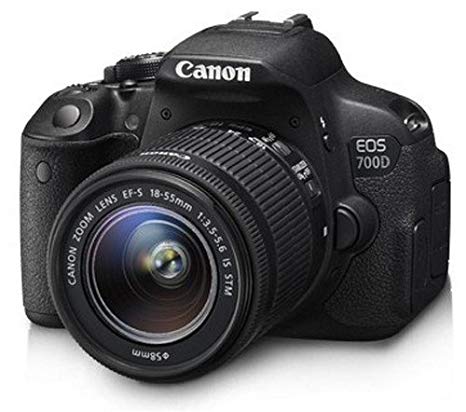 Time passes for everyone, also our cameras. This camera is no longer in stock, but its immediately superior model: The Canon 800D . Do not forget to take a look at its benefits in our article .
In an attempt to eclipse the latest releases of its main competitor, at the beginning of the year 2013 Canon launched the Canon EOS 700D (also known as T5i). In today's article I will make an analysis of its main characteristics and its corresponding comparison with the previous models.
WHERE ARE WE IN THE "CHAIN OF EVOLUTION"?
As many Canon users asked at the time of analyzing the Nikon D5300 , then I leave a map of the different models that the Canon brand has been launching in recent years with its corresponding clarification of the type of photographers that each one points to of them. If you were a little lost among so many pitches, don't worry, the following scheme will help you to position yourself better (click to enlarge):
To understand the above graphic remember that, if you have no idea what APS-C or Full Frame means, I recommend you read the following article: Types and characteristics of photo camera sensors .
WHO IS THE CANON 700D AIMED AT?
In the "map" of Canon cameras, each of the brand's models is ordered according to the type of photographer they are trying to satisfy (beginner, intermediate, advanced and professional).
The Canon EOS 700D, is intended as a model of "entry to the SLR world" and that tries to replace, or rather, upgrade to its predecessor models: the Canon 600D and the Canon 650D (later we will see if it could achieve it).
In summary, the Canon EOS 700D is an ideal camera for both the photographer who is taking his first steps in the world of reflex photography and for those who, not wanting to leave thousands of Euros in a professional team, look for more professional photographic results.
Here it is important to remember what we always say: what really matters to get some stunning photos is not the camera, but you. The camera is only a facilitating medium, nothing more. The real magic happens in your eyes.
That said, unless you decide to make the leap to become a professional , the Canon 700D has all the ballots to become your faithful companion for many years.
MAIN FEATURES
APS-C CMOS sensor (22.3 x 14.9 mm) of 18 real megapixels that allow a maximum resolution of 5,184 x 3,456 pixels.
Fully articulated 3 "LCD touch screen (360 degrees).
9 focus points, 9 diagonals.
Minimum ISO sensitivity 100 and maximum 25600.
Minimum shutter speed 1/4000 and 30 minutes maximum in Bulb mode.
Full HD 1080p video at 30, 25 and 24 fps with auto focus throughout the recording.
30 minutes of uninterrupted video recording.
Long battery life: 470 shots.
Time Lapse and HDR modes.
DIGIC 5 processor that allows up to 5 photographs per second and a better response in low light situations.
Connection for external microphone, for sound recording in stereo mode.
More robust, resistant and ergonomic body.
Hybrid video focus system: auto focus and manual.
MAIN NOVELTIES
Auto Focus: The Canon 700D incorporates a hybrid focus system that allows you to use the continuous auto focus system inherited from its predecessor or, by simply rotating the lens focusing ring, work in manual mode. Simple and effective.
Accessibility: this new canon model has even more simplified access to the different camera settings. With a simplified dial that rotates 360 degrees, it is possible to quickly switch between the different camera shooting modes.
Creative modes: these modes have been expanded considerably. You will have available a lot of shooting modes and creative filters that are applied live from the live view (screen) allowing you to preview them before taking your pictures. They are ideal for all those beginner photographers who do not want to go through the computer to retouch their photographs.
More solid construction: the Canon 700D has been improved in terms of the construction of its body, making it more resistant and comfortable to hold. Despite this, it has managed not to increase its weight, in fact, it is 5 grams lighter.
Rotating screen: The 700D includes as one of its most outstanding features a 3-inch fully rotating multi-touch screen that despite not having been improved compared to its predecessor model, is worthy of note. With it you will be able to easily scroll through the menus, pass the photographs or zoom by sliding your fingers while previewing them.
Video controls: the new Canon 700D incorporates the possibility of adjusting video parameters such as aperture or shooting speed. These new features added to the hybrid approach system make recording videos a true experience. You will not have excuses for not taking full power in this way .
PRICE
With all the features and features that the Canon 700 exhibits, at Amazon you can find it at a fairly attractive price .
WHAT REALLY MATTERS
As usual, here is a selection of photos made with the Canon 700D. This is a sample of the potential of this machine, which will allow you to make a well-considered and correct purchase decision.
VIDEO
Next I highlight some of the improvements that the Canon 700D includes:
Increased coverage of the auto focus during video recording.
Greater control of camera settings in video mode.
Thanks to the incorporation of the 18-55mm IS STM lens it is possible to use the continuous auto focus or quickly switch to manual control by simply turning the focus ring gently.
Here you have two videos so you can, with your own eyes, know the whole truth of video recording of this model. Check them out and draw your own conclusions:
Canon EOS 700D:
Canon EOS 700D vs 650D:
MARIO'S OPINION
Guys, when Canon just launched the 700D, it put it at a rather exorbitant price that made it harder to make the decision. At present, its price has dropped considerably, making it more affordable and turning it into a more than right opinion. If you are looking for a first SLR camera with almost semi-professional features and that lasts a while without you having to update yourself, the Canon 700D is now a great candidate .