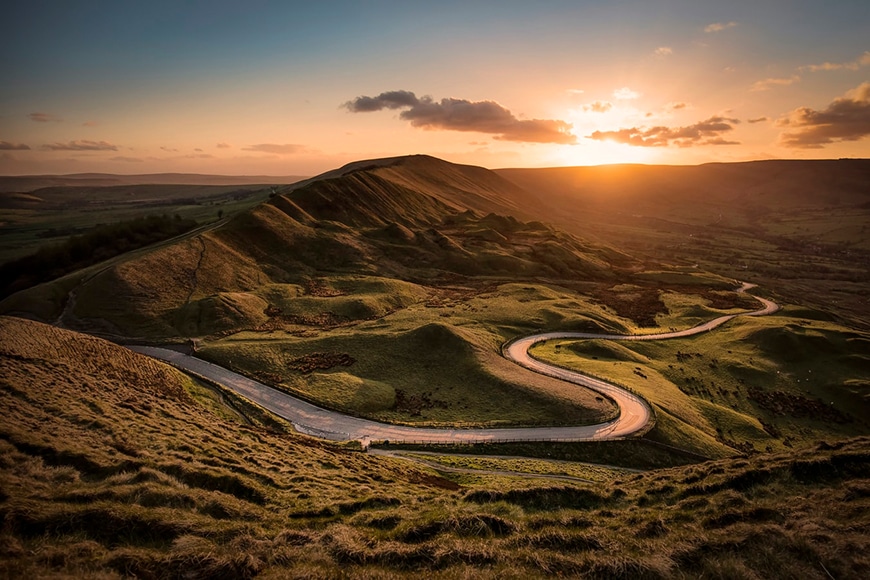 No one is indifferent to the greatness of a beautiful landscape. Nature is able to give us the most impressive views we can imagine. When you think you have seen the most beautiful landscapes in the world, you suddenly travel to another place or find some stunning photographs and realize that there are still more wonderful landscapes. When you find one of these places, you can do nothing but shoot compulsively to "steal" that scene and take it home forever, because of course, staying there is not possible, because if you could you would, but as you can not and In addition, you love photography, because you shoot with your camera to take it as a souvenir.
What happens is that sometimes you get home and take a click because you haven't managed to capture all the beauty. This occurs mainly because on the site there are many factors that exalt the view, the aroma of sea or desert, the colors of nature (there is no camera that exceeds them), the breeze, the touch of flowers, the feeling of space … Come on, the contact with nature that catches us so much. All these elements cannot be put in your digital box, it is impossible. However, you can counteract with two elements. You and the lens of your camera or the lens of your camera and you. The order does not matter to me because both elements are equally important.
YOUR
Your work to capture the immensity and beauty of a landscape is unquestionable, we have already commented infinitely that photography is not done by the team, but by the photographer. You have a lot of resources to capture all the possible magic of the place, starting with your artistic ability and ending with all these .
THE OBJECTIVE
The objective in this case can help you achieve better photographs, for this you must work in symbiosis. You feed the objective and the objective feeds you, its benefits are only possible if you know how to take advantage of it and your photographic eye will achieve the best performance if you have a suitable objective for landscapes.
WHAT DOES IT MATTER WHEN PHOTOGRAPHING LANDSCAPES?
Size and weight. The first thing is your health, so I do not recommend that you load with a super heavy equipment when discovering landscapes. Normally, you have to take long walks to find the most spectacular places (won't you think of finding them at the foot of the road?) And hauling with heavy equipment is a major nuisance. The same when you arrive, all you want is to return home
Focal distance. Here comes the crux of the matter. This aspect is essential when photographing landscapes, because the part of the scene that can enter your frame will depend on the focal length. In other situations it may not be so important, but in a landscape, leaving this wonderful mountain out of the frame … For this reason, the most recommended optics for landscapes are wide angle. So you know what we are talking about, here is everything you need to know about the focal length of your target . Safety pin.
Opening. The opening is the size of the diaphragm, that hole that allows light to enter. The larger the opening, the more light you can enter. This can be seen in the number "f" of the lens. The lower the number that accompanies the target, the greater the amount of light it allows to enter, it is said to be brighter. This aspect that in other types of photography is crucial, here it is not so much, on the one hand because this serves to blur the background and in landscapes it is more interested in a focused background and because you will not need a particularly bright lens, because you will be outdoors and with almost total security using a tripod. The greater the openness in a target, the higher its price is also, so you should assess whether you want versatility or just going to use it for landscapes and prefer to pay less.
Distortion. The large angles always distort. Some more than others but all do. The ultra wide angle or also called fisheye are the most distorting. Now, distortion is not something that should obsess and more if you are not professional. On the one hand because this supposes a creative effect that is sometimes sought and even modified to exaggerate it even more. On the other hand because it can be corrected with editors.
Fixed or variable focal. The lenses can be fixed or variable. The former have a fixed focal length, as the name implies and they do not allow you to zoom, so if you want to cover more or less stage you will have to be the one who moves. Advantages: higher image quality and better price. Disadvantages: very little versatility. On the other hand, the variable objectives are much more versatile because they allow you greater flexibility when playing with the scene, including more or less field of vision as you are interested. The drawback is that they tend to be more expensive and the quality of the optics decreases. The latter is not as obvious as it may seem, so it should not become an insurmountable obstacle and less if you do not dedicate yourself professionally to landscape photography.

That said, I am going to indicate some recommended objectives to capture the beauty of a landscape (or many ).
RECOMMENDED LENSES FOR PHOTOGRAPHING LANDSCAPES
Sigma 10-20mm f / 3.5: It has no image stabilizer, but you won't need it at a wide angle and using a tripod (which will be most likely). With a fast and silent approach, it is excellent in terms of value for money and perfect for landscapes. You can find it for just over 400 euros on Amazon for Canon and Nikon.
Canon 10-22mm f / 3.5-4.5 : With the same focal length as the previous one and a little more money (approximately 600 euros) you have an original Canon. It has a very fast approach and the results are incredible.
   Very good lens, with soft and quiet autofocus and sharpness. It has no image stabilizer, but this is not its biggest drawback, but the price, which in this case exceeds 800 euros, so it may be interesting to consider the option of the Sigma 10-20 mm if the budget is adjusted. 
Tokina AF 12-24mm f / 4:  Est a lens is highly appreciated by users. The difference with its Nikon analogue in terms of price is very considerable (the Nikon objective triples the price), however, in terms of performance it is not so much. Obviously the Nikon is much better in terms of sharpness, distortion … but if your thing with photography is more hobby than profession, you do not need to spend so much because you will not notice so much the difference.

FULL FRAME OBJECTIVES
The lenses that are used for Full Frame cameras are also valid for cameras that are not, so, unlike the previous ones, the following lenses would be valid for all types of cameras.
Sigma 12-24mm f / 4: Robust and well built, this wide-angle Sigma from the Art series deserves consideration.
With a maximum aperture of f / 4 throughout its focal range, it offers very good luminosity minimum aberrations and a lot of sharpness. It also offers protection against dust and splashes.
Canon EF 24-105mm f / 4.0 L IS II USM:
With image stabilizer, very fast focus, light, bright and with professional results. Very versatile. For Canon of the most advisable.
Nikon 14-24mm f / 2.8G : for Nikon users, probably the most desired, for its clarity and contrast. A professional goal at a price for "professionals", but if you can and want to spend almost 2,000 euros … go ahead! I look forward to your photos in the forum!
YOUR GOAL … WHAT IS IT?
Surely you have already entered the bug of buying and expanding equipment … Always remember that a photo is not taken by the camera or the lens, you make it. Before spending a paste on lenses or other accessories, make sure you handle light, focus or composition well. If you do not control these variables there will be no objective to save your photographs
At this point I have to thank you for reading here, if so, I suppose you have found it interesting, so I ask you one last favor, share it so that it can reach other people . Thank you and see you next time!