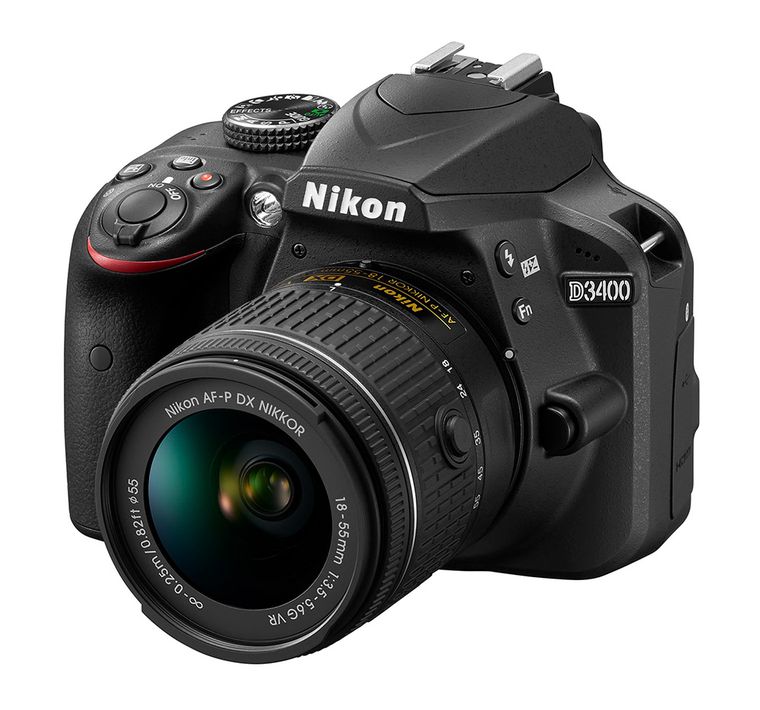 Have you heard of the Nikon D3400? Not yet? Well here I present it formally. If you are looking for a camera, be careful, at the end of this article it is easy for you to fall into their networks. But do not worry, I already tell you that you are going to make a very good purchase with her ;-).
DIRECTED TO …
… It is a camera aimed at amateur photographers who want to make the leap to SLR photography (and stay a long season) from a compact, a Smartphone, or simply as the first camera. It is small, light, simple to use, has great image quality , and offers very agile connectivity , constant and low-power connectivity with the Smartphone through its Snapbridge system.
In short, if you come to the SLR world with the intention of staying a good season , you are looking for a light camera that provides you with a very good image quality, if you are a lover of speed, immediacy, connectivity and social networks, and You want a camera with a great value, do not hesitate, this camera should be an option to consider.
GENERAL CHARACTERISTICS
These are the main features of the Nikon D3400:
Image sensor : DX, CMOS, 23.5 mm x 15.6 mm, 24.2 MP
Viewfinder : single-lens reflex with penta-mirror at eye level and frame coverage Approx. 95% horizontal and 95% vertical
Shutter speed : 1/4000 to 30 s, in steps of 1/3 EV; Bulb and Time options
Burst shooting speed : up to 5fps
Focus points : 11 and 3D tracking
Autofocus zone mode : single point AF, dynamic zone AF, automatic zone AF, 3D tracking (11 points)
Built-in flash: Guide number 7m (8 with manual mode)
ISO sensitivity : ISO 100-25600, in steps of 1 EV, Automatic ISO sensitivity control available
Monitor : diagonal 7.5 cm (3 inches), TFT LCD with a viewing angle of 170 °, 100% framing coverage approx. and brightness adjustment, approx. 921,000 points (VGA)
Live view
Approximate Weight : 445 g (with battery and memory card, but without body cover); approx. 395 g (camera body only)
Dimensions (Width, height, depth): 124 x 98 x 75.5 mm
Dust reduction system
Full HD video recording of up to 60fps
PRICE
You can find it on Amazon for (price not available at this time) with an objective in 18-55 AFP DX VR kit ,  as you can see, a great value for money.
THE BEST
There are few buts for this magnificent camera. The combination of features and quality of cameras far superior to the simplicity of use and its small size and immediate connectivity, are undoubtedly the strengths of this camera.
Thanks to its large 24.2MP sensor it works perfectly and with great quality in all types of lighting situations, even in low light situations .
It is very easy to use and also provides us with a guide mode that helps us achieve concrete results by showing us the best settings to use on each occasion.
Thanks to its Bluetooth connectivity through the SnapBridge system , synchronizing the mobile phone and the camera becomes simple and immediate while spending low battery due to its low-power connectivity system . In addition, it allows you to control the camera from the phone, which makes it possible to use the application as a self-timer.
It is also a camera of relatively small size and weight, with built-in viewfinder and flash and has a long battery life.
And finally, I will let Mario just convince you with this complete analysis he gave us on YouTube:
WORST
I have already told you that this camera has few buts, but perfection does not exist. It does not record in 4k nor does it have a flip-down screen , although if your thing is photography, with the video quality that it provides you you have more than enough and that of the flip-up screen, it will taste
GALLERY
Here what interests you most, examples of photographs you can get:
CONCLUSIONS
If you are considering taking the leap to SLR photography, this is undoubtedly a camera that you should contemplate. The value for money is excellent, it is very comfortable to always take with you, very easy to use (you even have an assistant that guides you to learn how to take all kinds of photos), and has a great sensor with excellent quality to take pictures With all kinds of light. Not to mention the amount of accessories and lenses that are compatible with this camera.
How about? Do you think anyone else might be interested in this magnificent camera? Do you want to send a hint to someone to give it to you? Then do not hesitate to share it on your favorite social network. Thank you and see you next time :-).
Nikon D3400 + 18-55 AFP DX, 24.2 Mp DSLR camera (3 "LCD screen, stabilized lens, wireless with Snapbridge, Full HD video), black color 
*
 – Electronics
Price: (price not available at this time)
(As of: 2020/01/17 3:52 pm – Details)