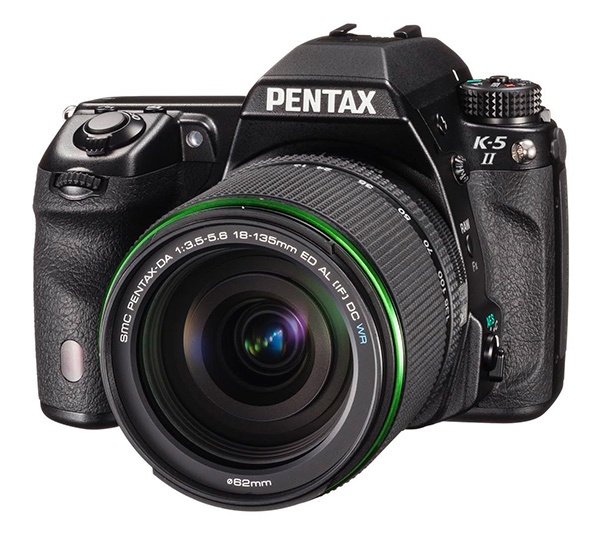 This camera is discontinued. If you are looking for a Pentax, or a camera with similar characteristics, we are sure that you will like it.
Editor's Note: I am pleased to welcome Iaio Atamian , the new contributor to the Photographer's Blog, publicly . He will contribute weekly to the blog sharing his experience, love and passion for photography.
Today, more and more companies are launching to offer their products in the digital photography market. Each of them offers us countless models with even more innovative features that can make even the most experienced, doubt when choosing which camera is best suited to their needs.
It is in this context that Pentax with its K-5 II forces us to ask ourselves a new question. It has been a year since its launch, so it is time that from the Photographer's Blog we put it to the test and share with you all our appreciations.
DESCRIPTION
As stated earlier when the latest Pentax camera models were introduced , the K-5 II is a beastly all-terrain that comes to compete with models such as the Nikon D7000 or the Canon 7D, but at a more accessible price and with few features to envy them.
The K-5 II positions Pentax on another level within the digital photography market. Its high resolution CMOS sensor, its auto focus systems, noise and dust reduction added to its pentaprism viewfinder and magnesium alloy body, make this camera a worthy option to keep in mind when updating our equipment.
WHO IS THE PENTAX K-5 II FOR?
The K-5 II is a robust camera full of features, designed to take center stage from its main competitors. Just taking a quick look at its features, we will notice that some of these could assimilate it more to a professional camera, although the size of the sensor and the amount of focus points, for example, remind us that we are facing a team designed for those fans They require a more complete camera.
If you are getting started in the world of photography, perhaps this camera is somewhat advanced for this learning stage, in addition to the fact that the K-5 II is still a semi-professional team.
FEATURED FEATURES:
APS-C CMOS sensor (23.7 x 15.7mm) with integrated image stabilizer.
Pentaprism viewfinder that allows 100% coverage of the field of vision.
ISO sensitivity 80 – 12800 expandable to 52100 (boost) with an advanced noise reduction system.
Color depth of 8 bits in Jpg and 14 bits in RAW per channel.
Video recording in Full HD (1080p) at 25 fps.
11 points of self focus.
Shooting speed of 1/8000.
Continuous shooting at 7 frames per second.
Sealed magnesium alloy body to protect it from the elements.
Battery life of 980 shots (manufacturer standard).
Optional accessories: External microphone and GPS.
ADVANTAGES AND DISADVANTAGES
Beyond the impressive features incorporated in the Pentax k-5 II, I have to highlight the following:
Shutter speed: thanks to its minimum shutter speed (1/8000), it will no longer be possible to freeze those moments that pass so fast that it is not possible to appreciate them with the naked eye, but that after freezing them in a photograph we are all amazed.
Battery life: to whom it has never happened to have the perfect picture framed at the precise moment, and that when pressing the shutter button, the camera does not respond. It seems that the people of Pentax have spent enough to have decided to incorporate a battery that is capable of taking 980 photos (750 shooting the flash at 50% capacity) with a single battery.
Continuous shooting: with an impressive 7 frames per second, the K-5 II is able to take 7 photographs in the duration of a blink. The PRIME II processor with which it comes equipped seems to do its job very well. Imagine how long it takes our computer to open a RAW photo and then multiply by 7 to have a real dimension of what that little chip is capable of.
Size: Thanks to its magnesium alloy body, which protects it from adverse weather conditions, and its ergonomic design, the K-5 II is very comfortable, lightweight and compact. Its weight is around 600 grams, 100 less than its direct competitors. Ideal for working outdoors as well as in studio and indoors.
And although it costs to find loose points to this camera, here I highlight some of them:
Focus points: This should be the weakest point when analyzing it especially if we consider that the cameras in your segment have at least 39 focus points. The K-5 II only has 11 which would limit us at the time of composition using the autofocus. Despite this, the self-focus system of this model is outstanding, fast and reliable.
Stabilization in the sensor: For many having included this feature as a disadvantage can be incomprehensible and although there are many positions around this issue, many tests result in lenses that have a built-in stabilizer compensate for stabilization up to 4 steps better than those cameras in where the sensor is who is stabilized.
Limit video recording:  it can be interpreted either as a limitation or as a security measure to protect the integrity of the sensor. The video recording time of the K-5 II cannot exceed 24 minutes to avoid overheating.
Lenses available: the company currently has a wide variety of lenses but that does not become excellent. Pentax offers us 90 available lenses, a much lower figure than what Nikon and Canon offer.
Support: Although Pentax is a brand of Ricoh, a multinational giant of printers and photocopiers, it does not have much presence in the digital photography market. Pentax, beyond improving its participation in the market thanks to models such as the K-5 II in recent years, still does not make the leap to position itself among the main industry, although according to the latest surveys, the photographers who use Pentax are the most compliant with their equipment.
PRICE AND COMPARISONS
As soon as the Pentax K-5 II was launched on the market its price was around 1400 Euros only for the body, but as we have already advised in the Photographer's Blog , waiting a few months after its launch, today it is possible to acquire this impressive camera in the stores for approximately 1100 Euros. In Amazón Spain you can get for just over 900 Euros (objective included). If we consider that the price of a Nikon D7000 is about 1100 Euros (18-200mm included in the package), the price difference is not as abysmal as it would have seemed at first. Similarly, price should not be a fundamental factor in making these kinds of decisions, but rather another of the many factors to consider.
WHAT REALLY MATTERS
Some photos taken with the Pentax K-5 II, as a sample:
FINAL OPINION
In the world of photography, not everything is Nikon or Canon. There are other brands that can equally or better meet our photographic needs, as in the case of the Pentax K-5 II the cameras they offer us have nothing to envy to these industry giants.
It seems that in recent times Pentax is determined to gain ground with respect to its competitors in the market, launching a wide variety of cameras that point to all segments, time will tell us if these teams are really as promising as they appear.
So far and according to the latest surveys published by JD Power Assosiates, in 2012 those photographers who have leaned for Pentax cameras are the most satisfied with the product obtained from all brands, surpassing even those of the industry.