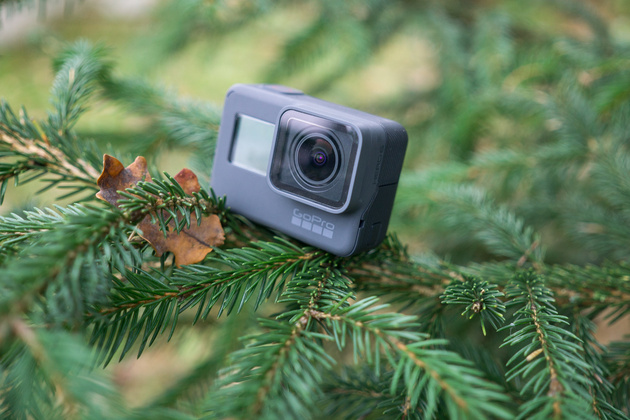 Traveling is always a lot of vivid impressions and unique moments that you want to remember and share with everyone. It would seem that there is nothing easier in a world where there are many ways to record video. But countless times we returned from traveling with completely unimpressive shots, with a slurred distant plan or an unbearably shaking picture. To make the video shooting and the subsequent video viewing a pleasure, you need to choose a device for video recording in advance, based on your wishes. To determine this and our review will help.
GoPro HERO6
Camera for lovers of active and extreme recreation.
Get the price of GoPro HERO6
GoPro among action cameras like Xerox among copiers – many do not suspect that there are devices from other manufacturers on the market. GoPro HERO6 combines the capabilities of previous models and the latest technology. By testing the camera, we made sure that GoPro is still far ahead of the competition.
The main advantage of the camera is that it can be installed anywhere: on a helmet, bicycle, surf, motorcycle and more. The camera will take everything that you see with your own eyes. In GoPro HERO6, you can change the viewing angle, that is, apply digital zoom, but the usual ultra-wide mode is still best suited for most cases. You can record video in both Full HD and 4K. It is possible to control the camera from a smartphone or voice. With GoPro HERO6 you can dive to a depth of 10 meters even without a box for underwater shooting. This camera comes with a myriad of accessories, from mounts anywhere to stabilizers.
The main disadvantage of the camera is the lack of the ability to work with close-ups and the zoom, which is more likely to be gone than it is. The breathtaking shots with the GoPro HERO6 are good, but you need to supplement them with a holistic video story about the journey.
Sony FDR-X3000R
An unusual approach to action cameras. Fans of high-speed and extreme entertainment. Advanced features at a nice price.
Learn the price Sony FDR-X3000R
More and more manufacturers are turning to the release of action cameras. For example, Sony, which is distinguished by its own approach to devices of this kind. A feature of their cameras is a more streamlined body shape, which attracts fans of extreme speeds. Indeed, due to less resistance in the water or air environment when mounted on a helmet, the camera becomes less noticeable in use and its effect on the movement and speed of the operator is minimal. In addition, the Sony FDR-X3000R has the ability to remotely control using the remote screen, which we praised in our test .
The main difference from competitors lies in the integrated optical stabilizer. This is a very significant advantage: the picture is smooth even under very unfavorable and unstable shooting conditions, jitter in the frame does not distract from subsequent viewing. In addition, there is the ability to record 4K and slow motion.
The disadvantages of this device include the common weaknesses of all action cameras: inability to take close-ups due to the wide viewing angle of the lens and the futility of digital zoom.
LG V30 +
Smartphone sharpened for shooting video. Convenient for outdoor enthusiasts traveling light.
Check the price of LG V30 +
LG V30 + can be called the most modern and advanced smartphone for shooting videos. It would seem that the photo component of the top-end LG smartphone looks pretty standard for a modern device: a set of wide-angle and ultra-wide-angle, the ability to shoot in manual mode and in RAW format. But on the capabilities of the smartphone in terms of video, manufacturers have made the main emphasis.
Previous versions of LG smartphones could offer only manual video mode, and the new LG V30 + has as many as 15 filters that can give a certain cinematic character to your videos. They were divided by genre: you can shoot video in sepia, in black and white, or choose one of the proposed movie filters, for example, melodramatic cinema. Each filter sets its own unique style and mood. In addition, video professionals will be happy to be able to work in the LG-Cine Log format, which opens up great opportunities for post-processing.
It is worth noting the Point Zoom function, which allows you to get closer to the subject and move away from it with the help of digital zoom (previously fixed with a simple click on the display). They also approached sound quality very responsibly: recording in hi-res format will enable accurate transmission of both an organ concert in a Catholic church and musicians in the midst of tourist cacophony.
Experience has shown that the smartphone LG V30 + is good at traveling for both the photographer and the sophisticated videographer. Shooting in manual mode on two lenses in the Raw format opens up a ton of possibilities for the photographer. During testingWe were impressed by the quality of the photos we received. When shooting a video, you can switch between two lenses while simultaneously recording excellent sound – a 3.5 mm jack allows you to connect an external lapel microphone. And the advanced video features are listed above. All together turns a small device into a whole video studio. If you install additional applications for video editing on your smartphone, then it becomes a full-fledged video studio. So the videographer's travel kit can only consist of a small box of LG V30 +, and all bulky and expensive toys like drones, action cameras and cameras with SLR lenses can stay at home.
The device's disadvantages include its front camera, the resolution of which is only 5 megapixels, which is not much by modern standards. Errors occur when automatically detecting white balance. It will also take time to master the user interface of the device with such rich photo and video capabilities.
DJI Spark
Very compact drone for taking photos and videos. For those who are interested in mesmerizing frames and are not attracted by an additional element of baggage.
Get a quote DJI Spark
DJI boasts a wide range of excellent drones it produces for taking photos and videos. There you can find various flying devices, including those specially "sharpened" for high-quality and professional video shooting. But our choice fell by chance on the crumb DJI Spark. Although its video recording capabilities are small and limited to the Full HD format, its dimensions make it possible to distinguish it as a gadget indispensable for travel. Baby Spark fits easily in carry-on baggage! Considering how many times I had to leave my drone at home because of its size, the size of the device is crucial for travel.
If you have to count every gram in your luggage, you can leave the remote control of the copter at home, using your smartphone or even gestures instead to control the DJI Spark. Selfies in nature will definitely come out exciting!
Keep in mind the legal restrictions that apply to the use of drones in many countries. In addition, like any copter, DJI Spark requires the pilot to know the operating instructions and understand its technical characteristics.
Nikon KeyMission 360
The ability to shoot 360-video using a baby camera. Progressive and unusual.
Get the price of Nikon KeyMission 360
A step forward from action cameras is the provision of the ability to shoot 360-video, which makes it possible to capture and demonstrate reality in a completely new way.
When your eyes literally run up from the abundance of unusual details and there is no way to choose what to fix, cameras for shooting 360-video will come to the rescue. You just select a shooting point and turn on the camera – everything that happens in all directions will be shot! If you want to demonstrate your extreme feats, then Nikon KeyMission 360 will come to the rescue, which will simultaneously embrace you as a hero and the adventures around you. In the test, we felt this on ourselves.
You will not find a viewfinder or display on a 360-video camera. All captured can be viewed later on your smartphone or computer. Also for remote control, Nikon KeyMission has the Nikon SnapBridge 360/170 application, which is installed on various mobile platforms. Without it, as without hands: on the camera itself there is simply no convenient opportunity to make fine-tuning and select shooting parameters.
The disadvantages of this 360 Nikon baby are the same as any member of this class. The footage is a difficult task for people who are far from professional video activities, and viewing is unusual for the viewer. However, 360-shooting can become the main collector of impressions during the trip and a worthy result upon returning home.
DJI Osmo X3
A great mix of action cameras and electronic stabilizer. A high-quality result when shooting on the run. Great for travel bloggers.
Check the price of DJI Osmo X3
A unique offer from DJI Osmo combines a camera that can record video and photos, and a stabilizer whose joystick controls the camera.
Firstly, the DJI Osmo X3 is an excellent option for a budget stabilizer, and secondly – an independent camera with the ability to shoot 4K video at a speed of 30 frames / sec. In addition, you can improve the gadget with a more advanced X5 camera, decorate it with many accessories and fix it anywhere – from a bicycle to a paraglider. The display on the DJI Osmo X3 is a smartphone.
On trips, you will get the opportunity to record video of decent quality without any shaking in the frame. The full effect of the presence without jerking the picture up and down and left and right, even while running or jumping. Such stabilization and the choice of full hd / 4k format will allow you to bring a really worthwhile movie from your trip. It is difficult to overestimate the potential convenience of the device for video bloggers: in addition to a stable picture, it is possible to connect an external microphone to the camera and enjoy not only video, but also sound.
Whether you are blogging or planning to do this, the DJI Osmo X3 will become an indispensable travel device. An ideal and stable picture will be with you, regardless of whether you are storming an active volcano or walking along quiet streets. If your goal is to show the world, talk about it and enjoy quality videos, then DJI Osmo X3 is what you need.
The disadvantages of the DJI Osmo X3 camera can be reduced to the low autonomy of the gadget, to the high price both for the camera itself and for various accessories to it.
JVC Everio GZ-RX645AE
Protected against moisture and dust, a camcorder for family shooting in a variety of conditions.
Learn price JVC Everio GZ-RX645AE
The first traditional video camera in the review. We reviewed technical innovations, but do not forget about classic video cameras that combine convenience and ease of use.
The JVC Everio GZ-RX645AE camcorder is a budget device, but its capabilities are quite large: it can shoot Full HD, has 40x optical zoom and optical stabilization. In addition to this kit, the camera has what helped it to be in our selection: protection from moisture and dust. In our review, we made sure that protection really works. You can take this camcorder with you everywhere: on a hike, in a boat, on the beach — anywhere. Complement the list of advantages of Wi-Fi and 8 GB of internal memory.
But the JVC Everio GZ-RX645AE also has flaws. The model really lacks a removable battery: for long trips without the possibility of recharging it would be useful. Well, by the standards of professionals, the picture quality does not reach the industry standards. If your goal is to collect a family archive and watch videos with households, then the capabilities of the JVC Everio GZ-RX645AE will absolutely suit you.
Canon LEGRIA GX10
Professional quality travel and reporting videos. Simplicity and ease of shooting.
Get price Canon LEGRIA GX10
If the main requirement for video shooting on a trip is to get a high-quality picture, then you need to select a professional tool. There is already a prerequisite for the presence of fast autofocus and zoom in the camera. Absolutely indispensable stabilizer. And the possibility of shooting in 4k format is useful during subsequent installation to create enlargements and panoramas. All of this can be found in the Canon LEGRIA GX10.
In addition to the above, the Legria GX10 is equipped with a 1-inch image sensor, 15x optical zoom, has a full range of professional manual settings and the ability to record UHD 4K. The combination of capabilities will allow you to get an equally high-quality result for both a video reporter from a sports competition and a video blogger from a yacht regatta. And our test fully confirmed this.
The consequence of the combination of professional characteristics of the camera is its high cost.
Canon PowerShot G7X Mark II
Small camera with high-quality video recording. Perfect for vlogging.
Get price Canon PowerShot G7X Mark II
A separate and popular video filming genre today, especially video filming on a trip is video blogs, or "vlogs". Reports made literally on an outstretched hand, first-person narration – all this gives a very interesting result! But, to compensate for this method of shooting, a stabilizer is simply needed to align the picture. The ability to track the shooting process on the screen will not be superfluous, a wide viewing angle is important. We can find all of this with the Canon PowerShot G7X Mark II.
In addition, the camera has a 4.2x optical zoom and a rotatable touch screen, as well as Wi-Fi and all the manual settings necessary for shooting. The 1-inch image sensor in combination with high-aperture optics allows you to beautifully blur the background and shoot in low light conditions, as we saw for ourselves in a few weeks of testing . A set of options for taking photos and videos makes this compact camera an excellent choice for vlog from travel.
The limitation common to all cameras with the video recording function is the truncated time of one video clip. So after 30 minutes you have to interrupt the recording and start shooting again. In a certain sense, this is not a disadvantage, since shooting video for cameras is only an additional option.
Canon EOS 77D
Video SLR camera: high quality for artistic delights.
Get price Canon EOS 77D
For a long time, the title of almost the most suitable tool for creating a video has been fixed for SLR cameras. This is justified from the point of view of the characteristics of the cameras: a large sensor produces a high-quality picture, and interchangeable lenses allow you to choose artistic effects for each plot.
Canon EOS 77D is just one of these cameras. This is a SLR camera on which budget lenses can be mounted thanks to the Canon EF-S mount. Accordingly, if you equip the camera with a lens level higher, the picture quality will be amazing. Full HD video format, frequency up to 50/60 frames per second. The camera is equipped with a large sensor, so that even in low light the quality will be good.
The main plus is fast autofocus. We were convinced of it in our test. On a trip, I want to relax, enjoy new experiences, and give automatic functions to the camera. Autofocus is accurate and fast. Once the subject is caught and marked on the touch screen, focus will not release it.
The camera has an input for an external microphone, but the built-in microphone is good enough for video recording while traveling. In addition to optical stabilization, electronic can also be included.
The disadvantages of the camera will first of all be the lack of 4K recording and quite impressive dimensions, because, do not forget, we have a SLR camera in front of us.
Sony Alpha ILCE-A7SM2
A great solution for movie shooting: small, but full-frame and with excellent features. Suitable for professionals.
Check price Sony Alpha ILCE-A7SM2
What is the reason for the popularity of video shooting on cameras? As a rule, it is a matter of economy: video cameras similar in capabilities are several times more expensive. Sony with the Sony Alpha ILCE-A7SM model took into account this market nuance, and this camera is most convenient for video recording. Even the special matrix is 12-megapixel, full-frame, which allows you to shoot in any light conditions with a stable result. In addition, there is the possibility of 4K shooting and optical stabilization with different optics.
The advantages of the Sony Alpha ILCE-A7SM2 over similar cameras are obvious. This camera contains all of Sony's impressive video experience. Professional features such as focus picking, hatching of overexposed zones, S-log gamma curve profiles, and the ability to work with external microphones and headphones have been implanted here. In addition, this camera is suitable for many lenses from SLR cameras.
Sony Alpha ILCE-A7SM2 is a good choice for those who travel with professional goals: to shoot a video project, documentary or clip. This is a sensitive tool with many features in professional hands. What is our expert review showed perfectly.
The disadvantages of the camera are largely due to its advantages: to realize all the possibilities laid down in it is only possible for a person who is familiar with professional video shooting and has a set of lenses for his purposes. This is a tool that requires fine tuning and competent use. In addition, despite the wide range of video capabilities, the Sony Alpha ILCE-A7SM2 remains a camera with a video recording limit of 30 minutes. Well, the battery life could be longer.