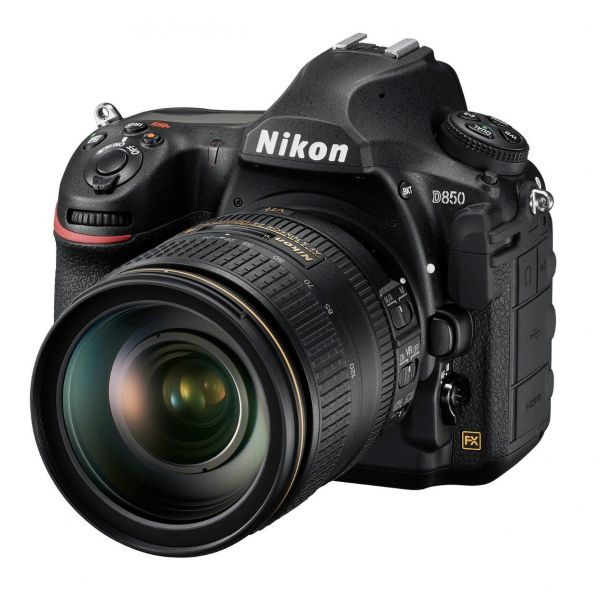 Acquaintance
At the end of summer, a significant event took place – Nikon released the long-awaited new Nikon D850.
Get a quote Nikon D850
It has become long-awaited because 3 years have passed since the release of its predecessor, Nikon D810, and it, in turn, was an update to the Nikon D800 released in 2012. So this camera has been waiting for really more than one year. Well, the more pleasant it is to get one of the first in Russia to test it.
Nikon D850 is not just an upgrade of the good old D800 (which, in fact, was the D810). This is a brand new camera with lots of interesting and practical features.
Main features of Nikon D850:
24 × 36 mm CMOS matrix with backlight resolution of 45.7 megapixels;
sensitivity range from 64 to 25600 ISO units, expandable to ISO 32;
burst speed – up to 7 frames per second (9 frames per second when using the MB-D18 battery pack);
completely silent shooting with electronic shutter in Live View mode;
phase focusing at 153 points;
3.2-inch inclined touch screen with a resolution of 2.36 million pixels;
video in 4K resolution and up to 30 frames per second without crop;
two slots for memory cards XQD and SD with support for UHS-II;
wireless Nikon SnapBridge, Wi-Fi and Bluetooth.
The full-frame SLR Nikon D850 is positioned by the manufacturer as a model for professionals and advanced enthusiasts. Only the Nikon D5 is more professional in the Nikon DSLR line, but it is focused on a different field of application: it is a quick-fire SLR in an indestructible case, designed for reporters. The series of cameras Nikon D8 ** is associated with photographers not only with record resolution, but also with versatility, reliability.
NIKON D850 / Nikon AF-S Zoom-Nikkor 24-70mm f / 2.8G ED 

Settings:

 ISO 80, F8, 4 s, 35.0 mm equiv.
Download RAW
These devices can often be found in the hands of professionals. They have proven themselves in different types of shooting: wedding, studio, landscape.
The resolution of the matrices Nikon D800, D800E, D810 and D810A is 36 megapixels. Nikon D850 received a new back-illuminated CMOS sensor developed by Nikon specifically for this camera. Its resolution is 45.7 megapixels! We have not seen such a sensor in any other model.
But the innovations do not end there. Nikon D850 got a phase-detection autofocus module, like the top Nikon D5. Now focusing is carried out on 153 points, 99 of which are cross-type.
Focus points in the viewfinder. 55 of them are available for selection by the photographer, the rest are involved as auxiliary. Thus, at the same time, it was possible to achieve the highest focusing accuracy and not complicate the photographer with a long choice of the desired point from 153 possible options.
NIKON D850 / AF-S NIKKOR 105mm f / 1.4E ED 

Settings:

 ISO 250, F1.6, 1/400 s, 105.0 mm equiv.
Download RAW
Improved speed and serial shooting. Now it is 7 frames per second and as much as 9 frames per second when using the MB-D18 battery pack.
The new focusing module and increased burst speed make the camera suitable not only for thoughtful studio or landscape shooting, but also for dynamic reporting.
Nikon D850 and battery pack MB-D18.
The camera in Live View has also been improved. Although focusing in it is still carried out only by contrast, the algorithms of its work have been optimized. Among the Nikon DSLRs in the D850, the first time was the possibility of absolutely silent shooting in full resolution. Also appeared focus picking, which is useful to all lovers of manual optics and manual focus.
NIKON D850 / Nikon AF-S Zoom-Nikkor 24-70mm f / 2.8G ED 

Settings:

 ISO 250, F2.8, 1/320 s, 48.0 mm equiv.
Download RAW
The focus stacking function is also new: the device independently makes a series of frames, focusing the lens with a given step at different distances. Such an opportunity will delight subject, interior and landscape photographers who are constantly faced with the problems of the lack of depth of field.
How are things with video? Here the Nikon D850 is "charged" with the latest technology. It offers 4K video recording at 30 frames per second without crop! In addition, there is a function of accelerated shooting Full HD with a frequency of up to 120 frames per second to create a spectacular slow motion.
The price of the novelty is also noteworthy – only 230 thousand rubles. For a professional-level camera with such capabilities, this is not so much, especially in comparison with comparable competitors' novelties.
We suggest starting testing the Nikon D850 by examining its design, design and ergonomics.