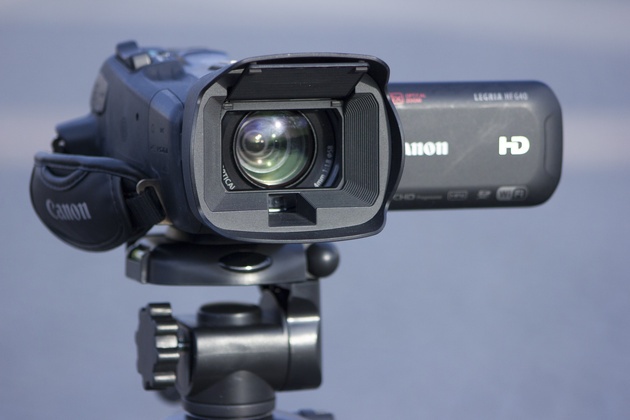 Video cameras are historically the first consumer electronic devices capable of recording images. This was the case at the time of film cameras, the same was with the advent of the first digital cameras: memory cards were expensive, photographers saved space, and not all cameras shot videos.
Soon, however, SLRs learned to shoot video. The beginning was impressive: HD 720p video, a huge sensor by the standards of video cameras, good interchangeable optics, and all this for relatively reasonable money. With the advent of the epoch-making Canon EOS 5D Mark II camera, which was able to shoot Full HD-video from a full-frame sensor, SLRs pushed camcorders into the market.
In fact, there are only two key differences between the camera and the video camera: video cameras can shoot continuous video for longer than half an hour (there is a similar artificial limitation in all recording video cameras) and they are not able to take good pictures. Therefore, in the general case, to choose between a camera and a video camera, it is necessary and sufficient to answer two questions:
Do I need to take pictures?
Will I have to shoot long videos?
If you have to shoot long videos for sure, the right choice is a camcorder. If, in advance, it is not clear whether it is necessary to photograph or shoot continuously for longer than half an hour, the choice is not so obvious. Below we look at cameras and camcorders from different price categories and try to determine what is still best to shoot video.
Cameras up to 30 000 rubles
Entry-level DSLRs fall into this category. What does an amateur need from such a camera? Just take off. The key word here is "simple." An ordinary amateur does not want to know anything about exposure, white balance, and even more about the difference between interlaced and progressive scans. Nevertheless, an amateur distinguishes shooting with a smartphone from shooting with a camera. It is forgivable to traditionally remove a smartphone at least somehow, the camera must shoot without fail well. On this basis, manufacturers are developing models for fans: they are very easy to manage and produce material that is noticeably better than that of a smartphone.
As an entry-level amateur DSLR, we recommend the Canon EOS 100D . This is the most compact Canon DSLR. She is able to shoot video in Full HD 25p / 30p. Not record-breaking characteristics, but they are more than enough for watching videos at home on a TV screen, and even more so for the Internet. A large sensor and a good lens provide a cinematic image due to the shallow depth of field, blurred background and high image detail. Camcorders with a small sensor do not know how.
Buy Canon EOS 100D
The sound of the EOS 100D is recorded using the built-in microphone, there is a connector for an external microphone. The sound level is adjusted manually and automatically. The built-in microphone picks up the rustle of the stabilizer in the lens and autofocus noise, so it's worthwhile to connect an external microphone if possible. With it, the sound will be clear and high quality.
As befits an SLR camera, the capabilities of the EOS 100D are enhanced by interchangeable lenses. Formally, the whole huge fleet of Canon EF and EF-S lenses approaches it. In reality, it is unlikely that someone will buy a lens for 100 for a camera for 30 thousand, and nevertheless, such an opportunity exists. In addition, a flashlight or an external microphone can be installed in the flash shoe. This camera is a system solution!
EOS 100D for the amateur to shoot video – a powerful tool, and perhaps even excessively powerful. With this camera you can perfectly shoot any story: from a toast at a banquet to a video sketch on a trip. Redundancy is even useful – there is room for creative growth. Not everyone will take advantage of this, but often amateurs choose a camera with a margin. Over time, such a lover has a tripod, a microphone, interchangeable optics, he is improving in video production, and all this without changing the camera. Of course, the EOS 100D is suitable for those who just want to shoot short videos and take pictures.
Cameras up to 100,000 rubles
Cameras in this price range are great tools for so many types of shooting. In this category we will mark two cameras: Canon EOS 80D and Panasonic DMC-GH4.
Canon EOS 80D is the latest Canon camera, one of the most advanced cameras of this company with an APS-C format sensor. Here is a fairly large sensor with DualPixel technology, which provides high-quality images and fast, confident and accurate focus. This is especially useful when shooting movies.
Buy Canon EOS 80D
Not all lenses have a stabilizer, but most often the camera is sold complete with stabilized optics (for example, EF-S 18-135 / 3.5-5.6 IS USM). If you attach the PZ-E1 control unit to the lens, it will have smooth and precise zoom control – the same as in professional video cameras.
Sound EOS 80D records a built-in microphone. For an external microphone, a 3.5 mm stereo jack is provided, for controlling sound there is a stereo headphone output. The camera records video at a frequency of 50 frames / s with inter-frame and intra-frame compression. Video compresses the H.264 codec, sound – Linear PCM or AAC. The EOS 80D records two types of video files: MOV and MP4. The duration of the clips does not exceed 29 minutes 59 seconds, so if you need to record continuously for longer than half an hour, you have to connect an HDMI recorder.
Panasonic DMC-GH4 – the camera is not new, but deservedly popular with operators. In this model, Panasonic has focused on shooting video. The result is a perfectly balanced hybrid, suitable for both photographing and shooting video. The camera shoots 4K video in Quad HD (3840 × 2160) and Cinema 4K (4096 × 2160) formats, both in MP4 and MOV formats with a bit rate of 100 Mbps, as well as in Full HD, and with a huge bitrate of 200 Mbps . With the DMC-GH4, you can even shoot video with a variable frame rate. If necessary, it changes directly during the shooting process, thereby giving the effect of deceleration or acceleration.
Buy Panasonic Lumix DMC-GH4
Autofocus in the DMC-GH4 is contrasty, but fast. However, serious video shooting involves manual focusing, and focus picking makes it easier in DMC-GH4. The viewfinder is electronic, and this is convenient for video shooting: it is easier to stably hold the camera with the usual grip, and it is especially cool to use it on the street on a clear day.
The image stabilizer in the DMC-GH4 is optical, in the lens. There are few stabilized lenses with OIS marking on the market, but this is hardly a problem: you can always arm yourself with a monopod, pendulum or even gyro-stabilized gimbal throughout the camera. On the one hand, a small selection of stabilized optics does not add convenience to shooting, and on the other hand, for serious video shooting, the stabilizer in the lens is not needed very often.
But the choice of unstabilized optics for the DMC-GH4 is truly huge, and the reason is the open Micro 4/3 standard. Lenses are produced by Panasonic and Olympus, Cosina, Samyang, Tamron and even the Chinese company JY Optics .
If necessary, a battery grip and an external microphone are connected to the DMC-GH4. The most interesting accessory is the DMW-YAGH interface unit. It has two XLR inputs for professional audio equipment, a terminal for supplying an external timecode, HD-SDI connectors for outputting 10-bit 4: 2: 2 video suitable for color correction. Not every professional camera has such capabilities.
Thus, cameras from this price category are modular tools suitable for quite serious work. You can shoot video with the base kit from the camera and lens, but you can build up the system, and then it will compete with the "real" cameras – while still taking photographs with cameras. Of course, the cost of a system from a camera, lenses and devices like interface units, zoom drives or audio recorders is quite high, but the good thing is that all this can be bought separately, so video filming enthusiasts don't have to immediately spend a lot of money on buying a video camera with similar capabilities.
Cameras up to 300,000 rubles
Buy Sony Alpha ILCE–A7SM2
In this category, we note the Sony ILCE-7SM2 mirrorless camera . Of course, the video is shot not only with it, but it is Sony ILCE-7SM2 for shooting video – the best camera in its class, and possibly the best camera for shooting video. It has everything you need for video: a high-sensitivity 24 × 36 mm format sensor with a five-axis stabilization system, an electronic viewfinder with auxiliary indicators, shooting in S-Gamut3.Cine / S-Log3, 4K video recording with data reading without combining pixels, shooting in Full HD at 100 frames / s, HDMI output. Such a camera can solve almost any problem in video.S – Gamut3 . Cine / S – Log3 , 4K video recording with data reading without combining pixels, shooting in Full HD at a speed of 100 frames / s, HDMI output. Such a camera can solve almost any problem in video.
Чтобы изображение не дрожало при съёмке с рук, сенсор в камере закреплён в стабилизированном подвесе, который компенсирует дрожание рук и небольшие наклоны камеры по пяти осям. Он также способен работать вместе со стабилизатором в объективе. Это не заменит стедикам полностью, но сделает съёмку с рук заметно более лёгкой.
Thanks to the short working distance of the E mount, the Sony ILCE-7SM2 camera works with any optics for which there are adapters. Considering that autofocus is not very necessary for video recording, it's realistic to attach any lens that can cover a 24 × 36 mm frame to the camera. It will not be possible to use only professional film optics, since it is designed for a smaller format. However, without it, the choice is more than wide: these are Sony branded lenses, and any optics for cameras (even for Leica rangefinders!), And lenses specialized for video shooting with cameras with an FX sensor.
Separately, we note the FE PZ 28-135 mm F4 G OSS lens with a motorized zoom drive and manual control rings. With it, the ILCE-7SM2 turns into a full-fledged video camera with motor zoom (it is important that the zoom drive works very smoothly), which produces relatively high-quality material in relatively compact dimensions even in candlelight – the standard sensitivity range from above is limited by the impressive ISO value of 102400.
To control exposure, a customizable zebra and a histogram are provided, focusing is facilitated by an on-screen magnifier and customizable illumination of sharp edges. Video is recorded on a memory card; in parallel, it can be output to an external HDMI recorder. Not only white balance is adjusted, but also the tone curve and color gamut. This allows you to shoot based on color correction and the use of a wide dynamic range.
For high-quality sound recording, an external microphone is connected to the ILCE-7SM2 through a standard 3.5 mm stereo jack, and through the multi-interface jack is the XYST1M branded stereo microphone and XLR-K2M adapter kit, designed to connect professional audio equipment through the XLR jack, as well as to record sound through the standard microphone of this adapter with volume control.
ILCE-7SM2 is a modular video recording tool. For shooting video, a camera and a lens are initially enough. If necessary, connect external sound and video recorders – the first guarantees high-quality sound, the second removes the restriction on continuous video recording time of 29 minutes. For ease of sight, a monitor is connected (often it is combined with a video recorder). To make the camera with attachments convenient to hold, use a rig. There are even boxes for underwater shooting. Complete with optics, recorders, rigs and batteries, the ILCE-7SM2-based system costs a lot, but compared to other cameras that can shoot in 4K, the price does not look impressive. And not every camera can handle poor lighting. Clips, advertising – all this is within the power of the operator with ILCE-7SM2. This tool is expensive, but very powerful, redundant for the amateur, but justified and valuable for professional work. For many, this camera is useful exclusively for shooting video, but the ILCE-7SM2 also copes well with photography. To date, 12 megapixels – the value is not a record, but quite sufficient for so many tasks. For professionals who often have to take pictures and shoot videos, this camera is a real find.
Video cameras up to 25 000 rubles
Legria HF-R88 is a great option for those who only need to shoot video. Now the most common tool for shooting video is a smartphone, but the camcorder is confidently competing with it due to its ease of use, perfect ergonomics, high quality video and an extremely tenacious image stabilizer, coupled with a powerful optical zoom. The stabilizer is found in some smartphones, but when shooting a video, it works very badly. Legria HF-R88 or a similar camera is an ideal tool for shooting home videos, especially if it is understood that you will have to shoot continuously for longer than half an hour. The situation is not so rare: a matinee in kindergarten, a performance in a mug or a concert at a music school – all this is difficult to shoot well with anything other than a video camera.
Buy Canon LEGRIA HF R88
The HF-R88 is a simple camera for easy shooting. To start shooting, just snap off the lens cap, open the screen, point the camera at the scene and press the record button. The camera will do the rest automatically and immediately correctly: it will set the sound level, white balance, exposure, and compensate for the natural shake of the hands with the stabilizer. The video camera will record as much as needed: one battery lasts for 3 hours.
Distinctive features of this class of video cameras are a lens with a very wide range of focal lengths and a highly effective image stabilizer. In the HF-R88, the maximum focal length of the lens is 32 times greater than the minimum, so the camera is equally good at shooting at a family party and at an air show. The image stabilizer helps to cope with such a lens. In the HF-R88, it works so tenaciously that you can walk with the camera, and even compensates for the shake of the operator's hands even in the telephoto lens position. Of course, the stabilizer does not replace the steadics, but it insures pretty well against shaking images that are common for video enthusiasts – suffice it to say that in higher-end camcorders the stabilizer often does not work as intensively.
HF-R88 audio is recorded using the built-in stereo microphone. The stereo base is small, but the direction of sound in the recording is audible. An external microphone does not connect, but you can turn on the headphones to control recording. The default recording level is automatically configured, but you can also manually.
Unlike cameras, the capabilities of the HF-R88 are almost never expanded by accessories. The exception is the wide-angle lens mount. It increases the angle of view in the short-focus position by about one and a half times, this is useful when shooting in cramped conditions. There are no other accessories for the HF-R88: do not connect a microphone, do not put a illuminator. However, the typical user of the HF-R88 camcorder does not need this, because such cameras are bought to just shoot video, and the HF-R88 copes with this task with a bang.
Video cameras up to 60 000 rubles
Cameras in this price range attract video enthusiasts. These devices are designed with a focus not on ease of use, but on the quality of the material being removed. At the same time, the cameras are controlled quite simply and do not require special knowledge for shooting. In this price category, we look at the Sony FDR AX-33 and Canon Legria HF-G40 cameras .
Sony FDR-AX33 is perfect for those who are trying to keep up to date. Such people have something to watch 4K video on, so the camera needs an appropriate one. Sony FDR-AX33 just does not bother with the complexity of management, nor size, nor price. This is a tool for those who want to have maximum control for the available money, for those who need a tool that immediately has everything you need for a serious shoot. With a certain degree of conditionality, we can say that the Legria HF-G40 is a professional camera for affordable money, and this statement is not far from the truth: the Legria HF-G40 is a Canon XA30 professional camera simplified and optimized for fans.
Sony FDR AX-33
Sony FDR AX-33 looks like a normal automatic amateur camera. The case is small and does not attract too much attention. From the inexpensive Sony FDR AX-33 camcorders, only the viewfinder is outwardly distinguished – it is useful for shooting in bright sunshine. What makes the Sony FDR AX-33 attractive for an experienced video enthusiast?
Buy Sony FDR-AX33
Firstly, it shoots in 4K (Quad HD frame – 3840 × 2160), and among other such models the Sony FDR AX-33 is almost the most compact. Secondly, the camera is equipped with a high-quality 10x Zeiss Vario-Sonnar T * zoom lens, thanks to which it surpasses even some SLR cameras in image quality. The third feature is the image stabilizer. It is made in the form of a gyro-stabilized block with a lens and a sensor. When you shake the camera, you can see how the lens unit "floats" inside the housing, holding the optical axis in a given direction. At the same time, the stabilizer does not interfere with panning or shooting with a tripod. Finally, in the Sony FDR AX-33, the operator manually controls all the shooting parameters at will and need. This not only gives creative freedom, but also helps ensure the assembly unity of the material.
Video Sony FDR AX-33 records in XAVC S and MP4 formats, and can record in two formats at the same time. Compression is regulated separately for each format, so that you can get immediately and the highest quality material for installation, and a light copy for quick publication on the Internet. In 4K mode, the Sony FDR AX-33 records video with a bitrate of 100 and 60 Mbps, in Full HD mode, the bitrate depends on the recording format and ranges from 3 to 50 Mbps. In addition, the operator can take pictures right during the video recording! Images are recorded in JPEG format 4288 × 2408 (10.3 megapixels). The size is modest today, and the quality is inferior to what the cameras give.
Sound The Sony FDR AX-33 records five-channel Dolby Digital 5.1 or two-channel LPCM / AAC-LC. The choice of available audio recording format depends on the format of the video being shot. Sony FDR AX-33 has an operator voice suppression mode. An external microphone is connected via a 3.5 mm stereo jack, and a number of proprietary microphones are connected through a multi-interface jack.
The capabilities of the Sony FDR AX-33 are expanded by additional devices, both universal (steadicams, illuminators and microphones), and branded. There are many branded accessories: these are batteries of different capacities, and flash, and an infrared illuminator for night shooting, and five different microphones for a multi-interface connector, and even an XLR-K1M adapter for connecting professional audio equipment with XLR connectors. The Sony FDR AX-33 has a built-in Wi-Fi module, and the camera itself can broadcast a video stream to the Internet (for example, to the Ustream service), so using this camera you can organize high-quality broadcasts to the whole world.
Canon Legria HF-G40
The Canon Legria HF-G40 is in many ways not similar to the Sony FDR-AX33, but is popular with video enthusiasts, and this popularity is well deserved. It is a balanced tool for experienced operators. At first glance, the model does not have record characteristics: it is large enough and heavy (with a hood and battery 23 cm in length, weight 900 g), shoots only in Full HD and does not set bitrate records (maximum 35 Mbps). However, it has convenient control in a professional style, and the shooting capabilities are enough for the operator to cope with any task that video enthusiasts may encounter.
Buy Canon LEGRIA HF G40
What are these opportunities? The Legria HF-G40 gives the operator enviable flexibility in choosing shooting points and plan size thanks to a wide-angle 20x aperture (f / 1.8 in short focus and f / 2.8 in telephoto) lens. Thanks to the aperture ratio of the lens and a relatively large sensor, size 1 / 2.84 ″, the camera produces quite high-quality material under the light of street lamps, and over the entire range of focal lengths of the lens. All shooting parameters – aperture, shutter speed, gain, image style and more – are quickly configured with buttons on the case. The shooting mode with a wide dynamic range preserves details in highlights and shadows, so the image looks nicer and more professional. The stabilizer makes it easier to shoot with your hands, and the tilted viewfinder makes it easy to work in bright light. To make it easier to focus and set the exposure, a magnifier, highlighting sharp edges and a "zebra" are provided. Even the solid appearance, size and weight of the camera can be beneficial – the Legria HF-G40 is similar to professional equipment, which in some ways is beneficial for those who are starting a career as a freelance camera operator with this camera. Finally, the Legria HF-G40 is very economical: you can shoot it with the viewfinder and display turned off. In this mode, one battery lasts for 5-6 hours of continuous shooting.
The video quality of the Legria HF-G40 matches its intended use. Video is recorded in the AVCHD and MP4 formats with a maximum bitrate of 28 and 35 Mbps, respectively. These are standard values ​​for the Full HD format, video with such a bitrate looks good, can withstand transcoding during installation and does not take up too much space on the memory card. Also Legria HF-G40 shoots fast and slow motion video. To calibrate the equipment, the Legria HF-G40 records an image with test color bars according to EBU and SMPTE standards, as well as a test sound signal. To facilitate the installation of multi-camera shooting, a timecode is recorded.
Sound in the Legria HF-G40 is recorded using the built-in condenser stereo microphone, an external microphone is connected via a 3.5 mm stereo jack. The signal from the internal and external microphones can be mixed. To control the recording, the operator connects the headphones.
The Legria HF-G40 differs from other cameras in that it has two shoes for accessories: a standard one with a connector for active devices like the Canon SM-V1 brand microphone and a cold one for those accessories that do not need an electrical connection to the camera. For example, for illuminators. Legria HF-G40 has a Wi-Fi unit, thanks to which the camera can be controlled from a smartphone or laptop. The camera can be mounted on a jib crane or a long monopod, and control the shooting wirelessly.
Note that if the most affordable video cameras are almost identical, then in the price category "up to 60,000 rubles" cameras already differ markedly in their specialization.
Camcorders up to 300,000 rubles
Among the cameras in this price category, the Canon EOS C100 Mark II is worth mentioning. This is an updated version of the younger model of the Canon Cinema EOS camera line. The video cameras of this series are designed for professional video production by a team of specialists, although one operator can fully work with the EOS C100 Mark II.
In professional cameras, with rare exceptions, interchangeable optics. The same holds true for the EOS C100 Mark II: thanks to the EF mount, the camera works with Canon Cine lenses and EF and EF-S optics. Paired with the EOS C100 Mark II optics, it supports autofocus, and with some EF-S STM lenses, it can even focus on faces. The Super 35 format sensor is installed in the EOS C100 Mark II; it is similar in size to the APS-C format; the sensor provides both very high detail by the standards of the Full HD standard, and work at high ISO values. Paired with a fast lens, the camera is at its limit, but it can shoot even in full moonlight, and quite acceptable image quality is obtained by candlelight. The camera electronics is forcedly cooled by a silent fan, while the camera is made in a splash-proof housing. EOS C100 Mark II is convenient to hold with the help of an adjustable handle, carry. It is comfortable to sight with a large deflectable viewfinder with a huge full-time eye cup or with a rotary OLED display. On the case there are two dozen buttons, switches and dials to control all shooting parameters, the operator calls the menu only to change rarely used settings.
Video by formal characteristics is not impressive – 35 Mbps in MP4 and 28 Mbps in AVCHD, Full HD 50p. In numbers, everything is the same as that of inexpensive amateur camcorders. The difference is visible on the screen: the image is of the highest detail, the noise even at high ISOs is negligible, and the optical aberrations are automatically corrected by the camera processor. Image quality is close to reference.
The camera has many auxiliary indicators. For focusing, there is a traditional screen magnifier and illumination of sharp edges, as well as an edge contrast oscilloscope. To control the exposure – a two-level adjustable "zebra" and a multi-mode oscilloscope, to control color rendering – a vectoroscope. The tone curve is configured in detail for specific tasks, for shooting for color correction, the Canon Log tone curve is turned on. Detailing, including separately for skin tones, is also configured according to several parameters.
Sound is recorded with a stereo microphone integrated in the upper handle. In the AVCHD format, sound is recorded with a pulse-code modulation of 48 kHz 16 bits, MP4 uses the AAC-LC codec, as well as 48 kHz 16 bits. To connect external microphones there is a 3.5 mm jack and two XLR-connectors with phantom power. An annular microphone holder is arranged on the handle.
There are relatively few branded accessories for the EOS C100 Mark II: an increased battery, a tripod adapter, a shoulder strap, a remote control and a GPS receiver. Also, the EOS C100 Mark II is compatible with any universal devices of third-party manufacturers – there is no problem putting an additional microphone, illuminator or handle on the camera.
Formally modest characteristics of the EOS C100 Mark II in comparison with other cameras and camcorders of this price category raise a reasonable question, why is this camera so good. The question is really not idle: for comparable money you can buy a video camera that shoots not only Full HD, but also 4K in CinemaDNG or 10-bit ProRes format. This gives you much more room for color grading than the material shot by the EOS C100 Mark II with a Canon Log curve. A full-frame video camera can be bought even cheaper – without sacrificing shooting quality.
To answer this question, you have to abandon the comparison of cameras on formal characteristics and look at the EOS C100 Mark II from a practical point of view. It turns out that some cameras need to be reflashed so that an oscilloscope and focus picking appear in them. To the other, a handful of batteries must be stocked up, since for 4 hours of operation one or even two batteries is not enough. All cameras are inconvenient to hold in your hands while shooting a video, therefore, you need rig, and this is an additional cost, and not every rig is convenient. The cameras do not have space on the case to place all the camera control buttons necessary for the operator. Finally, cameras do not take longer than half an hour without an external HDMI recorder, and this is an expensive device. Some formally good camcorders cost significantly less than the EOS C100 Mark II,
In practice, it turns out that the EOS C100 Mark II is a camera in which everything you need to work is immediately out of the box. There is a monitor and means of objective monitoring of video material, there is a capacious battery and all the necessary buttons and twisters on the case. No rig needed – the EOS C100 Mark II is comfortable to hold by the standard grip. You don't even need fast memory cards – there is enough ordinary and inexpensive SDHC Class 10. Finally, the EOS C100 Mark II is one of the few cameras in its price category that the operator can manage completely alone, without the help of an assistant. For video production with serious demands on quality and speed, especially for those cases where you need to shoot continuously for longer than half an hour, the EOS C100 Mark II fits almost perfectly.
Conclusion
Video in its own way is good for shooting with cameras and camcorders. Cameras are good versatility, camcorders – narrow specialization and the possibility of continuous recording. Which device to choose? It is most productive to proceed from the conditions of the task that the camera will solve.
A camera is preferable to a camcorder when:
you need to take pictures about as often as shoot videos;
video needs to be shot, although occasionally, but the phone is not suitable for this;
for minimal money you need to provide an extremely good image, especially with bokeh.
A camcorder is preferable to a camera when:
you don't need to take pictures at all, but you want to shoot video;
you need a camera that can shoot video without additional devices and accessories;
need a powerful zoom lens for reasonable money; you just need a convenient tool for shooting video.