You need to take a photo, record a video, attend a meeting in which you have to take notes, follow a recipe while you cook..., so you decide to place your mobile on the table, it falls; you put an object behind it, it slips; you stretch out your free arm, it doesn't work for you… total disaster!
All this sounds familiar to you, right? This problem is more common than you can imagine. Luckily there is a very simple and cheap solution: the mobile tripod.
Mobile phones have become much more than an object to call and sometimes we need support to make our lives easier and to ensure the physical integrity of our device. I don't want to tell you how many times my smartphone has been about to fall into the pot, the sink or the street from a third floor, but surely this also sounds familiar to you, right?
So that none of this happens to you, I am going to show you mobile tripods of different types and prices, so that you can find your ideal partner and end the drama once and for all.
How to choose a good mobile tripod
Best mobile tripods
Mobile tripod with light
High tripod for mobile
mobile support for tripod
HOW TO CHOOSE A GOOD MOBILE TRIPOD
When choosing the best mobile tripod, I recommend that you think about your needs first. What use will you give?
Depending on the answer you will have to take into account the following aspects:
Height. There are tripods of many heights. Do you need a tripod flush with the ground to record your stunts with the skateboard? Or maybe you need a tripod that records you standing up to teach an online class? Do you want it to rest on the ground during your online Pilates class or are you going to put it on some surface? Depending on the use you are going to give it, you can choose between high tripods and mini tripods.
Size. And by size I don't just mean the height, but the size it has once folded. Because it is not the same if you use it at home, in a studio or workshop, or if you are going to carry it in your backpack or bag practically every day.
Weight. Size and weight are related. The heaviest tripods are usually the most stable; the lightest, the easiest to carry. If you want a tripod that is easy to transport, make sure that it weighs little. If you are not going to move it, you may prefer to prioritize stability. And then there is the possibility of finding a balance between weight and size.
Stability. If you want it to take long exposures or photography with low speeds, try to make it a stable tripod. The same if you also want to use it from time to time with a heavier camera.
Trigger. Some models come with a remote shutter, if it is to take self-portraits, group photos, etc., you should take it into account.
Shoe. If you are interested in attaching a light, a microphone, etc., make sure that it has a shoe.
Feet. There are tripods for mobiles that have flexible or articulated legs (or feet) to hook them to a branch or a handlebar, for example, or that each leg opens at an angle. Others are fixed and you can only open the three legs at a time, etc. Again, depending on the use you are going to give it, and the terrain where you want to use it, one type or another will suit you.
Applications. Some mobile tripods have different functions, selfie stick, monopod, tripod, etc. Keep that in mind if you need a versatile tripod above anything else.
Price. Set a maximum budget. As with everything, there are different prices, from very cheap to quite high prices for professional use, the important thing is that it covers your needs and that it is within the margin that you can (or do not care) pay; or invest, if it is for your business.
BEST MOBILE TRIPODS
As we have just seen, each user has different needs and you have to find the one that is ideal for you. Now, these are the best (mini) tripods for mobile, our personal recommendations:
FOTOPRO: THE MOST FLEXIBLE
The contortionist mini tripod, to take photos of adventure, in nature, from impossible angles, etc. With its flexible legs you can place it wherever you want. It works for both the mobile, the camera or the GoPro .
Fotopro Camera Tripod, Flexible Tripod, Portable Tripod with 1/4' Screw... *- Electronics
ATUMTEK: A VERY VERSATILE AND ECONOMICAL MOBILE OCTOPUS TRIPOD
Here is another octopus mini tripod with flexible legs, with a 360º swivel head and remote control. Compatible with smartphones with a width between 4.8 and 10 cm. It weighs 260g and measures 25.6 x 5.5 x 5.3cm. Ideal for video calls, for traveling, cooking, taking self-portraits in impossible places, etc.
ATUMTEK Mobile Phone Holder, Flexible Tripod with Remote Control and Universal Clip...
GRITIN: CHEAP, COMPACT AND LIGHT
Tripod and selfie stick with remote release (up to 10 m), made of stainless steel and with 270º rotation. Folded it only measures 19.5 cm and extends to 70 cm, weighs 130 g. It is one of the simplest, most compact and lightest, ideal if you are only going to use the tripod vertically and from the front.
Gritin Selfie Stick Tripod, 3 in 1 Bluetooth Mobile Selfie Stick with Wireless ..
ARTOFUL: TRIPOD AND SELFIE STICK WITH LIGHT, ALL IN ONE
It is also a tripod and a selfie stick with a remote release, but it also has a small fill light with different levels of brightness and three shades (white, warm and natural). 360° rotation and 180º angle adjustment, with non-slip handle and extendable up to 103 cm. Its dimensions are 19.6 x 4.8 x 3.3 cm.
ARTOFUL Selfie Stick Tripod with Lights, Mobile Tripod with Remote Control,...
I hope that within this list you have found what you wanted, if this is not the case, here is an article dedicated to mini tripods with our recommendations , and if you are looking for something more specific, keep reading.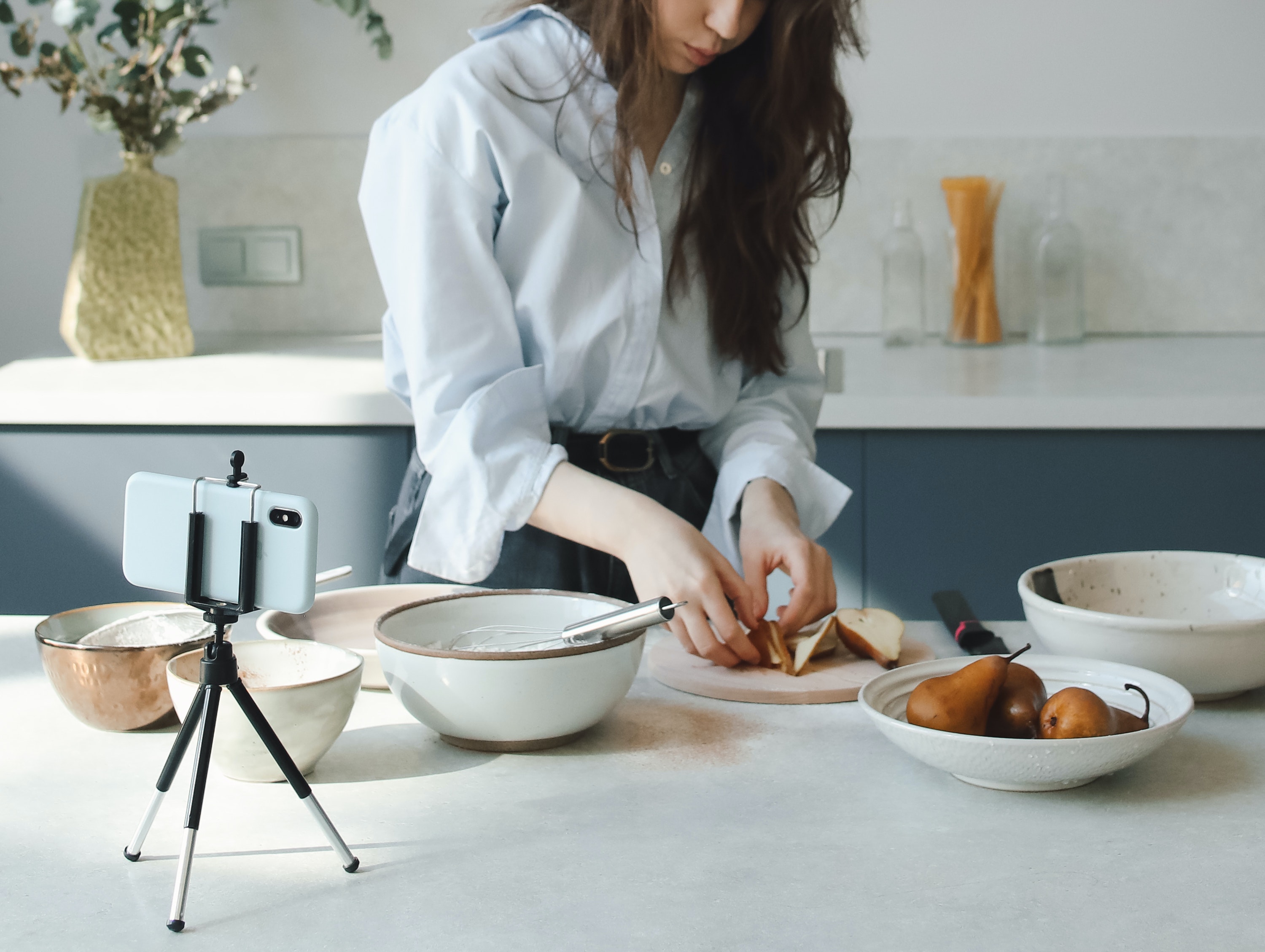 MOBILE TRIPOD WITH LIGHT
There are also tripods with light ring for mobile .
And it's not just that the light ring is flattering, it's that in meetings, conferences, online classes, vlog content and anything other than video calls with your family or friends, good lighting is essential.
If you have lighting problems because it is insufficient or non-existent, or because you are always backlit, the problem is over with this.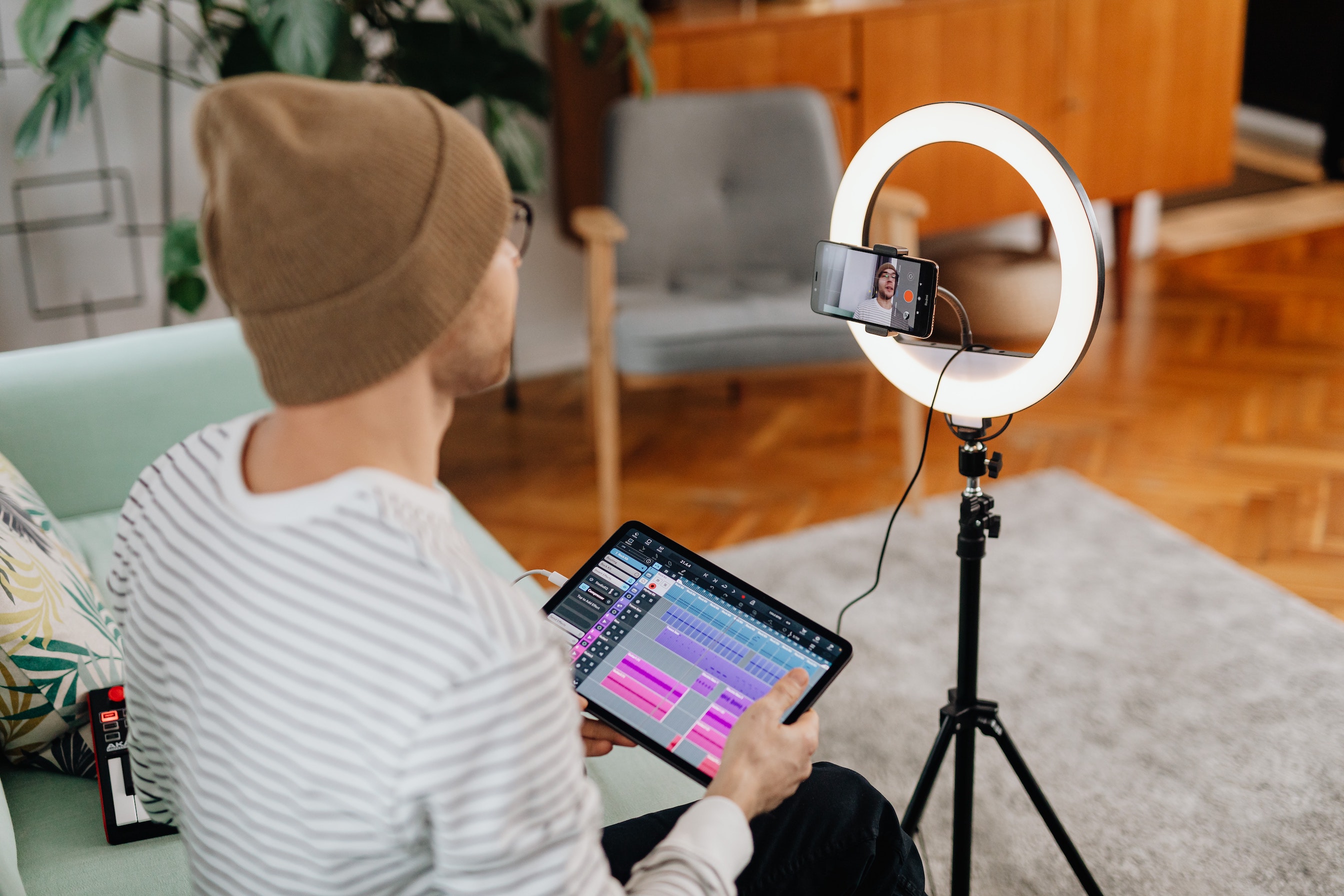 Let's see those mobile tripods with light:
SUNUP: TRIPOD FOR MOBILE AND CAMERA
Light ring and tall tripod for mobile with remote shutter that connects via Bluetooth, the light can be set to cold, warm or neutral or adjust the brightness. It can also be used with a camera.
Its dimensions are: 36.83 x 26.67 x 13.34 cm and it weighs 1.19 kg. Extended it measures 127 cm.
10'' LED Ring Light with Tripod and Phone Holder, Sunup Aro de Lu... *
MOHOO: TWO TRIPODS FOR ONE
Two tripods, one high (1.60 m) and one desktop (0.19 m), Bluetooth remote control up to 10m, mobile and camera support, light ring with three light color tones and 10 brightness levels and USB power supply.
Compatible with most smartphones (between 5 and 10 cm wide approx.) The phone holder can be adjusted to 360º, the ring adjusts vertically to 180º and horizontally to 360º.
Its dimensions are: 45 x 36.5 x 9 cm and it weighs 1.75 kg. Can you ask for more?
Ring light with tripod, MOHOO Ring Light 3 Colors and 10 Brightness Dimmable 10&... *- Unknown binding
K&F CONCEPT: TRIPOD WITH LARGE RING LIGHT
Do you want a bigger light ring? This is best option for you.
With a 50cm LED ring light, this tripod is made of aluminum alloy and reaches a height of up to 2.37m. The ring is regulated to 180º vertically and 360º horizontally and has three lighting options: cold, neutral and warm; the brightness adjustment range is from 0 to 100%.
It has a remote trigger control up to 6m, USB power supply and includes a transport bag.
K&F Concept- 50cm LED Ring Light 19" with Tripod/237 cm Dimmable/32... *
HIGH TRIPOD FOR MOBILE
If among your needs is that it be a high tripod, I leave you with these models that have an excellent value for money:
HITCHY: THE CHEAPEST TALL MOBILE TRIPOD
This is one of the cheapest tall mobile tripods you can find, and with very good user reviews.
It is made of aluminium, extended to a height of 130 cm and weighs just over 400 g, with non-slip rubber feet, three sections with quick release locks, 360° horizontal rotation and 90° vertical rotation viewing angle and includes remote release.
Hitchy Mobile Tripod, iPhone Tripod 51 Inch 130cm Lightweight Smartphone Tripod ... *- Electronics
TECCPO: CHEAP AND PORTABLE
Aluminum alloy tripod and adjustable height between 39-135 cm, five-section legs, measures 40 cm folded and weighs 510 g. Rotating lever 360º horizontally and 90º vertically, with 1/4″ screw and support compatible with most smartphones. Includes portable bag and remote release (up to 10 m).
PEMOTECH: TRIPOD FOR MOBILE AND TABLET
This tall tripod model is very versatile because it can be used for mobile phones, GoPros and tablets (up to 10 inches).
Remote control up to 10 m via Bluetooth, horizontal and vertical recording. 360º panoramic and 270º vertical rotation, ideal for recording overhead shots, quick release shoe.
It weighs 720 g, folded it measures 41 cm. With three sections with a lever block, its maximum height is approx. 1.40 m.
Tripod for Mobile and Tablet, PEMOTech Light Camera Tripod, Adapter for Gopro... *- Unknown binding
VICTIV: THE TALLEST
If you are looking for a taller tripod, this extended one goes up to 182 cm. It measures 52 cm folded and weighs 1.2 kg.
Compatible with mobiles with a width between 5.8-10.2 cm.
3-way rotating head for 360º panoramic shooting, quick-release shoe, three-section legs and includes a case.
Victiv Mobile Camera Tripod, 182 cm Aluminum Tripod for Travel Lightweight Tripod... *- Electronics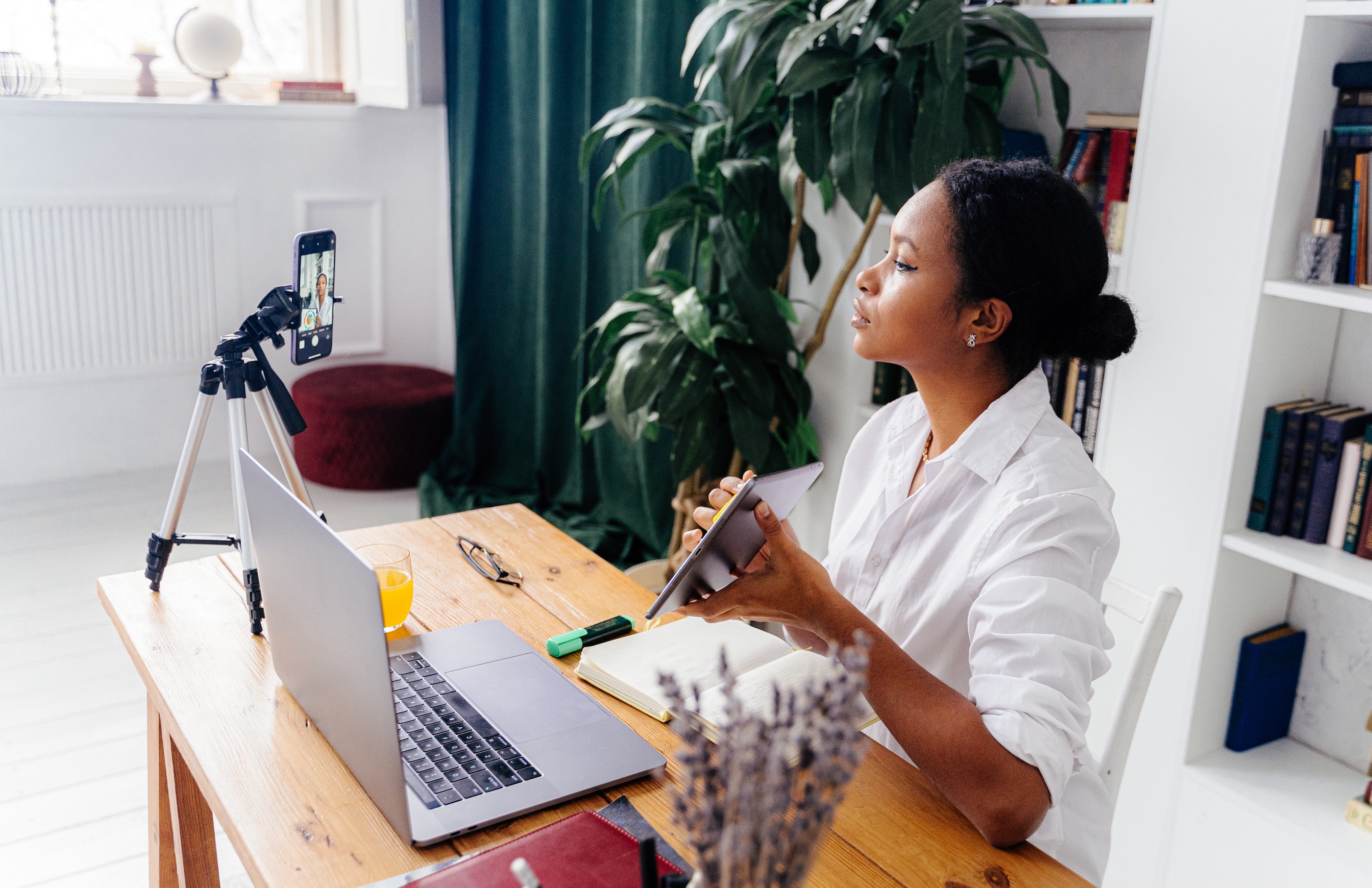 MOBILE SUPPORT FOR TRIPOD
Maybe you already have a tripod and don't feel like it or can't make another investment or accumulate a new piece of junk. In that case, you're in luck because there's a mobile tripod mount.
That is, a universal tripod adapter, which is adjusted with a screw and where you can hold your phone.
Here are some recommended mobile tripod mounts :