When we want to buy a camera or simply assess our options, one of the first big decisions we usually come across is, should I buy a Full Frame camera or an APS-C ? Which is better? What differences are there between a Full Frame camera vs an APS-C camera?
Fortunately or unfortunately there is no single answer to this question because it depends a lot on the type of photographer you are, the type of photography you like, etc. However, at the end of this article you will not have any doubts about whether a Full Frame or APS-C camera is better for you ? .
WHAT IS FULL FRAME?
Full Frame means full frame and refers to the size of the sensor in cameras. A Full Frame sensor has a size equivalent to the 35mm of the old analog film cameras or, what is the same, approximate dimensions of 36x24mm.

WHAT IS APS-C?
APS-C are the acronyms that define what we popularly know as a cropped sensor. APS-C sensors are smaller than Full Frame, having an approximate size of 24x16mm.
DIFFERENCE BETWEEN FULL FRAME AND APS-C
If you have taken a look at the definitions, you will see that the difference between the Full Frame sensor vs the APS-C is their physical size. You can see a relationship of the sizes of the different types of sensors in the following graph.
Now, what does it mean for practical purposes that one sensor is larger than the other? Let's see the advantages of each one.
ADVANTAGES OF A FULL FRAME CAMERA VS APS-C
Having a larger sensor means that Full Frame cameras capture more information, which translates into aspects like the ones I explain below.
HIGHER IMAGE RESOLUTION
A larger image sensor means larger photodiodes that capture the brightness of light for each pixel located on the sensor.
Simply explained, we can say that being larger, it better captures light and information, giving rise to heavier RAW files but with more information.
This implies that Full Frame cameras are capable of capturing more information than other cameras with smaller sensors.
LESS NOISE AT HIGH ISO VALUES
A larger sensor also affects the behavior of Full Frame cameras at high ISO , because having more information to work with, they perform better at higher sensitivities, generating less noise than cameras with smaller sensors.
GREATER DYNAMIC RANGE
The dynamic range is also better for the same reason. Full Frame cameras, being able to capture more information, capture more dynamic range in a scene, or what is the same as saying that they are capable of better capturing detail in lights and shadows within the same image.
NO CROP FACTOR
When you buy a Wide Angle lens, a 35mm or a 50mm, etc. Whichever you buy, it will always maintain the focal length with which it is designed. Compared to an APS-C camera, you will have a greater viewing angle.
LARGER VIEWERS
Full frame cameras have larger viewfinders, making them more comfortable to work with.
BODIES WITH HIGHER PERFORMANCE
In a generic way, we can say that Full Frame sensors are mounted on professional or advanced amateur air bodies, which easily links the Full Frame sensor to more advanced features and bodies with better construction quality.
ADVANTAGES OF APS-C CAMERAS
Although it may seem a priori that the balance is tilted in favor of Full Frame, the truth is that APS-C have many advantages, it wasn't going to be that easy ? . Cutting the sensor has not been a casual event; doing so has reduced the size of cameras and lowered costs, allowing many more people to have access to a quality digital camera.
CAMERAS OF SMALLER SIZE AND WEIGHT
By mounting smaller sensors, the size of the cameras is also reduced, making them smaller and lighter, so these models are more portable than cameras with FF sensors.
OBJECTIVES AT COMPETITIVE PRICES
If you've been toying with the idea of going full frame, you may have taken a look at the lenses that should accompany your camera on its wanderings.
They are much more expensive lenses than those designed for APS-C cameras so, for the same money, with APS-C you can buy more, brighter or better quality lenses than for the same price in FF.
LESS HEAVY RAW FILES
One of the aspects that struck me the most when testing a full frame camera is what RAW files take up. They are quite large files compared to those generated by an APS-C camera.
CONVERSION OR TRIM FACTOR
Why might cropping, converting or multiplying factor be an advantage of APS-C cameras? Precisely this multiplication factor manages to increase the focal length of our objective without having to invest in more expensive and heavier telephoto lenses.
To photograph birds, macro, the moon, animals, etc., these types of cameras allow us to have much higher focal lengths without having to buy extremely expensive and heavy lenses.
GOOD VALUE FOR MONEY
To this day, APS-C cameras offer great results, often with imperceptible differences to the naked eye in terms of image quality compared to full sensors.
A cheaper body also allows us to invest in more and better optics that I already told you that with the high level of quality of current cameras, it is where you will best invest your money ?
APS-C VS. FULL FRAME CROP FACTOR
One of the most notorious or obvious differences between the two sensors is what we know as the crop factor, crop factor or conversion factor.
In Full Frame (FF) cameras, the same real focal length (the one marked by the objective) is obtained as the effective one (the one we obtain when taking the photo). There are no surprises ? .
On the contrary, APS-C cameras, having the smallest sensor, receive an equally smaller portion of the image. In these two images you can see the difference: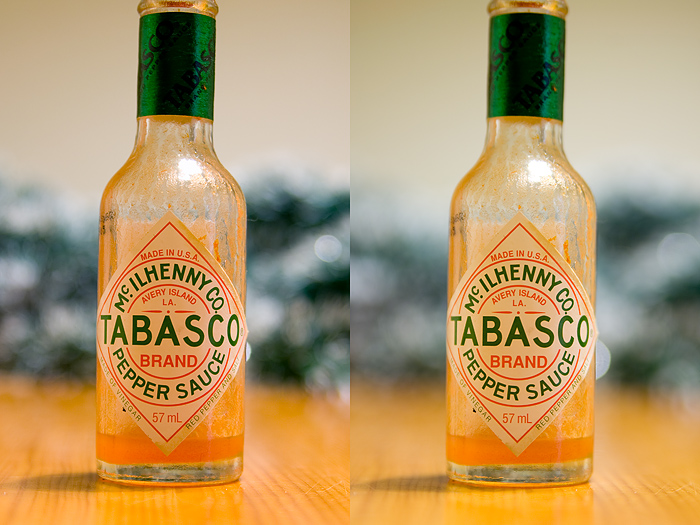 With the same lens and the same scene, the APS-C sensor offers us a cropped image compared to a full sensor image.
For practical purposes, this means that on APS-C sensors, the focal length of the lens is multiplied by values such as 1.5x or 1.6x depending on the brand.
That is, a 50mm on a Full Frame camera will be a real 50mm. But in an APS-C camera, to know the effective focal length, we must multiply that value by 1.5x (Nikon) or 1.6x (Canon). therefore, a 50mm on an APS-C camera has an effective focal length of 75mm or 80mm depending on the multiplication factor we use.
Here is a table with the main equivalences: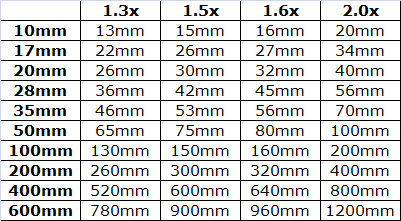 In the following video you can see how the size of the camera sensor affects the effective focal length. You will see the comparison between an FF model (Canon 5D) and an APS-C model (Canon 7D):
If you don't know what the conversion or clipping factor is , or you just want to go deeper into the subject, I recommend that you take a look at the article at the link.
APS-C VS FULL FRAME CALCULATOR
If you want to understand visually how it would affect a Full Frame sensor or an APS-C sensor, you have this calculatorwhere you can choose the type of sensor, the focal length, the type of lens, the aperture of the diaphragm, etc., and this simulator offers you the final cut that would be generated in the image.
DEPTH OF FIELD FULL FRAME VS APS-C
This point is a bit confusing, but we can conclude that APS-C have less blur than Full Frame or more depth of field.
If you don't know what depth of field is, here is a very simple and complete explanation:
Summarizing, we say that the depth of field depends on three factors:
Distance between camera and object
Lens focal length
diaphragm opening
The explanation of why an APS-C has more depth of field than an FF is as follows. If we take a photograph of any object with the same parameters and the same objective, we will see that the blur is the same, but not the portion of the scene that we capture, as we have seen in the point of the multiplication factor.
So far, there are no differences beyond the viewing angle of one and the other. Now, if we want to achieve the same framing in both to obtain two identical images in terms of field of vision or framing, we will have to move away from or approach the object to achieve it.
That is, if we want the same angle that we get in an FF image, with our APS-C sensor we should physically move away from the object. By doing so, we would be modifying the distance between the object and our camera which, as I told you before, is one of the factors that influence the depth of field.
The more we move away from the object, the more focused area we will have and the closer we get, the greater the blur. For this reason, looking for the same framing and with the same settings, an APS-C camera, since it needs to get further away from the object, we can say that it has a greater depth of field or vice versa, that it achieves a less out-of-focus background than an FF.
In short, APS-Cs, at least as a result of the image, have less ability to blur the background.
WHAT IS BETTER FULL FRAME OR APS-C?
Well, it depends a lot on the use you are going to give it and your needs. Here I leave you a small list of how a Full Frame camera could be better vs. an APS-C and vice versa, but you must take it in a generic way, because each camera is different and today there are very advanced APS-C cameras that surpass some basic FF.
In a generic way we can say:
Characteristics
full frame
APS-C
Night or indoor photography
?
long distance photography
?
wide angle photography
?
Image quality
?
Macro
?
Portability
?
Dynamic range
?
body price
?
target price
?
Objective quality
?
advanced features
?
professional finishes
?
great impressions
?
Blogs, RRSS, small
impressions
?
I hope that if you had doubts regarding these two formats, it has become clear to you which type of camera is best for your way of photographing. Because we are not only talking about Megapixels when choosing a camera, we must take into account the quality-price, the size, the objectives that we can acquire, and the type of photos we like to take.