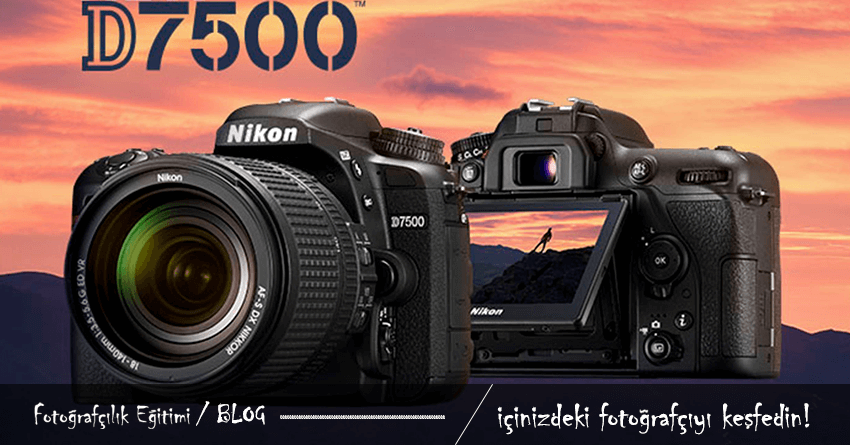 Today I come to introduce you to the replacement of the Nikon D7200, which we already talked about at the time. The Nikon D7500 is a DSLR camera with advanced features at a relatively restrained price.
Relatively because it is not, by any means, a camera for beginners, but rather to give way to something much more complete and that, without being considered professional, stays very, very close to being.
GENERAL DESCRIPTION
As I have already advanced the Nikon D7500 is a camera with very complete advanced features , both in terms of image quality and its finishes.
With its effective 20.1 MP, the quality of its AF, its speed and accuracy of burst shooting, its sealed body, the touch screen and flip in vertical, or the possibility of recording in 4K, is a camera that does not go unnoticed ;-).
DIRECTED TO…
The Nikon D7500 is a camera aimed at a medium-advanced user who, without wanting a professional camera, does want advanced features in an off-road vehicle.
If you come from a first SLR camera for beginners, you have squeezed it at 1,000%, you master it with your eyes closed, it falls short or you simply died from wear and you think it's time to take a step further …
If you master several techniques , the exposure triangle , the manual mode , and you have left behind all the sea of ​​doubts of a photographer who starts in photography, if you are also interested in video, this is a camera that deserves to be given all your attention
FEATURES OF THE NIKON D7500
Of this powerful camera, they stand out above all their image quality, the accuracy of their AF or burst shooting.
It is ideal for working in low light situations, since it has surprising ISO values ​​and with very good quality standards in high ISOS.
Also noteworthy are the connectivity, the sealed body, the possibility of recording in 4K, the quality of the optical viewfinder or its flip-up screen, as well as the high-performance shutter.
Let's look at the features of the Nikon d7500 more in depth:
Image sensor: DX, CMOS, 23.5 mm x 15.7 mm of 20.9 MP effective.
Processor: EXPEED 5
Viewfinder: Single-lens reflex lens with pentaprism at eye level and 100% coverage.
Effective viewing angle: Nikon DX format, equivalent to approx. 1.5 times that of the lenses with a viewing angle in FX format.
Shutter type: Mechanical shutter with focal plane and electronically controlled vertical travel.

It is a high performance shutter that is designed to withstand 150,000 cycles.

Shutter speed: From 1/8000 to 30 seconds, in steps of 1/3 or 1/2 EV; Bulb, Time and X250 options.
Frame rate: Up to 8fps.
ISO sensitivity: ISO 100 to ISO 51200 (expandable up to 1640000).
Focus points: 51 (15 of them cross).
Built- in flash with NG 12.
Monitor: TFT vertical LCD screen and touch-sensitive, with a diagonal of 8 cm (3.2 inches), a viewing angle of 170 °, a framing coverage of 100% approx.
Video file format: MOV, MP4.
Audio input: Stereo mini-touch jack (3.5 mm in diameter; supports power plug).
Audio output: Stereo mini-touch jack (3.5 mm in diameter).
Connectivity WIFI and Bluetooth.
Dimensions (W x H x D): Approx. 135.5 x 104 x 72.5 mm.
Body sealed against dust and splashes.
Weight: 640 g (camera body only).
Operating environment: Temperature: from 0 ° C to 40 ° C.
You can read the full specifications here .
PRICE
You can find it on Amazon with the AF-S DX 18-140 mm f / 3.5-5.6G ED VR kit lens for € 1,121.95 or just the body for € 999.00 .
THE BEST
The Nikon D7500 has a really enviable image quality , thanks to the high quality of its sensor (the same as the D500, camera that costs much more;)).
The burst shooting speed of up to 8fps as well as the accuracy and speed of your AF with 51 focus points (15 cross) make it difficult not to get perfectly focused images with it.
It also highlights the high sensitivity of the sensor, with very good ISO noise levels extremely high. What makes it ideal for photographs with very little light.
It also highlights the touch screen and flip, as well as WIFI and Bluetooth connectivity or its sealed body.
Finally, note that the video mode allows 4K recording.
WORST
It only has one card slot.
It seems that the AF in video mode is improved.
Too much trimming in 4k video mode (we must add the one that applies the 4K plus the multiplication factor, which of the Nikon D7500 we have commented that it is approx 1.5).
You cannot add a grip.
MAIN COMPETITOR
It seems that the equivalent in Canon would be the Canon 80D .
GALLERY
Here I leave you with a gallery of images taken with a Nikon D7500
CONCLUSIONS
This is an all-terrain camera for medium-advanced users, looking for speed, accuracy and great image quality in a sealed and robust body.
A camera that, while not professional, stays close to it, it can even work perfectly as a second body for a professional photographer.
In addition, although the price moves away from the cameras for beginners, so do their benefits, and is comfortably located halfway between the dying that must be spent on a professional and what the simplest are worth.
This camera promises not to give you rest or get bored in a few years :-).
So, if you are an enthusiastic fan, and you have a few euros, be sure to check out this SLR.
Nikkon D7500 – 20.9 MP Digital SLR Camera (3.2 "LCD Screen, 4K / UHD, SnapBridge, Bluetooth, WiFi) Black Color – Kit with AF-S DX Lens 18-140mm f / 3.5-5.6G ED VR 
*
 – Electronics
Price: € 1,121.95

(As of: 2020/01/18 1:36 am – Details)
You save: € 727.05 (39%) (39%)
5 new from 

€ 1,121.95
 0 Second hand
How about? Could it be the camera you were looking for? Can it be that of someone you have nearby? If so, help me spread this article to try to reach as many enthusiastic photographers as possible. Thank you very much and see you next time