I'm going to show you how to take your own ID photos at home , so that in situations where you can't go to a professional or the budget is faltering, you have a solution at hand.
Because… have you ever found yourself in the same situation as where I needed passport photos and there was no photo studio or photo booth near me? Or have you suddenly needed photos to renew the passport or ID of the whole family? It goes off a punch, right?
Let's not say when the course starts, you have several children and they begin to ask for photos at school, after school and a long etcetera.
HOW TO TAKE PASSPORT PHOTOS AT HOME
The first thing is to know how to take your passport photos at home. It is not difficult but requires a little attention:
You need a white background. Obviously, a study fund is not necessary, no matter how ideal it may be. It's okay with a white wall, get as far away from it as possible, so you'll avoid shadows and the damned drip (if there were one ?). If you do not have a white wall, you can use a white sheet or cloth.
If the person who appears in the photo and takes it is the same person, that is, you, you will need a tripod or a place to stabilize the camera. Here are some tips for taking a self-portrait . But, to get to the point, put the camera on the tripod and activate the timer (or shoot remotely with your mobile). If you do it from your mobile it will be much easier for you to focus well.
Here if I recommend you activate the built-in flash of the camera. Especially if there is little light and the photo is for the identity card. Well, the frontal light is the one that shows more detail of the face and it is precisely what they want. Remember to stay away from the wall. If this isn't the case, feel free to experiment with sidelight from a window, an external bounced flash, or any other lighting recommended for portrait photography .
Be careful with the white balance. Normally in automatic it comes out fine, if it comes out orange or bluish, adjust the white balance according to the type of ambient light.
Be sure to position the camera so that it leaves space around your head, so you're not too far off the edge. So if you have to crop the photo for any reason, there is some margin left.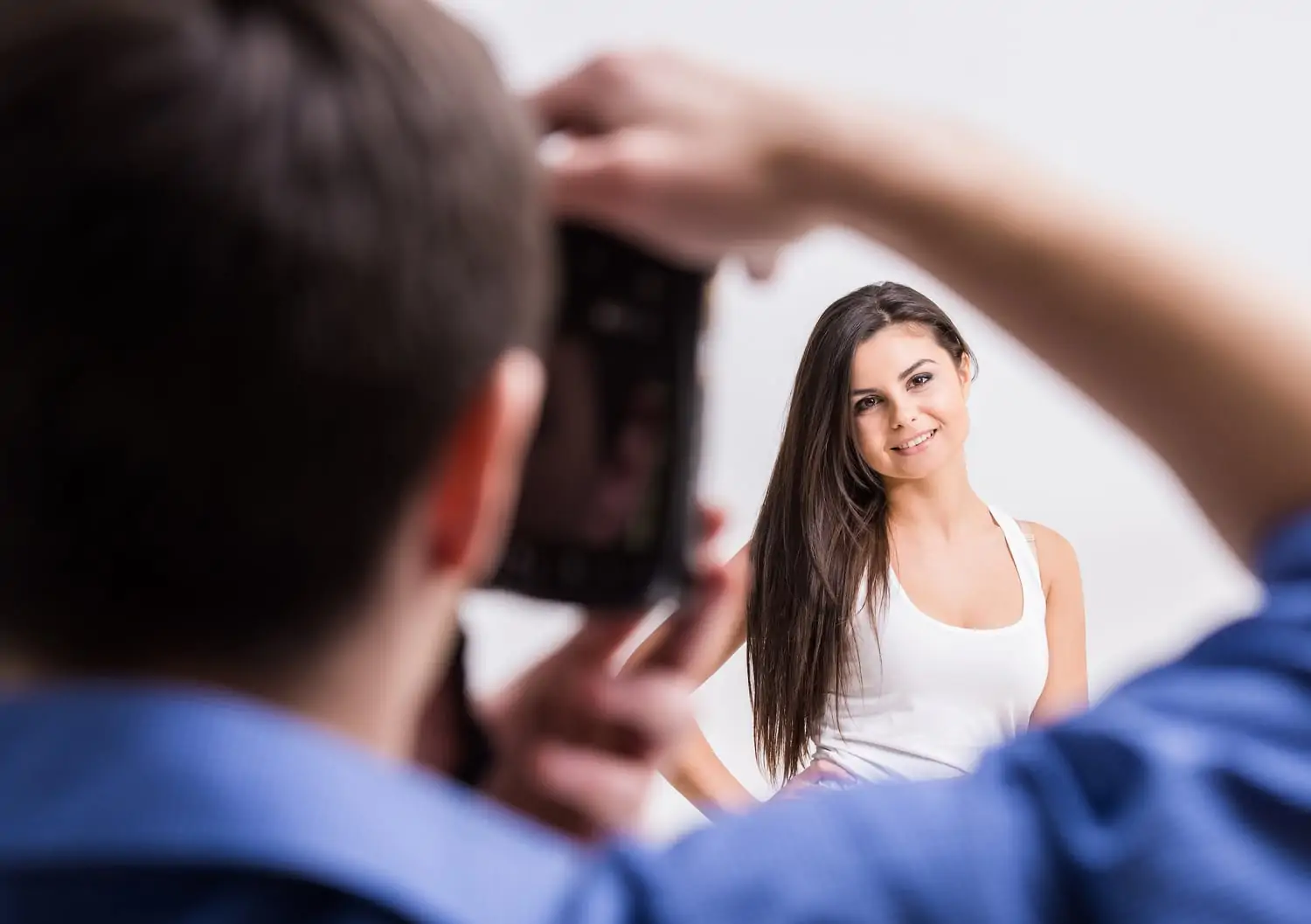 If the passport photo is for official documents, keep in mind that, at least in Spain, there are certain requirements (you can see them here).
In any case, I will summarize them for you: photos in black and white, blurred, pixelated and/or with backgrounds that are not white and smooth are not valid. They also do not accept that any element covers the head or covers part of the face (not even the hair). The face and shoulders must look good and from the front.
ID PHOTO SIZE
In Spain, the size of passport photos must be 26×32 mm.
If it is for an official document such as an identity card, driver's license or passport, I recommend that you check the passport photo measurements required in your country.
DOWNLOAD PASSPORT PHOTO TEMPLATE 10×15 CM
To make it easier for you, I have prepared a 10×15 cm passport photo template ready to download.
You open it in Photoshop, put the photos and voilà . Ready to send to print.
Download 10×15 cm passport photo template in .PSD format
If you don't know how to place the photos in the template, Mario will tell you step by step in the following video. Don't be scared if it seems very long. In the first part he explains how to change the background to white if it is another color.
Starting at minute 6:45, he shows you how to insert the image into the template and at the end he tells you some Photoshop tricks that you can also apply in other situations. Very complete.
And this would be the result: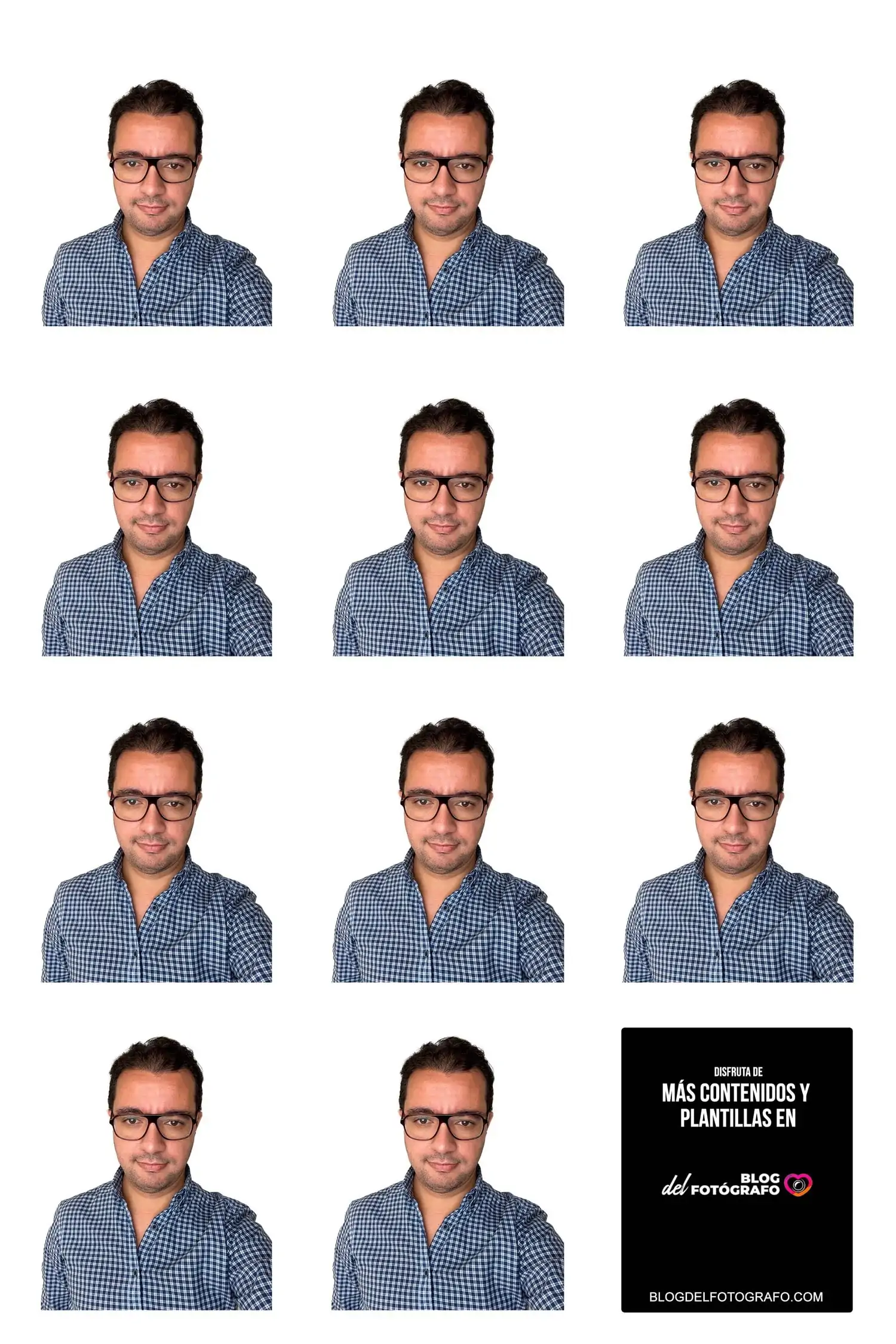 In case you prefer another format or program, I leave you the passport photo template in .PNG format.
Download 10×15 cm passport photo template in .PNG format
HOW TO PRINT PASSPORT SIZE PHOTOS
Once the previous step is done, you can print your passport-size photos at home if you have a photo printer . Or go anywhere they can print the photo on 10x15.
It is important to print your ID photos on quality photo paper.
Putting the photos in an A4 card photo template and printing them on a sheet of paper for your child's extracurricular activities, or even for little things at school, is acceptable.
However, for the photos of the identity card it is not valid with any paper, not even any photographic paper.
Make sure to print the photos for official documents on quality photographic paper (it is not necessary that it be professional), between 0.50 and 1 euro you can easily find prints of this type.
Better go to any photo studio or kiosk and avoid copy shops and other document reproduction services that are not specialized in photos.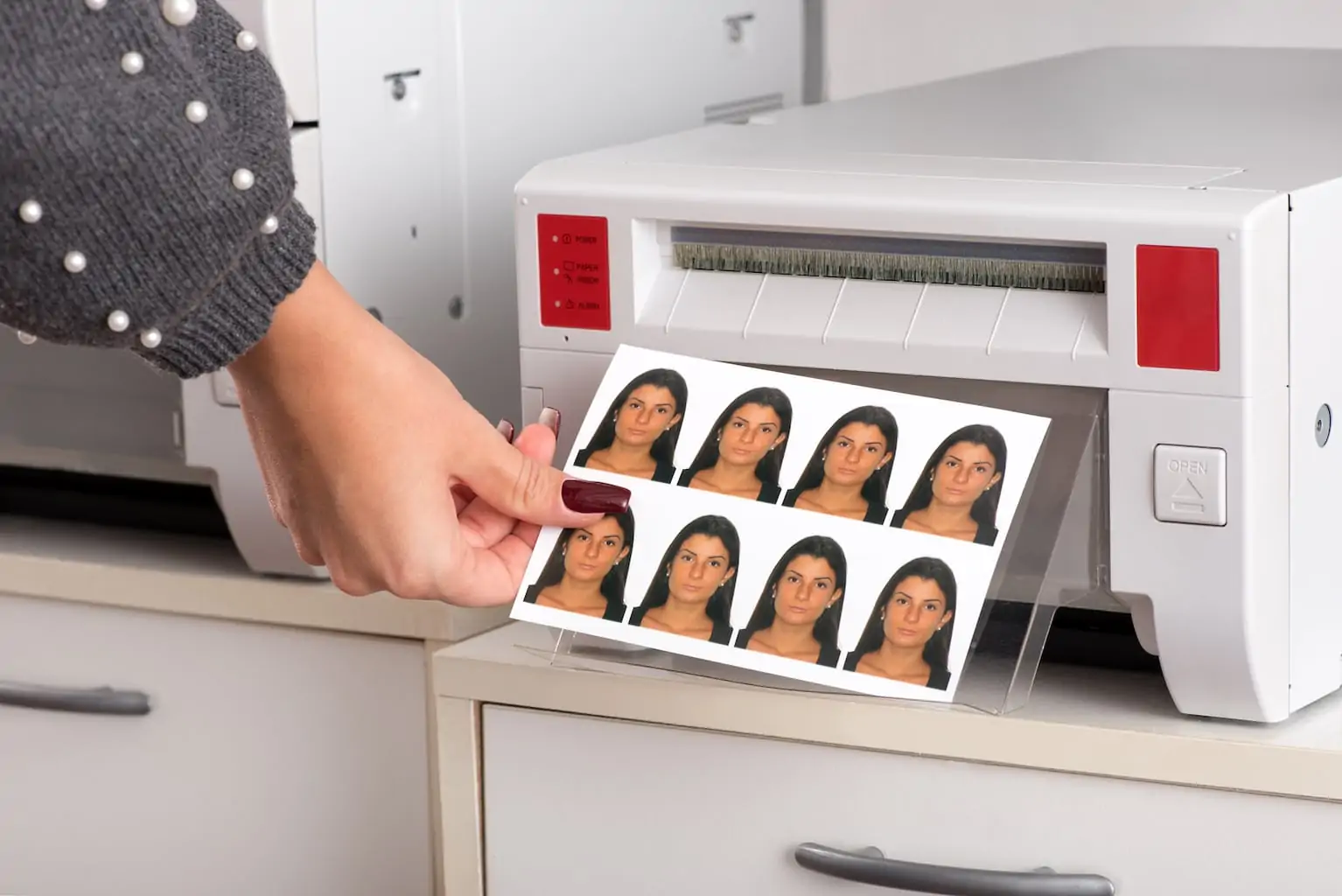 HOW TO TAKE PASSPORT PHOTOS WITH YOUR MOBILE
Most of the tips that I have given you before to take your passport photos at home are valid with both the camera and the mobile.
However, there are some specific recommendations that I want to leave you with when taking passport photos with your mobile.
If you are one of those who regularly take photos with your mobile (you will love this guide to photographing with your mobile ), you will know that one of its drawbacks is that its sensor is small and in low light they perform much worse, so I recommend that you get as close as possible to a light source (window, white light lamp, etc.).
If by chance you have a ring of theseHow much they take now for Instagram direct or work meetings will come from the movies. If you don't have it, don't worry, just make sure that it gives enough light to your face from the front.
Avoid, if you can, the front camera of your mobile. If it is you who takes the photo, it is better to place the mobile on a tripod or support and activate the timer to be able to use the rear camera, which usually has a better resolution.
In another article I left you a few tips to take better selfies with your mobile . If you feel like it and you have time, take a look by clicking on the link.
ID PHOTO APPS
If you are doing the whole process with your mobile, you will surely be interested in knowing these applications for your ID photos:
Photo ID ( iOS/ Android)
ID Photos ( iOS)
ID photo editor for passport and visa ( Android)
Passport Size Photo Maker ( Android)
Passport Photo Maker ( Android)
Passport photo and ID photo ( iOS)
They are quite simple to use, you upload your photo, frame it, select how many photos per page you want and save. It's even easier than with the Photoshop template ?
PROGRAM TO PRINT PASSPORT PHOTOS
In addition to mobile applications, there are some other programs where you can print them online. in photoboxor CeweFor example, you can do it from your computer, you upload your photo and they send it to your home.

This option is very practical when the problem is not money, but the fact that you cannot leave the house or have nowhere to go to take photos nearby.