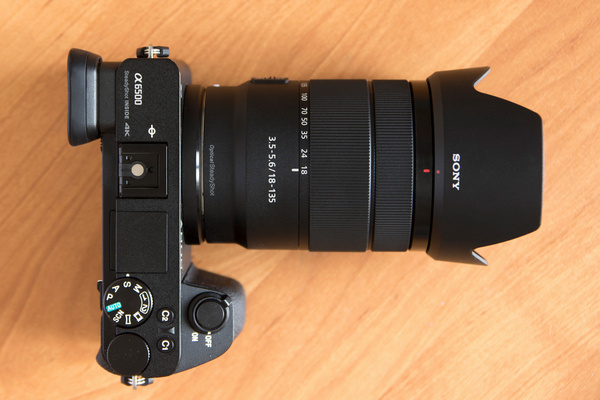 Getting to know the lens
Check price Sony E 18-135mm F3.5-5.6 OSS (SEL18135)
Fans of the Sony mirrorless system had no time to rejoice at the high-end FE 24-105 mm F4 G OSS high-end universal zoom when the company introduced its "younger brother" E 18-135mm F3.5-5.6 OSS for cameras with APS-C format sensors. It is believed that the "younger" models are inferior to the older ones. But is this always true? We will understand our test in detail.
Construction and design
The SEL18135 lens is in the middle of the product line, but externally and constructively strives for more advanced models. Strict black case design. The main part is plastic, but the retractable "trunk" of the lens block is made of metal. The zoom and manual focus rings are rubberized.
The bayonet is also metal, but there is no moisture seal at the rear end.
Autofocus is silent and fast thanks to the proprietary linear DDSSM linear drive, which stands for Direct Drive Super Sonic wave Motor – an ultrasonic direct drive wave motor.
Another abbreviation in the name – OSS – means that the lens is equipped with an optical stabilization system. This is reminiscent of the inscription next to the mount: Optical SteadyShot. On the case there is a switch of focus modes – auto / manual. There is no mechanical on / off stabilization on the lens, it is done through the camera menu.
Sony E 18-135mm F3.5-5.6 OSS with all its merits is one of the lightest in its class. Only 325 grams. The filters are installed habitually in front of the front lens on a thread with a diameter of 55 mm. The lens does not look bulky even with the front lens block fully extended and the petal hood that comes with the kit.
The zoom ring is moderately tight, but spins smoothly, without jerking. Under its own weight, the "trunk" of the lens does not move. It is unlikely that such a zoom will create problems when shooting movies, and when shooting, it will only be beneficial. The focus ring is electronic (traditionally for Sony lenses), it has a linear stroke. It rotates noticeably freer than the zoom ring, which adds convenience when manually focusing.
The minimum focusing distance of SEL18135 is 45 cm. This is a lot for full macro photography. But you can shoot close-ups of even small objects – the maximum shooting scale is 0.29x.
This document has been composed with the free online HTML edior. Access it here and use it every time for document editing.